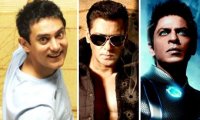 Ok, so the world has been waiting for two superstars to reach the magical figure of 100. So while Sachin Tendulkar is still waiting for his 100th century, Shah Rukh Khan has managed his first 100 crore film with Ra.One. While the former is finding himself precariously placed at 99, latter has moved on to his other assignments. The word for all of us here is - 'Can we move on too?' Now that feeling is setting in not just because the entire nation has been obsessed with the figure '100' here; it is also due to the fact that with such huge collections pretty much turning into a norm and not just an exception, the sheer 'repeat value' and longevity is (ironically) turning out to be inversely proportional. Let's discuss and debate in this week's 'Reflections'.
Are we watching them again?
It has been established ever since the days of Dhoom 2 (2006) that for over 90% of the films to succeed, it's the first week (fast shrinking to first weekend) that brings in all the moolah. Fair enough, that's the business model and so be it. However let's bring in a few notable flicks in the last few years gone by, all of which have netted over 100 crores at the box office and hence stepping into that elusive club.
These are 3 Idiots, Bodyguard, Dabangg, Ready, Ra.One, Ghajini, Golmaal 3 and Singham.
Now the question which arises here is - 'How many of these films have you watched more than once and that too in theatres?' Of course the very collections indicate that 3 Idiots is the one at the top; after all, the sheer gap between the Raj Kumari Hirani flick and the second best paints a clear picture. Ok, so we do love 3 Idiots and would have watched it in theatres twice, perhaps even thrice or more. Great, so what else? Dabangg? Yes, may be, perhaps! Of course, at single screens there were repeat viewings but did multiplex goers also watch the film twice? I doubt!
As for Bodyguard, Ready, Singham and Ra.One, all of which joined the 100 crore club this year, chances are further remote that audience stepped in twice. May be a couple of these films found good appreciation while the rest settled down as average affairs. However, in the bigger scheme of things (and for a story to be told to future generation), these are the films that broke the Rs.100 crore mark, regardless of the fact that whether they fetched repeat audience or not.
Same holds good for home viewing too
Once a biggie has been seen in theatre, chances are further dim that an individual actually has time and patience to watch it all over again on the telly, especially if he found it just about okay in the first viewing. This leads me to the point - 'Are we making enough 'memorable movies' that go on to create records in theatres and then come back to regale you all over again even when they are available for free?' I guess not, if one goes by the trend over the last few years.
Yes, there are movies that we like watching all over again but ironically, these are the ones that failed to create any records and were either just hits or perhaps even lower down. Guess what, a few of these were even commercial failures but more about that later.
Let's pick up some of the recent examples of films that have continued to find repeat audience for themselves despite not belonging to the '100 crore' club. Aamir Khan's Taare Zameen Par, Shah Rukh Khan's Chak De India, Akshay Kumar's Welcome, Hrithik Roshan's Koi Mil Gaya, Salman Khan's No Entry and Sanjay Dutt's Munnabhai series are some of the biggies that have enjoyed continued patronage from audience after they had already done so well in theatres. Sadly, most of these films were released at least 3-4 years ago.
Some films turned extraordinary after their theatrical run
Then there are films which were actually just about average in theatres but went on to be so huge due to word of mouth that if released today with the right kind of marketing and promotion, they could well have comfortably joined the '100 crore' club on the sheer strength of audience base that has patronised them. The first film that comes to one's mind is Shahid-Kareena's Jab We Met. Today the film is so huge on satellite circuits; one can be rest assured that anyone and everyone watching it now is doing so for at least the second or the third time.
Now that's what you term as some true 'repeat viewing' and a film which is worthy enough to be termed as truly memorable. Others in the same league are Namastey London (a good success theatrically) and Swades (a commercial flop) which have been enjoying some sustained viewing on television.
Flops that went on to be memorable
However, three films for which their makers could well be wondering what went really wrong during their theatrical release are Andaz Apna Apna, Hera Pheri and Rehnaa Terre Dil Mein. If at all someone has to pick and pick three of the most unfortunate films in the recent history of Bollywood when it comes to their theatrical success, it has to be these.
The Aamir-Salman starrer had flopped when released in theatres, not because it was disliked but due to the fact that it saw a poor release for itself and by the time audience warmed up to it and word of mouth started to spread, the film was off the theatres. On the other hand, Rehnaa Hai Terre Dil Mein is termed as a cult musical today but on it's release around a decade back, it went unnoticed (save for some good showing in a couple of metros) as audience didn't quite warm up to it's debutant pair of Madhavan and Dia Mirza. That, without even checking out the film!
Akshay Kumar-Suniel Shetty-Paresh Rawal's escapades in Hera Pheri didn't fare any better as it opened to largely empty houses on it's release and just about managed to scrape through due to extensive word of mouth leading to an extended run of 8-10 weeks. No, it was still not a hit then but ask any film buff today and chances are that he won't just admit to watching it more than once, but would also be glad to mouth a few memorable dialogues from the film.
Today, each of these three films has been watched by such huge good number of audiences that if one had to assign a ticket to them, business of over 100 crore each is guaranteed. However, as mentioned earlier, the ones that hold the record are (fortunately or unfortunately) the ones that actually managed such numbers in recent times, regardless of the fact that some of them are not even half as popular.
And then there were the rest...
Of course if one continues to delve further into the subject, there are many more examples of flops/below average/average films that would emerge, most of which have all in them to join the '100 crore' club. On the other hand, there are some genuine blockbusters from the past, collections of which would translate into 100 crores and above if inflation is taken into account. Now these are the films that are viewed today and they were popular in the past as well. However, the key word here is 'past', what with films like Dilwale Dulhaniya Le Jayenge, Hum Aapke Hain Kaun, Gadar - Ek Prem Katha, Karan Arjun, Kabhi Khushi Kabhie Gham and Lagaan being huge hits but around a decade or more ago.

What does future beckon?
While one can obviously revel in the past and talk about the 'good old days', the fact remains that today, it is 'moolah first, longevity later' that is driving the movie making business. Also, let's accept it the way it is since the phenomenon isn't just Bollywood centric but practically worldwide, especially when there are big bucks involved. This means that when a film eventually crosses the 100 crore mark, let's give it to the makers for exciting audience enough that would propel them into theatres; well, at least once if not more.
The trend is only going to gain further momentum in weeks to come. The entire hullabaloo that is surrounding the '100 crore' mark is going to die down (at least for the Top-15 costliest and biggest movies of the year) in a couple of years time frame, what with one movie worth it's salt crossing this milestone practically every month. Good news for the industry? Certainly yes, after all no one minds good money churning here. However, for audience though the situation isn't all that bright.
The search continues for that elusive film that would be huge in its first week theatrically and then entice a repeat viewing as well!
This leads me to a question for you - Have you come across a biggie in recent times that you loved enough to watch it all over again? By paying for it? Think about it!
BOLLYWOOD NEWS
Catch us for latest Bollywood News, New Bollywood Movies update, Box office collection, New Movies Release , Bollywood News Hindi, Entertainment News, Bollywood News Today & upcoming movies 2020 and stay updated with latest hindi movies only on Bollywood Hungama.