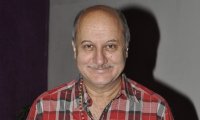 A few years ago when Iqbal had released, I remember asking Subhash Ghai about his changed approach towards filmmaking. When I questioned him if he had left 'Dr. Dang' (the unforgettable villain played by Anupam Kher in Karma) behind, his response was that current cinema has 'haalaat' (circumstances) playing villain and not necessarily an individual. He could well have been right then as during the first decade of the new Millenium, there were hardly any films made that required the presence of a 'Gabbar', 'Dr. Dang', 'Mogambo', 'Chappan Tikli' or 'Maharani'. Things could well change today if current trend is any indication. With the return of 'masala' films, one can well expect Bollywood to come back full circle with an expected need for more 'villains'. Here is opening the ground for debate in this week's 'Reflections'.


The villain is back

First half of 2011 is through and there already have been quite a few films where villains have been back in business. Anupam Kher, the original 'Dr. Dang', wasn't as furious but was scheming nonetheless in suspense thriller Game. Aditya Panscholi too came out of hibernation with Dum Maaro Dum. Irrfan Khan was one of the few husbands in 7 Khoon Maaf who actually convinced me of Priyanka Chopra's action when she decided to dump him. Well, literally!


Abhimanyu Singh showed with I Am (and last year's Rakht Charitra) that he is sheer menace locked in a human body for too long. Zakir Hussain is seen in a few comic outings like Double Dhamaal but rest assured; his heart lies in villainy (Shagird, Shor In The City). The only guy who managed to bring back 'on screen rape' was Arif Zakaria and guess what, Haunted was a success too, while reminding of the 70s/80s formula.


Veterans aren't as lucky though

Between them they have done around 800 movies till date, most of them featuring them as villains. However today, after being in the industry for over three decades, Gulshan Grover and Shakti Kapoor are not making it to the top of the 'most-hated' list. The villains are back, yes, but there too it is a selective process. This means that while Bollywood is willing to bring on an evil element, the ingredient is being different. So while Gulshan Grover is (unfortunately) restricted to being a pale shadow of himself in a comic horror Bin Bulaaye Baaraati, Shakti Kapoor is relegated to a Sheetalbhabhi.Com where he gets to play - hold your breath - 'P.K Lele'! Yeah, of course.


New entrants are welcome

The biggest beneficiary of them all is turning out to be Prakash Raj. The only one amongst his ilk who has it in him to bring back the old fashioned villainy on screen without even bothering to make it seem like a new avtar, Prakash Raj is now awaiting response for his double bill in Bbuddah...Hoga Terra Baap and Singham. I have seen him fluctuating between being maniac and scheming in the Tamil version of Singham. There is no reason why he won't be superb in the Rohit Shetty-Ajay Devgn version either. His South sojourn notwithstanding, the 'Gani Bhai' act in Salman Khan's Wanted is still remembered.


Another unusual suspect is Vijay Raaz. Coming weekend's Delhi Belly may be arriving three years late for Raaz but for someone who was one of the dozen odd henchmen of Sushant Singh in Jungle, Raaz won't really be minding the delay in release of this Imran Khan starrer. Rest assured, he would get the right mix of straight faced humour and maniac energy as a local Don called 'Somayajulu' in Delhi Belly.


And then of course there is Prashant Narayanan who is expected to be one of the biggest villains that Bhatts have ever introduced. As a eunuch, he is touted to have gone miles ahead of Sadashiv Amrapurkar's 'Maharani' act in Sadak. This time his eyes are set on Jacqueline Fernandez and while one waits to see to what extent does he terrorise in Murder 2, rest assured Prashant may finally get his due after trying his luck hard in a decade when there was hardly a place for villains.


And then there is the suave and the stylish

While the likes of Prakash Raj, Vijay Raaz and Prashant Narayanan would be playing to the gallery and aren't expected to attract much attention from the women folk, there are around half a dozen mainstream heroes who can be expected to turn over a new leaf in their career as they bring in a new shade of villainy.


So when Arjun Rampal becomes Shah Rukh Khan's chief nemesis in the title role of Ra.One, rest assured there would be sides taken. From Arjun one can't expect anything less than sophistication and the Greek God looks would further seal his case. Ditto for Once Upon A Time In Mumbaai 2 where Akshay Kumar is supposed to be playing Dawood Ibrahim. Of course he is a villain for the world but when it comes to the cinematic outing, there may be a different perception altogether when the villain ends up being an entertainer. With Akshay upping the style quotient, this villain won't really go unnoticed.


Now that's something that Vivek Oberoi as well as Neil Nitin Mukesh would be hoping for as well. Forever fluctuating between playing white and grey characters, their future outings present them as out and out villains. Are they minding that? Certainly not even as they find themselves in the elite company of other flamboyant actors as well as directors who have managed an impeccable track records when it comes to 'masala' entertainers. No wonder, they never blinked even once when Rakesh Roshan and Abbas-Mustan offered them the part of a villain in Krrish 2 and Players respectively.


And last but definitely not the least, when Aamir would play mind games with Dhoom 3, he can well be expected to find 'seetis' and 'taalis' coming his way. Remember Dhoom. Remember Dhoom 2. And you end up remembering John Abraham and Hrithik Roshan.


Case dismissed.


Thoda sa suspense

Meanwhile there is also suspense around who indeed would be the villain in some of the most high profile films on the anvil. One such outing is Don 2. The first in the series had Shah Rukh Khan playing a hero as well as the villain but everyone associated with the sequel is tight lipped about the villain's identity this time around. Given the fact that it comes from the production house of Farhan Akhtar, designer suits are the least that one can expect here.


Agent Vinod is yet another action entertainer in the making. So far the film is being known as a Saif Ali Khan and Kareena Kapoor starrer. But then it is impossible to believe that a genre like this could do without a high profile villain. Expect an announcement to come in this regard soon. Ditto for John Abraham's Force which is an out and out action drama with revenge at the core of it. Who would be beaten to the pulp here? Perhaps Vipul Shah would be willing to answer that question now. Or is he keeping that as a surprise element?


What will change for sure...

So while villains are back and there is an occasional 'Gani Bhai' staring at you from not so far away, men in the middle of it all aren't scaring you with their very names. Dheeraj Pandey is what Prashant Narayanan is called in Murder 2. Vijay Raaz is known as Somayajulu. Ok, so Arjun is a little fantastical as Ra.One but by and large one can state this with confidence that the likes of Vivek, Neil and Aamir won't be addressed as a 'Jagat Jogia', 'Kekdaa', 'Kesariya Vilayati', 'Panther' or 'Koya Koya Atachi' in their films (refer Google to refresh your brains around these legendary characters, trust me it would be fun!).


As for the mother of all names - 'Pannalal 'Panni' Double Horse Power' - Bollywood is thankfully not going back into that lane ever again.
Or will it?
BOLLYWOOD NEWS
Catch us for latest Bollywood News, New Bollywood Movies update, Box office collection, New Movies Release , Bollywood News Hindi, Entertainment News, Bollywood News Today & upcoming movies 2020 and stay updated with latest hindi movies only on Bollywood Hungama.