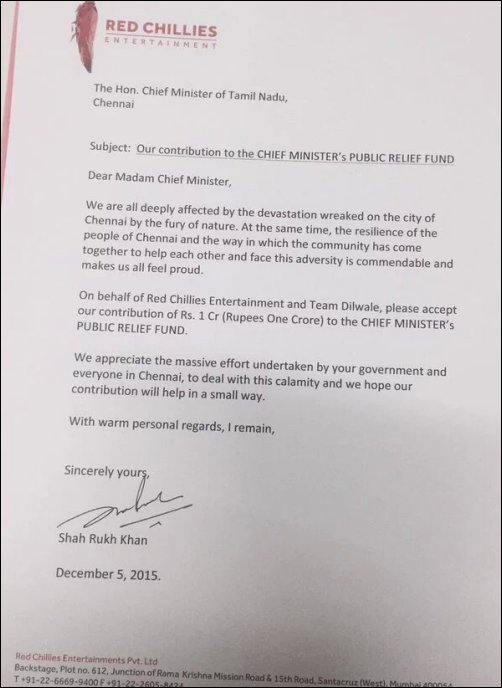 The past few days have been nothing less than traumatizing hell for those stuck in the Chennai floods. While rescue and relief efforts are on, and the armed forces pitching in, we now hear that the team of the upcoming film Dilwale and Shah Rukh Khan's production house, Red Chillies Entertainment has come forward in support for those affect by the flood.

In fact, Red Chillies and Team Dilwale have decided on donating Rs. 1 crore to the chief Minister's Public Relief Fund towards support for those affect by the flooding. Shah Rukh Khan also sent a letter to the Tamil Nadu Chief Minister excerpts of which are below:

"Dear Madam Chief Minister,

We are deeply affected by the devastation wreaked on the city of Chennai by the fury of nature, At the same time, the resilience of the people of Chennai and the way in which the community has come together to help each other and face this adversity is commendable and makes us all feel proud.

On behalf of Red Chillies Entertainment and Team Dilwale, please accept our contribution of Rs. 1 Cr (Rupees One Crore) to the CHIEF MINISTER's PUBLIC RELIEF FUND.

We appreciate the massive effort undertaken by your government and everyone in Chennai, to deal with this calamity and we hope out contribution will help in a small way."