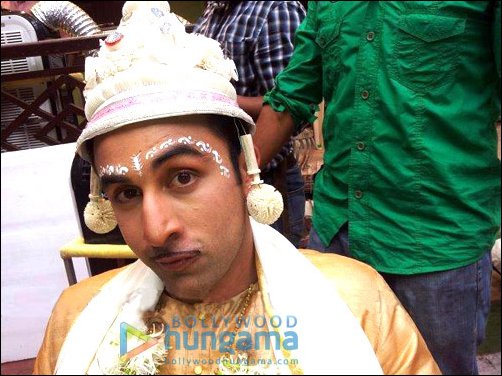 For his first onscreen wedding, Bollywood heartthrob Ranbir Kapoor will be seen dressed as a traditional Bengali groom,
complete with dhoti, kurta and the topor (headgear worn by Bengali grooms).


Even though Ranbir did marry Katrina Kaif in Ajab Prem Ki Ghazab Kahani, it was shown as a court marriage and not a traditional wedding
ceremony. But for Anurag Basu's Barfi, where Ranbir plays a deaf and mute person, he will be seen as a young Bengali groom in a traditional
Bengal wedding sequence. Since director Anurag is a Bengali himself, he was very particular about Ranbir's look. He saw to it that the costumes
looked traditional and everything was perfect to the smallest detail.


Ranbir was very excited for his first wedding sequence for a film. Both his co-stars Priyanka Chopra and Ileana D'Cruz were also present on the sets
that day but you would have to watch the film to know whom Ranbir gets married to.