Times have changed and the tastes of audiences have evolved. It was firmly proved since the time of Mother India that an actress can carry a film on her shoulders to the pinnacle of success. With the rise of multiplexes and the need to see something different, a lot of women-centric films have hit theatres, and many of them have even fared well at the box office. However, if one analyses the box office figures of these films, one shall realize that the change has only marginally occurred.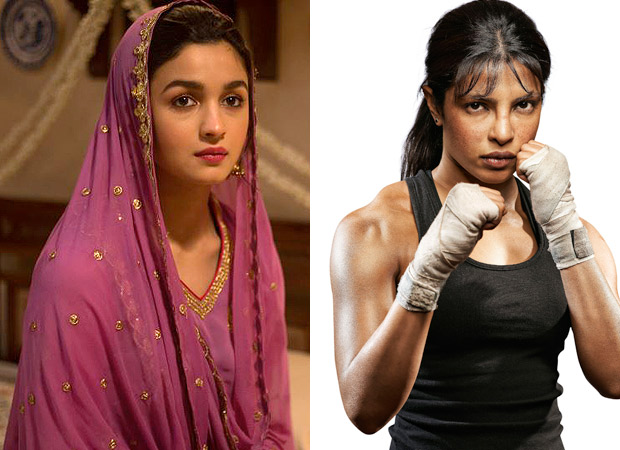 Most of the women-centric films that opened big at the box office were the ones that had the oomph factor and sizzling quotient. Hate Story 3, released in 2015, is the biggest of them all as its first day earnings were Rs. 9.72 crore. The next in the line is Vidya Balan's 2011 starrer The Dirty Picture. The hype for the film was tremendous thanks to the hotness quotient and as a result, it opened at Rs. 9.54 crore. Madhur Bhandarkar-directed Heroine released in 2012. It featured Kareena Kapoor Khan in a very sizzling avatar and no wonder that it managed to open at Rs. 7.50 crore.
Now let's talk about non-sizzling women-centric films. Most of the films in this category have opened in the Rs. 2.50 – 5 crore range. The most recent such film, Rani Mukerji-starrer Hichki's first day collections were Rs. 3.30 crore. Anushka Sharma-starrer Pari opened at Rs. 4.36 crore. Kangana Ranaut-starrer Queen was one of the most appreciated films in recent times and was also a box office success. But its first day was dismal at Rs. 1.80 crore! A film that had somewhat respectable collections was last year's Naam Shabana, featuring Taapsee Pannu. It was a spin-off of Akshay Kumar-starrer Baby and opened at Rs. 5.12 crore. And the movie with the best and enviable collections in this category is none other than Mary Kom. Released in September 2014, this Priyanka Chopra starrer took a grand opening of Rs. 8.40 crore. What had helped then was that it was given tax free status in a few states. Yet, such a huge opening for a women-centric film sans any skin show is commendable and even after more than 3 ½ years, no film has manage to break its record.
But now it seems that the record will be broken by this week's big release Raazi. It stars Alia Bhatt in the leading role and is directed by Talvar director Meghna Gulzar. Karan Johar's Dharma Productions is one of the co-producers of this film which is adapted from the true account of an Indian spy. The trailer of the film has been unanimously loved and it seems to have a universal appeal. A section of the audiences, mainly masses and frontbenchers, tend to stay away from films that doesn't have a prominent male lead. But Raazi has the action and thrilling bit along with the patriotism angle and hence they would surely come in hordes to cinemas. And more importantly, it's Alia Bhatt as the leading lady and she has a carved a niche for herself. She is one of the most popular and successful actresses today. She has essayed strong roles in all her films and has never played eye candy to the male lead. As a result, she is equally responsible for the success of her films. With such a great track record, Alia Bhatt is ideal to do a film like Raazi that is offbeat but at the same time told in a very commercial format, thereby making it more mainstream.
Breaking the first day collection of Mary Kom is still a tall order. But looking at the plusses, it's very much possible for Raazi to do so. And if that happens, Alia Bhatt would not only add one more feather in her cap but would also rewrite history!
Also Read: "It was emotionally draining"- Alia Bhatt on essaying the role of an Indian spy in Meghna Gulzar's Raazi
BOLLYWOOD NEWS