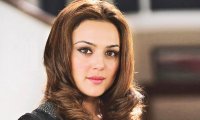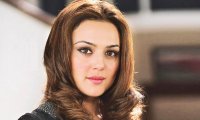 APreity Zinta wouldn't have imagined that her shooting schedule for Ishkq In Paris would be set up in such a way that she would
have to choose between that and her other professional commitment of IPL. However, now she is finding herself in the middle of this dilemma, what with French
actress Isabelle Adjani arriving in Mumbai for the film's shoot in the same fortnight when things would be peaking up on IPL as well.
"Things were all good on Ishkq In Paris when she went to France a couple of months back and wrapped up a major schedule there. Her idea was to come
back in time for IPL as she wanted to do only one thing at a time so that she can entirely dedicate herself on the task. However the second schedule has turned
out to be such that she would now have to work on the film and also closely track IPL. Obviously she isn't very happy about the situation but Isabelle's visit has
turned out to be in such a manner that there is no other way out", says a source.
One would have expected that the film's director Prem Raj would manage to reshuffle the dates in such a manner that at least on the days when her team is
playing; she won't be required to shoot. However, Isabelle's visit means that things would have to be planned as per the visitor.
"This isn't all because immediately after the shoot in Mumbai, Preity and Isabelle would have to take a flight to Paris for the third and final schedule of the film.
This could well clash with the last stage of IPL when semi-finals and finals would be played. In case Preity's team reaches that stage, she may have to miss the
most exciting part of the tournament. Also, it isn't even possible to delay the trip at all since Isabelle worked on the film under the condition that her portions
would be filmed on one stretch so that continuity can be maintained. It is a tough call for Preity but she has no other way out", the source continues.
Preity, who has been known for cheering her team in practically every match of the IPL for last four seasons, is taking it all with a pinch of salt. However, given
the fact that Ishkq In Paris is gathering good hype for itself and is being widely pitched as her big comeback film, she is keeping that on high priority as
well.
When contacted, Prem refused to comment on the ongoing 'issue'. However, he confirmed that the film was moving ahead as per schedule. He said, "The film's
release date is finalized for 21st September and that is not going to change. We will do whatever it takes to bring the film on this date, regardless of anyone's
dependencies or priorities."
We get the point Prem.