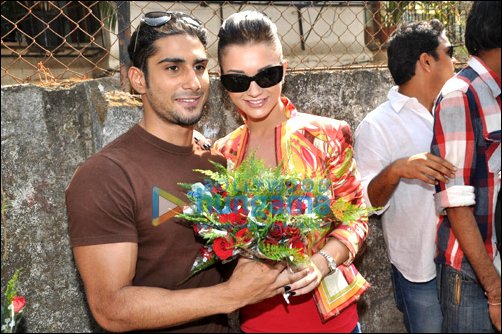 Prateik, who is a die hard romantic went an extra mile to prove his 'Deewanapan' on Valentine's Day. The actor along with his co-star Amy Jackson visited National and MMK college in Mumbai to distribute red roses

With prices of red roses sky-rocketing on Valentine's Day, Prateik thought it would be a good idea to give away red roses to guys in the college who can then go and propose to their girlfriends with the true symbol of love.
Prateik strongly believes that, clichéd as it may sound, no other gift can take the place of a one red rose on Valentine's Day. It's the ultimate way to propose to your loved one.

When asked for some V-Day tips, Prateik said, "Don't over do it to impress your girl. Just be yourself."

Prateik and Amy then leave for Delhi for the promotion of their film Ekk Deewana Tha which releases all over on Feb 17.