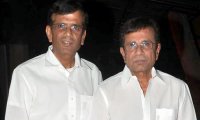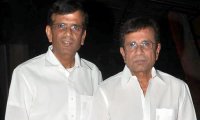 They've pioneered the saying - 'Chills Thrills & Frills' in Bollywood. Ever since Khiladi and Baazigar, it seems, the men have a liking for dark tales with wicked ends. With Players, they are about to play what they're best at - a game of twists and turns. I met Abbas- Mustan at the Marriott in Juhu where they were seated, just like their movies, on the edge of their seats sipping tea and coffee. They seem to be so relaxed that not for once your brain would think and ask - 'Are these the same men who guide us through their world of car chases, bike skids, femme fatales and those suspicious characters?' Yes they are! Because they can still make the simple act of watching a film seem oh-so-exciting. Cinema needs the occasional breath of fresh air, and you can always rely on Abbas - Mustan to provide it. UK's Harrow Observer columnist and Bollywood Hungama's London correspondent takes you on a tour into the mindset of India's finest thriller filmmakers in a special two part series titled 'Dial B for Burmawallas'.


"Players is the first Indian movie to be shot in the North Pole"
If our Players promo can create such hype, then wait till you watch the movie. It will blow your mind. The level of film making that we've achieved by doing Players, I can confidently tell you that it's our best work till date. We only wanted people to be prepared for what's going to come next. We are going to come up with more promos in the last one week leading to the release date. We've shot Players in the North Pole and this is the first ever Bollywood movie to be shot there. We don't think that even enough Hollywood films are shot there.


"Abhishek insisted on not having any body doubles for his action sequences"
Whether it was Baazigar or any of our early movies, we've never made a conscious decision to work with big stars. But since many years, we always had this hunger to work with Abhishek Bachchan and do a proper action movie with him post Dhoom. We loved his intensity ever since Refugee. Abhishek insisted on doing his own stunts. There is no body double for him and he said, "Double is also a human being. I will do it myself". The train sequence in the movie is a scary one and he has pulled it off with style and ease. Players hopefully will be termed as Abhishek's best action movie so far.



"Rhea brought in more to Sonam's look than what we could've ever imagined"
Sonam hasn't done an out and out sexy, glamorous, stylish, action movie so far. That's the reason we selected Sonam because she embodies all the above in Players. Rhea Kapoor, her sister has designed her outfits for the film. Sonam insisted us to meet Rhea to see whether she could bring something unique to Players. Today we can proudly say that she has brought in much more than just unique to Sonam's look and to our film. It wasn't the sister act of being biased but it was more of a professional costume designer and an actress interacting that we saw. We wanted the audience to go head over heels when they see Sonam in her sexiest attire ever in a Bollywood film and together we've made that happen. Apart from her look, Sonam's role is very good.


"We didn't get to meet Mark Wahlberg but we were lucky to meet Tom Cruise"
If the original cast and crew of The Italian Job see Players, they'll get a shock too on the way we've treated and twisted the thriller. We've changed a lot of the original characters and the story to some extent and the scenes of course. If we had released the movie in the first week of December 2011, Mark Wahlberg and the producers had agreed to pay India a visit to be with the Players team. But I guess we were lucky because Tom Cruise's arrival came handy. We met him at the premiere of Mission Impossible -Ghost Protocol along with Sonam, Neil and Abhishek.


"The only movie of Neil that impressed us the most was Johnny Gaddaar and we've retained his vulnerability back"
We loved Neil Nitin Mukesh in Johnny Gaddaar. After that whatever film he's done, we weren't impressed with. But at the same time we couldn't get his vulnerability out from Johnny Gaddaar. He was unforgettable in it. In Players, we've got back his helplessness back in the form of a computer geek.



"We would've loved to have three white Mini Coopers in Players"
When we went to New Zealand and saw the Mini Coopers, and we instantly loved the red, blue and yellow colours. To be honest, the only thing that we've retained from The Italian Job is the gold and those Mini Coopers but unfortunately we couldn't find the 'white' coloured one. We would've loved to have three white Mini Coopers in Players.


Part 2 of 'Dial B for Burmawallas' continues...


Video: Abbas - Mustan Speak About 'Players'