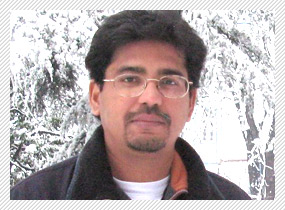 This respected writer of Indian cinema knows the weight of last words, and his last words to me, as we finish a fifteen minute chat on what's supposedly going to be the biggest series on Indian Television, are: "I again say that it's time for concept television and 24 will work in India". But the man responsible for the above words and the one who is going to put new words in Indian Jack Bauer's mouth is Rensil D'Silva - a man of few words but words with finesse. You don't have to look far to get a grasp of who Ren (we love to address him with that name) is. From advertising to television to movies and now back to television, Rensil's ride to success is formidable. The man who has penned down Aks, Rang De Basanti and Kurbaan, why I am I not surprised that I am in for yet another fast-paced, gritty, witty and a strong ensemble cast show on television. As of now, like his central character Jack (from the original 24), D'Silva is having sleepless nights working towards the completion of the Indianised version. With Milap Zaveri as the dialogue writer, Anil Kapoor as the producer and Abhinay Deo directing the series, the Indian television audiences should expect a gamut of dramatic emotions once the show is on air. Humans have been telling stories for thousands of years, and what makes a good story hasn't changed... nor has Rensil D'Silva. His passion to tell good stories continues. Here's what happened 24 hours ago!


I've grown up on Buniyaad, Circus, Fauji, etc. Then came the 'saas-bahu' sagas and 24 will arrive soon. A lot has changed. Will 24 be that change too?

If you are going to make a series as ambitious as 24, I hope it changes how people perceive television. Every decade has its landmark serials and the people's consciousness changes. The best decade came when we saw serials like Buniyaad, Nukkad, Khandaan, Hum Log, Yeh Jo Hai Zindagi and Circus. Liberalisation came and somewhere the remote went into a woman's hand and television viewerships changed, for the good, of course.


Are you confident that 24 will work in India?

The time has come for concept television. I hope we can pull in a large audience on something conceptually driven. Anil Kapoor is a big star, so he will definitely pull in the crowds to see 24. We have seen enough television and worldwide serials /shows. We have crossed the reality barrier. What you see in the West is coming to India in six to seven months or maybe even quicker with the advent of technology. So there is no reason why 24 shouldn't work here.


What impressed you the most about the original 24 and to what level are you Indianising the series?

I remember when I saw the series 24, the first season blew my mind. I couldn't believe someone did the series in real time and still kept me hooked. We here in India are doing Season 1 right now. We are just changing the characters. Having said that, Jack Bauer was the hero of 24 so it doesn't take too much to Indianise him. In the first season there is a political assassination. But if people think that we are only going to change the backdrop to India and the characters, they will be in for a surprise. It's a totally different Indian version with an even different plot.



Do you think Abhinay is the right choice to direct 24?

Abhinay Deo is a very good director. I have worked with him in advertising and he is a dear friend. He is the right choice to direct 24 Season 1 that we are going to shoot by the end of the year. I am really scared with the new genre having episodic directors like they have in the West. The reason why I am saying this is because thriller genre can be directed by only a handful of people in this country with any degree of precision, etc. What do we do in feature films? We make 90% rom-coms. A director of Abhinay's calibre is fit to direct 24 because he can scale it up to another level. 24 is a big brand that Anil Kapoor has got to India and we need to be at par with it or take it further.


Like in the West, do you think a grand red carpet premiere should be the way 24 should kick start? It'll be first of its kind premiere for television in India.

I don't think we should be thinking of premiere shows and red carpet arrivals. 24 will speak for itself. People will love it because the content is good. I am low-key as a person so I can't comment much on the marketing of the show but yes, if the Season 1 works well, we may be in for a biggie come Season 2. I also feel a great marketing is needed to push a new genre of series that audiences are going to see in India. The awareness needs to build into curiosity.


That thing about Anil Kapoor that impresses you most is?

I was very encouraged to find that Anil Kapoor is such a clear thinker. He is down to earth too. That's very important because a person cannot fool himself if he is down to earth person and a clear thinker. He has a certain vision of 24 that he is trying to get it right with his team. Such people with a particular vision cannot go wrong.


Which foreign shows have you enjoyed watching the most?

I like Fringe, Game of Thrones and Homeland. I think they are all very powerful concept shows. None of them are episodic by nature because they all have major seasoned plots that just happens to be broken down. Then even as a channel you are not living week to week. You are making people buy into the idea of the series. It's not that one week the TRP will be of a certain kind and the other week you tend to get worried. With concept television and its serials it's like seeing two to three films broken down into episodes. It's grand.


Is 24 a one off thing or you'd continue to write for television?

If television goes this way, I would love to do more television in the future. As the West has proved, the best writers are into television. Television is the ultimate writers medium.
BOLLYWOOD NEWS
Catch us for latest Bollywood News, New Bollywood Movies update, Box office collection, New Movies Release , Bollywood News Hindi, Entertainment News, Bollywood News Today & upcoming movies 2020 and stay updated with latest hindi movies only on Bollywood Hungama.