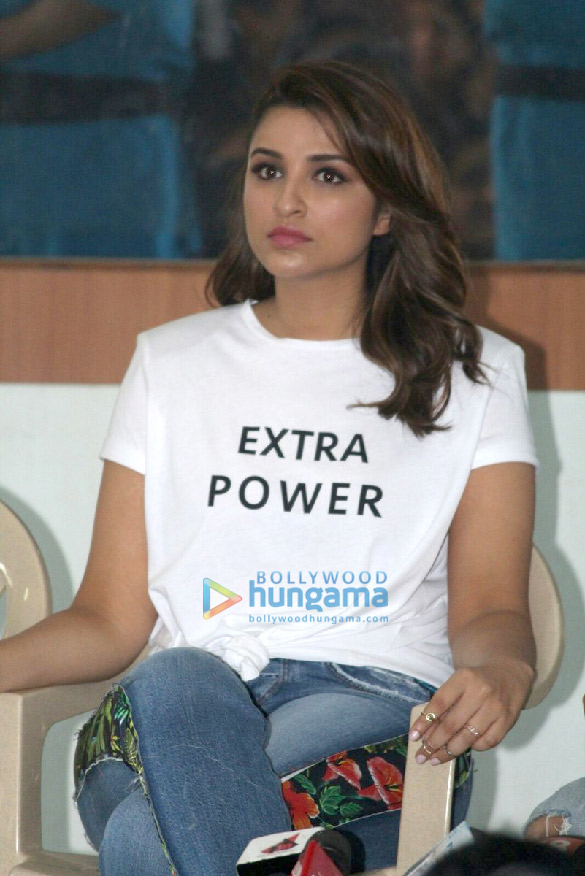 A little over a week ago Parineeti Chopra graced the Women Self Defence Graduation Day event in Mumbai. The event saw the actress and Akshay Kumar giving some advice and tips to all the women out there on self-defence and sharing instances of her childhood life. However, while Parineeti Chopra was pretty vocal about her less than privileged childhood, citing instances when she used to cycle to school in her home town Ambal, a few of her class mates have come out calling her a liar.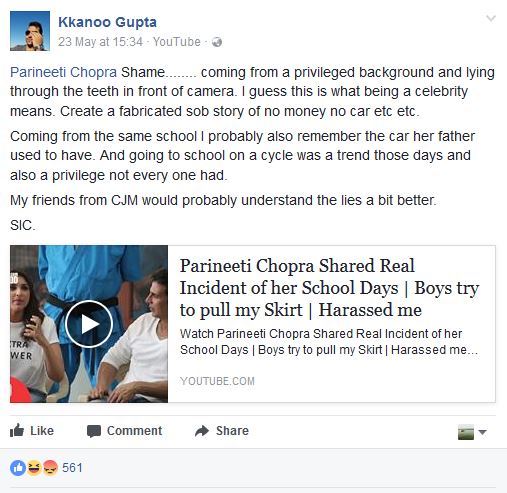 In fact, Kkanoo Gupta, who apparently studied in the same school as Parineeti took to the social media platform Facebook saying, "Parineeti Chopra Shame........ coming from a privileged background and lying through the teeth in front of camera. I guess this is what being a celebrity means. Create a fabricated sob story of no money no car etc etc. Coming from the same school I probably also remember the car her father used to have. And going to school on a cycle was a trend those days and also a privilege not every one had. My friends from CJM would probably understand the lies a bit better. SIC."


But it didn't stop there; a certain Deepali Malhotra Bhatti too decided to respond on the topic on Facebook commenting, "All cjmites can vouch for the lies about her financial status. Most kids from Ambala Cantt cycled to Cjm during those days, including many well-off ones. There could have been eve-teasing on roads but why the sob story of poverty??" Rohs Sood, another person from the same school too comented saying, "This is gross....I mean bloody dont lie on our faces!!...maybe all the money that they saved from her cycle rides sent her to UK for Uni studies...its amazing what celebs do!!! ...n well what all they can do!! shame!"


Following a similar pattern Aakanksha Narula and Jayati Ahuja Bansal too vented out while calling the actress a liar saying, "Yeah so true.. She was our neighbours relative in ambala and use to come in car with her family.. And can media ask her right after school they became so rich that she cld afford to study in London.. LIAR.. WHAT SHAME". Jayanti added, "The poverty stricken story is all a facade. Her speech sounds as run off the mill as is possible. She just lost a fair amount of fan following at least from ambala. Ambala is a small town and everybody knew her (and definitely knew that she didn't have any money related issues at all). There are innumerable ways to motivate people. But in doing so, to garner sympathy for yourself is a bit too far fetched. Usage of another marketing technique could have helped".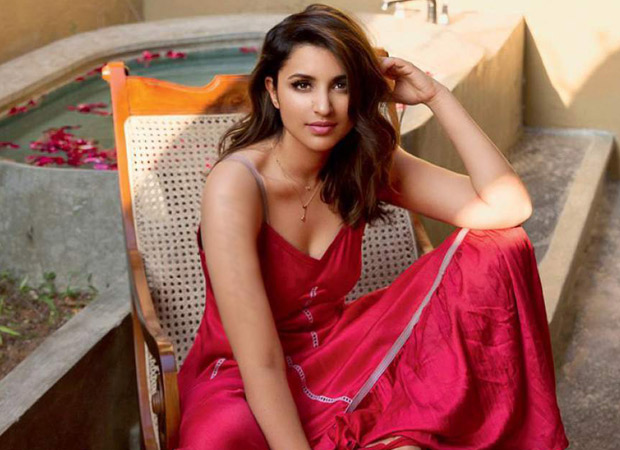 On the other hand however, Parineeti Chopra took to twitter sharing her statement:
"Hi everyone,
I think what I said at a martial arts event a few days ago has been misconstrued in some places, so I would like to take a moment and clarify what I meant. As long as I was in school in Ambala my brothers and I did not have access to a car and driver to take us to school, so they took the bus and I cycled. My dad followed close behind me to ensure I reached school safely. My dad did have a car that he used for his office work but we kids did not use it for school travel. As a child I hated going on a cycle! But today I understand that he was doing it to make me independent and keep me safe.
I know I said this even that day but somehow it's been misconstrued, about something very irrelevant about me having a car or not!! I was talking about using a car and driver to go to school that's all. The essence of what and why I was giving that example was completely lost.
I am proud to be present at a time that girls are becoming stronger with training in martial arts. If I had such an opportunity back then, I know I would have felt much more confident!
I am responding now as I was travelling out of the country all this while. I would request everyone concerned to please not let menial things like this take precedence over what I was actually trying to say, about women's safety and the challenges that we girls face while growing up.
Thankyou!"
My statement ???????? pic.twitter.com/U3mwLUJ0So

— BINDU (@ParineetiChopra) May 30, 2017
Watch the video to know what Parineeti Chopra said at the martial arts graduation event:
BOLLYWOOD NEWS
Catch us for latest Bollywood News, New Bollywood Movies update, Box office collection, New Movies Release , Bollywood News Hindi, Entertainment News, Bollywood News Today & upcoming movies 2020 and stay updated with latest hindi movies only on Bollywood Hungama.