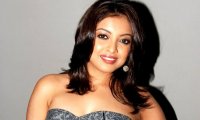 Tanushree Dutta is enjoying an eventful 2010. It isn't every year that she has multiple releases to her name. In fact Rokkk, her first Hindi release in 2010, came one and a half years after her last film Saas Bahu Aur Sensex, which by the way was her sole release in 2008. Now that she has already been seen in Rokkk as well as Apartment this year, Tanushree would be enjoying a hat trick of sorts with her action-adventure flick Ramaa - The Saviour. As she gears up to unleash her action avtar for the audience, Tanushree gets talking to Joginder Tuteja about her expectations from the film, why she doesn't believe in signing films by heap and her thoughts about the camp system in Bollywood.


Tanushree, you had three releases in first half of 2010 if one also counts your Tamil flick Theeradha Vilaiyattu Pillai. With Raama - The Saviour being your fourth film in 2010, are we seeing a different career strategy being adopted by you?

No, I am not going to change my pattern too much. As such when I sign movies, I try to see some content and matter before consenting to it. There has to be something interesting and good for me to do. I am going to follow the exact same pattern of signing movies carefully in future as well. I can't be zeroing down on something till I find it exciting. There has to be something really unique about a project which would make me jump into it. I need that motivation. It has to be a different kind of story or something that I haven't done before.



That's right. Peter Heins, who has also done the action for films like Robot and Raavan, was roped in for Raama

In fact Ramaa, your new release, is adding to your pile of films this year when it was originally planned to be released a couple of years back. Don't you feel disappointed by the delay?

No, not at all. I will tell you the reason why. When you work in something as fantastic as this film, you don't let the box office outcome of a film affect your heart at all. I am very happy that the film is releasing today. Having said that, I won't be mad happy or super disappointed with the way audience receive this film. Eventually this was something that I really enjoyed working and the overall process was something that I would cherish
for life. I chose this project because it promised me a lot of pleasure when it came to the actual shooting.


Yes, we have heard about the stunts that you have performed all by yourselves in the film.

That's right. Peter Heins, who has also done the action for films like Robot and Raavan, was roped in for Raama. It was very encouraging when Peter called the shots and I did well. In fact there were times when Peter would just push me further even though knowing fully well that the stunt would be difficult. Still, I managed all by myself quite a few times. In fact there was this one stunt that I did just because the entire unit was motivating me that I would be able to do that. Inspired by all the 'waah waah' from the unit, I did attempt it. However, it didn't work out as I got this major problem with my back.


Talking about problems, how much of it does an outsider like you face in the industry today? Half a decade after making an entry into the film industry with Aashiq Banaya Aapne and Chocolate, do you feel that you are being adequately utilised?

I try to use my attributes to the best of my capabilities. In any case this is an ongoing process. Four years back even the quality of work coming my way was also one big task. Today it is easier for me because whoever comes to me with an offer knows that the role has to be important and meatier. I guess you only get what you deserve and the time has arrived for me to gain hold of the best.


Still, after spending exactly a decade here, do you think that at the end of the day, even with the beauty queen crown it is difficult to settle down in Bollywood unless you are associated with a camp?
Not really actually. Look at the top five actresses today. Do you think that anyone of them belongs to any camp? Each of them has worked with all possible camps and directors. I think that all this camp business is one big myth. If that was true then I wouldn't have been here at all. I work with all creative people who have wanted to work with me.



I think that all this camp business is one big myth

But then if an actor is associated with a camp, it does help a quick growth, isn't it?

See, some people do achieve superstardom on the basis of a single film itself. They start with a bang and then are also seen in many films one after another. On the other hand for some other actors, it does take time. I am one such actor.


You are sounding quite honest.

And that's because I never had any misconceptions about this industry. I never thought that if I would do a particular film, I would suddenly be a top actress. I am growing slowly and steadily and am happy with my progress. I work for the love of acting and don't quite have a particular goal set for me. I know for sure that I would be around even 5 years from now. Other than that, I don't make any plans. I truly believe in one saying that 'Man proposes and God disposes'. The best thing is to just carry on with what you like doing.
BOLLYWOOD NEWS
Catch us for latest Bollywood News, New Bollywood Movies update, Box office collection, New Movies Release , Bollywood News Hindi, Entertainment News, Bollywood News Today & upcoming movies 2020 and stay updated with latest hindi movies only on Bollywood Hungama.