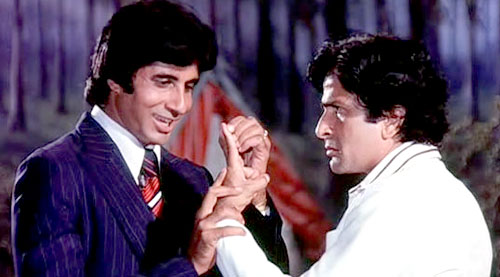 Within weeks of each other, Shashi Kapoor was conferred India's highest award for cinema, the Dadasaheb Phalke, and India's second highest civilian award, the Padma Vibhushan went to Amitabh Bachchan.



Somewhere then, in 2015, a chemistry that began in the mid-'70s was acknowledged, albeit separately, by this giant honour to two of the all-time trailblazers of Hindi cinema, Shashi being the first-ever Indian actor to do foreign movies as well as plough money back into art movies and theater, and Amitabh the Angry Young Man who soon changed into the One-Man Entertainer. And together, they formed, arguably, one of our most popular two-hero combinations ever, a 'bromance' version, as a wag put it then without any nasty implications and referring only to their joint audience allure and box-office expectations, of Dharmendra and Hema Malini.



It was therefore not surprising that when the 100-weeks-runner Roti Kapada Aur Makaan (1974) became the first film to set the multi-star Hindi film era rolling, these two actors, who had made their respective major breakthroughs in Aa Gale Lag Jaa and Zanjeer the previous year, soon made an impact as a pair, even if they had little to do with each other within the movie.



The Deewaar of Strength

Like a wall that no other two-hero combination could scale, the Shashi-Amitabh team became hit and hot, starting out as the pivot of the masterpiece Deewaar, Yash Chopra's and Salim-Javed's first tryst with the pair. Deewaar and Sholay consolidated the 'multi-starrer' trend for a long, long while, but the surprise was that the Dharmendra-Amitabh team did not pick up (despite another jubilee in 1975 in Chupke Chupke), and Shashi-Amitabh did!



Recalls Javed Akhtar, "We fought for Shashi-saab, because though he was a senior actor and also older to Amitabh in age, we wanted him to play the younger brother in Deewaar! We knew he could do it, but even Shashi was not so confident! And we had to convince producer Gulshan Rai. But Shashi got the most iconic line in the film, 'Mere paas maa hai! ' Except in Imaan Dharam, in which his character was corrupt, Amitabh was always Vijay in our films with both of them, while Shashi was usually Ravi. Their screen names in Deewaar had such strong identification!"



While it is universally acknowledged that Amitabh, in an author-backed role, overshadowed Shashi here, it was the latter who won a Best (Supporting) Actor award for his role of the good brother. But in Yash Chopra's next, the trans-generation love story Kabhi Kabhie, it was Shashi who effortlessly overshadowed Bachchan as the breezy Vijay Khanna, this time with him in an author-backed role. This time, Chopra placed the onus of the songs on Amitabh, who had no song in Deewaar. And it was Shashi who had no songs, and their clash on-screen was different: they clashed over a woman, not the law!



The next Shashi-Amitabh film, Imaan Dharam, for the first time, had the duo playing cronies in crime-earning money from professional perjury till various issues awakened their dormant conscience. This powerful duo, who had now raised audience expectations after a trilogy of huge hits, now starred in the first-ever Salim-Javed flop, in a film directed by Desh Mukherjee, the art director of all three of their earlier hits!


However, they hit pay-dirt again with the Deewaar quartet of Gulshan Rai, Yash Chopra and Salim-Javed in Trishul, in which Amitabh was the gray-toned avenger and illegitimate son of a tycoon, while Shashi was his 'foreign-returned' legal son.


After this, in terms of b-o., Shashi and Amitabh struck a low phase: Yash Chopra-Salim-Javed's Kaala Patthar, set amidst coal-mines as a then-trendy 'disaster' film, bombed, and though Amitabh was the real protagonist and Shashi a foil of sorts, the show was stolen by Shatrughan Sinha. Shatrughan did the same in Ramesh Sippy's Shaan, in which the two actors played brothers who are petty crooks. While both films were written by Salim-Javed, the latter film could not recover the investment, despite thematically reprising Sholay in a Bond-like setup.


In-between these two movies, Shashi and Amitabh came together in two action capers, Manmohan Desai's Suhaag and Rakesh Kumar's Do Aur Do Paanch. The former film did well, but the Shashi-Amitabh act was too done-before. In the latter, their clash as con-men outwitting each other was amusing in the first half, but the script lost its way later and the film was a flop.


Their last classic combination happened in Prakash Mehra's Namak Halaal, so it was blockbuster time again! This time, Amitabh Bachchan was Shashi's faithful (Namak Halaal) protector, and they also shared a mother. Confused? Sure, but that was the clever concept of a highly entertaining musical drama!


And speaking of music, Shashi and Amitabh did not enact too many songs together, but 'Hum Jhooth Bolte Hain' from Imaan Dharam, 'Mohabbat Bade Kaam Ki Cheez Hai' from Trishul, the two Suhaag hits 'Ae Yaar Sun Yaari Teri' and 'Meri Rab Ne Bana Di Jodi' and 'Yamma Yamma' and 'Jaanu Meri Jaan' from Shaan were all hits.


The lesser collaborations

The 1981 Silsila, produced and directed by Yash Chopra, saw Shashi and Amitabh play brothers, and the intertwining of three love triangles (Shashi-Amitabh-Jaya, Amitabh-Jaya-Rekha and Sanjeev-Rekha-Amitabh) caused by air-force officer Shashi being killed at war spurred the dreary plot. But the two actors barely shared screen space.


The same happened with Akayla, their last film together, directed by Ramesh Shaan Sippy a decade later. By this time Shashi, now an obese character artiste had just a few scenes with Amitabh Bachchan. The premise of Dhoom 3 (of twin villains flummoxing the cops) was originally seen in this Salim Khan-written average success. Incidentally, Silsila's best songs, including two recorded by Amitabh himself, were written by Javed Akhtar! The duo had split as writers!



Then there were two more films-Ahsaas, India's first true-blue youth flick, in which both made (separate) cameos in 1979, and Ajooba, released in 1991. The latter was originally to be directed by Raj Kapoor for producer Shashi Kapoor, but Shashi ended up directing the film (without starring in it) himself. Interestingly, it marked their debuts in Russian, as it was a bi-lingual co-production!


Trivia hunters would love to know three more interesting tidbits: one, Shashi got Amitabh's cameo (as a struggling extra then!) edited out of his 1972 English film, Bombay Talkie, because he sensed a talent that deserved far better; two, had Shashi's secretary not bungled, he would have played the role of Anand (for which Hrishikesh Mukherjee wanted him as the film was inspired by his friendship with Raj Kapoor), and so this 1971 film would have become the first Shashi-Amitabh film; and three, Shashi Kapoor had originally planned his bi-lingual production Utsav /The Festival with Amitabh Bachchan in the negative lead role, that he finally played himself when the economics did not match.


Piquantly, Utsav became the role for which Shashi gained a lot of weight, but lost the will to lose the kilos after his wife Jennifer died soon after!


The Secret of The Team

Though both worked a lot in the '70s and '80s (the multi-star eras) with other heroes), the clear secret of their collaboration was their obvious off-screen comfort zone coming up trumps on-screen as well. Their relaxed demeanor at work was there for all to see.


As one source puts it, "When two big stars come together, there are always undercurrents, on- and off-screen. The most notable aspect was that with Shashi and Amitabh, this was completely and conspicuously missing. There seemed to be total mutual trust and affection!"
BOLLYWOOD NEWS
Catch us for latest Bollywood News, New Bollywood Movies update, Box office collection, New Movies Release , Bollywood News Hindi, Entertainment News, Bollywood News Today & upcoming movies 2020 and stay updated with latest hindi movies only on Bollywood Hungama.