At the Tudum: A Netflix Global Fan Event 2022, a series of exclusive first looks, never-before-seen footage, trailers, and more were unveiled. While Asia content was announced on September 25, the US and Europe releases were announced in the evening. So, here's a list of all upcoming releases coming up.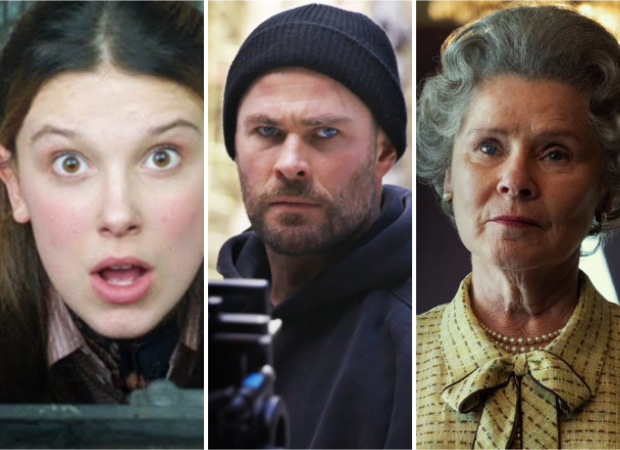 Netflix announces movies and series including Enola Holmes 2 to Extraction 2, The Witcher 3 to The Crown 5; check out the list
ENOLA HOLMES 2
Millie Bobby Brown is back as the brilliant detective in Enola Holmes 2, and unveiled the new trailer for the film during Netflix's annual Tudum fan event. The sequel drops on Netflix on November 4.
Adventure strikes again! Millie Bobby Brown, Henry Cavill, and Helena Bonham Carter return in Enola Holmes 2 — where a mystery of historic proportions requires 2 Holmes to handle. #TUDUM pic.twitter.com/6WWsNgwDvK

— Netflix (@netflix) September 24, 2022

QUEEN CHARLOTTE: A BRIDGERTON STORY
Bridgerton stars Adjoa Andoh, Golda Rosheuvel, India Amarteifio and series creator Shonda Rhimes unveiled the first look at the upcoming spinoff, Queen Charlotte: A Bridgerton Story.
Bridgerton fans, say hello to India Amarteifio — the incredible young actress who, along with the dynamic duo of Golda Rosheuvel & Adjoa Andoh, will reveal the origins of our beloved Queen Charlotte in a brand new series from Shonda Rhimes. #TUDUM has a (very early) first look! pic.twitter.com/dgttigpqv0

— Netflix (@netflix) September 24, 2022
BRIDGERTON SEASON 3
Bridgerton gossip queen Penelope Feathrington and Luke Newton unveiled the title of the premiere episode of season 3 which is focused on their story. The premiere is titled "Out of the Shadows," which is written by Bridgerton's new showrunner, Jess Brownell, and directed by Tricia Brock, who helmed the first two episodes of Season 2. "Dearest gentlereader, we have been apart for far too long," Coughlan reads the Lady Whistledown's letter. "At last, London's smart set has made its return. And so too has this author."
Bridgerton star Nicola Coughlan just gave #TUDUM a sneak peek at Lady Whistledown's first newsletter from Season 3! pic.twitter.com/ktzLtubyhi

— Netflix (@netflix) September 24, 2022
EMILY IN PARIS SEASON 3
After unveiling the first look photos earlier this week, the cast shared the release date for the upcoming season 3 of the show. The series will be back on screens December 2.
Here's your first look at Emily in Paris Season 3 — and you want to get a sense of the drama... Emily just gave herself bangs! Premieres December 21 #TUDUM pic.twitter.com/AvDGp63j9J

— Netflix (@netflix) September 24, 2022
SHADOW & BONE SEASON 2
Patrick Gibson, Jack Wolfe, Anna Leong Brophy, Lewis Tan along with Ben Barnes and Jessie Mei Li present the first glimpse at the season 2 of Grishaverse at the TUDUM event.
Welcome back to the Grishaverse! Here's a sneak peek at Shadow & Bone Season 2 #TUDUM pic.twitter.com/tnbpI8yEUB

— Netflix (@netflix) September 24, 2022
THE RECRUIT
Noah Centineo returns to Netflix but this time in more solid action packed role. He stars as Owen Hendricks, a young CIA lawyer whose first week on the job gets off to a rocky start. The stakes are high and he must now travel the world in hopes of completing his assignment and making a mark at the CIA.
First look at 'The Recruit' starring and executive produced by Noah Centineo.

It follows Owen Hendricks, a young CIA lawyer who finds himself entangled in a dangerous and absurd world of power politics and mischievous players.

On Netflix December 16. pic.twitter.com/fKt9W17Zux

— Film Updates (@FilmUpdates) September 24, 2022
EXTRACTION 2
Chris Hemsworth unveiled the first look of the sequel, produced by Russo Brothers and shared behind-the-scenes of high octane action sequences.
???? We're landing helicopters on moving trains ????

WE ARE BACK for Extraction 2 - where the on-camera stunt-work is just as mind-blowing as the behind-the-scenes effort it takes to shoot it! #RakeLives #TUDUM pic.twitter.com/j13wGoWEeT

— Chris Hemsworth (@chrishemsworth) September 24, 2022
YOU SEASON 4
The thriller returns in 2023 and it will be split into two parts and it's all about a murder mystery. Part 1 premieres February 10, followed by Part 2 on March 10.
Hello, You. Joe is back — but this time, please call him Professor Jonathan Moore.

Careful Marienne... you never know who is lurking in London. Season 4 Part 1 premieres Feb 10, Part 2 premieres March 10 #TUDUM pic.twitter.com/D0fXsg1hQL

— Netflix (@netflix) September 24, 2022
1899
From creators Jantje Friese and Baran bo Odar of Dark comes 1899, a new mystery-thriller series that's about to set sail. As per TUDUM, the logline reads, "At the end of the 19th century, passengers' journey from London to New York, looking forward to a new life that awaits them in the New World. When their ship comes across another one adrift at sea, all their hopes and dreams turn into an unexpected nightmare." The series will be multi-language. The cast includes Emily Beecham, Aneurin Barnard, Andreas Pietschmann, Miguel Bernardeau, Maciej Musial, Lucas Lynggaard Tønnesen, Rosalie Craig, Clara Rosager, Maria Erwolter, Yann Gael, Mathilde Ollivier, José Pimentão, Isabella Wei, Gabby Wong, Jonas Bloquet, Fflyn Edwards, Alexandre Willaume and Anton Lesser.
The new mystery series from the creators of DARK.

1899 premieres November 17 #TUDUM pic.twitter.com/Rewoq3WPZr

— Netflix (@netflix) September 24, 2022
THE WITCHER SEASON 3
The season 3 of Henry Cavill-led series will arrive in summer 2023 as the cast is currently on their 54th day of shoot schedule.
Our family returns! The Witcher is back for Season 3 in Summer 2023 #TUDUM pic.twitter.com/pV414YvRPI

— Netflix (@netflix) September 24, 2022
THE WITCHER: BLOOD ORIGIN
The series is set 1,200 years before the events of The Witcher, in an elvish civilization that has yet to interact with humans or monsters. It follows a trio of warrior elves (Michelle Yeoh, Laurence O'Fuarain, and Sophia Brown) who will become entangled with the creation of the first prototype Witcher. It also spans the events leading up to the Conjunction of the Spheres — the moment the human, elf and monster worlds collide. Minnie Driver joins the spin-off as the narrator.
Worlds will collide.

The Witcher: Blood Origin premieres this December. #TUDUM pic.twitter.com/aUss0VQAYX

— Netflix (@netflix) September 24, 2022
VIKINGS: VALLAHA SEASON 2
While a peek into the season 2 was unveiled, it was also announced that they have wrapped the season shoot and will begin season 3 soon. "I'm thrilled to be able to confirm that we wrapped Season 2 and that production will start soon on Season 3," says showrunner Jeb Stuart. "While the storylines for Leif, Freydís, Harald, Olaf, Canute and the rest of our amazing cast are secret, I can say without hesitation that their journeys will be even more epic than what you've seen so far."
Watch a fiery sneak peek at Season 2 of Vikings: Valhalla #TUDUM pic.twitter.com/mkgpScJALD

— Netflix (@netflix) September 24, 2022
THE WATCHER
A new trailer was unveiled about the upcoming series. The logline reads, "A sprawling suburban home, an inviting new neighborhood and an anonymous letter threatening to spy on you indefinitely." Led by Naomi Watts and Bobby Cannavale, the series includes a majorly stacked cast including Mia Farrow, Noma Dumezweni, Joe Mantello, Richard Kind, Terry Kinney, Margo Martindale and Jennifer Coolidge, to name just a few. The Watcher is also based on a true, as-yet-unsolved case about the real-life family who moved into 657 Boulevard in Westfield, New Jersey, and began receiving threatening letters from a stalker.
"I have been put in charge of watching you." Naomi Watts, Bobby Cannavale, and Jennifer Coolidge star in The Watcher, a terrifying new series from Ryan Murphy — and it's based on a shocking true story! #TUDUM pic.twitter.com/8wNRxkaK0z

— Netflix (@netflix) September 24, 2022
THE MOTHER
The Mother sees Jennifer Lopez as an assassin who's forced to come out of hiding to protect the daughter she left earlier in life. They're both fleeing from dangerous assailants, and, as we see in the teaser, their circumstances look pretty dire. Directed by Niki Caro, the movie also stars Joseph Fiennes, Gael García Bernal, Omari Hardwick and Lucy Paez.
There's nothing stronger than a mother's love — and these assassins are about to learn that the hard way. Jennifer Lopez is The Mother. #TUDUM pic.twitter.com/XWYDxujZAC

— Netflix (@netflix) September 24, 2022
MANIFEST SEASON 4
Melissa Roxburgh and Josh Dallas unveiled the first full-length trailer for the upcoming fourth season of Manifest.
Manifest fans, it's the moment you've been waiting for — the Season 4 trailer is here! #TUDUM pic.twitter.com/IOcL4i29a4

— Netflix (@netflix) September 24, 2022
YOUR PLACE OR MINE
Reese Witherspoon and Ashton Kutcher's new romantic comedy will be Valentine's week release, on February 10. It follows the story of "Debbie (Witherspoon) and Peter (Kutcher), who are best friends and total opposites. She craves routine with her son in LA; he thrives on change in New York. When they swap houses and lives for a week, they discover what they want might not be what they really need." The cast also includes Jesse Williams, Zoë Chao, Wesley Kimmel, Griffin Matthews, Rachel Bloom, Shiri Appleby, Vella Lovell, Tig Notaro and Steve Zahn.
Reese Witherspoon and Ashton Kutcher star in the romcom of your dreams.

Your Place or Mine premieres February 10. #TUDUM pic.twitter.com/No4j1VG1zS

— Netflix (@netflix) September 24, 2022
THE CROWN SEASON 5
The Crown returns on November 5. Imelda Staunton and Jonathan Pryce, who will take over the roles of Queen Elizabeth and Prince Philip, respectively. Lesley Manville will essay the role of Princess Margaret, whereas Claudia Harrison takes on the role of Princess Anne, and Jonny Lee Miller will play Prime Minister John Major. The fifth season, which stars Elizabeth Debicki and Dominic West as Diana and Charles, will dive into the divorce of the Prince and the Princess of Wales. It will mostly end with the storyline of the death of Princess Diana.
Reese Witherspoon and Ashton Kutcher star in the romcom of your dreams.

Your Place or Mine premieres February 10. #TUDUM pic.twitter.com/No4j1VG1zS

— Netflix (@netflix) September 24, 2022
SLUMBERLAND
Directed by Francis Lawrence, the film stars Jason Momoa and Marloy Barkley along with Chris O'Dowd, Kyle Chandler, Weruche Opia, India de Beaufort and Humberly Gonzalez. It will premiere on November 18.
Jason Momoa just gave #TUDUM a sneak peek at his fantastical new movie, Slumberland — coming this Thanksgiving! pic.twitter.com/6d8XuODJH5

— Netflix (@netflix) September 24, 2022
WEDNESDAY
Jenna Ortega stars in Tim Burton's The Addams Family spin-off, Wednesday. The film also stars Catherine Zeta-Jones as Morticia Addams, Luis Guzmán as Gomez Addams, Garfunkel and Oates' Riki Lindhome as Dr. Valerie Kinbott; Jamie McShane as Sheriff Donovan Galpin, and Isaac Ordonez as Pugsley, Wednesday's younger brother. Gwendoline Christie will also appear as a main cast member known as Larissa Weems.
EMBED 18:
Name a more dynamic duo than Wednesday Addams and Thing. I'll wait. #TUDUM pic.twitter.com/umruHWkHsP

— Netflix (@netflix) September 24, 2022
NEVER HAVE I EVER SEASON 4
While this marks the final season, the lead cast introduces the new guy in school. Michael Cimino joins as Ethan for the final season along with Maitreyi Ramakrishnan, Jaren Lewison and Darren Barnet returning for some more fun.
Hope you've already finished Never Have I Ever Season 3 because the stars are here to give you a little tease of what to expect from Season 4 — including Sherman Oaks High's newest heartthrob, played by @_michaelcimino_ #TUDUM pic.twitter.com/2mEyxYOol3

— Netflix (@netflix) September 24, 2022
THEY CLONED TYRONE
The eerie comedy is set to premiere in 2023 and stars Jamie Foxx, John Boyega and Teyonah Parris.
This conspiracy is more than a theory! Get your first look at They Cloned Tyrone, a wild new film starring John Boyega, Teyonah Parris, and Jamie Foxx. #TUDUM pic.twitter.com/1tqyx6nzOS

— Netflix (@netflix) September 24, 2022
LUPIN SEASON 3
The cleverest gentleman thief Assane Diop (Omar Sy) returns with season 3.
Lupin is back! Get a sneak peek at Part 3 #TUDUM pic.twitter.com/7O39fdWskN

— Netflix (@netflix) September 24, 2022
DEAD TO ME
The final outing of the dark comedy wraps up the story of two friends with a growing rap sheet: Jen (Christina Applegate) and Judy (Linda Cardellini), whose lives are entangled with Bad Twin Steve (RIP by bludgeoning/drowning) and Good Twin Ben (both played by James Marsden). The series is currently under production.
Friends forever? The final season of Dead To Me premieres November 17 and #TUDUM has your first look pic.twitter.com/DiFWMM0yHg

— Netflix (@netflix) September 24, 2022
GLASS ONION: A KNIVES OUT MYSTERY
In a new clip, a colorful cast of characters receives exactly that privilege. Miles Bron (Edward Norton) has invited his closest friends to an island getaway where they will…investigate his murder. The only catch? They have to solve an intricate puzzle box first. Watch the below clip before the film arrives on December 23.
Please accept this invitation to watch a sneak peek from director Rian Johnson's new movie, Glass Onion: A Knives Out Mystery #TUDUM pic.twitter.com/aDnWtbegkU

— Netflix (@netflix) September 24, 2022
OUTER BANKS SEASON 3
The new season will premiere on Netflix in 2023. The clip features stunning footage of island beaches with a voiceover from our hero John B (Chase Stokes) saying, "Pops always said nothing good comes easy; nothing worthy is given. The question is what are you willing to do to win? How far will you go to get your treasure?"
It's time to head back to Poguelandia! Watch the brand new teaser for Outer Banks Season 3! #TUDUM pic.twitter.com/NnN2X4LF4Z

— Netflix (@netflix) September 24, 2022
THE SCHOOL FOR GOOD AND EVIL
The film follows best friends Sophie (Sophia Anne Caruso) and Agatha (Sofia Wylie), as they find themselves on opposing sides of an epic battle when they're swept away into an enchanted school where aspiring heroes and villains are trained to protect the balance between Good and Evil. Starring Charlize Theron and Kerry Washington, The School for Good and Evil premieres on Netflix on October 19, 2022.
The School For Good and Evil asks you to think of a moment when you wanted to tell the world that you are so much more than they ever realized... #TUDUM pic.twitter.com/csb2pGGkGe

— Netflix (@netflix) September 24, 2022
HEARTSTOPPER SEASON 2
The cast has begun filming for season 2 and one can expect some new faces joining the series.
Heartstopper Season 2 is officially in production and a few people wanted to say "hi" pic.twitter.com/7MQ1NWhqkx

— Netflix (@netflix) September 22, 2022
ALICE IN BORDERLAND SEASON 2
Arisu (Kento Yamazaki) and Usagi (Tao Tsuchiya) are set to return with ne season in December 2022. In the Japanese sci-fi thriller, the new cast includes Nijiro Murakami, Ayaka Miyoshi, Dori Sakurada, Aya Asahina, Sho Aoyagi and Riisa Naka. The series premieres on December 22.
EMBED 27
Alice in Borderland Season 2 premieres December 22! Check out the teaser that just dropped in #TUDUM pic.twitter.com/g5AiSWXg7d

— Netflix (@netflix) September 24, 2022
BOLLYWOOD NEWS - LIVE UPDATES
Catch us for latest Bollywood News, New Bollywood Movies update, Box office collection, New Movies Release , Bollywood News Hindi, Entertainment News, Bollywood Live News Today & Upcoming Movies 2023 and stay updated with latest hindi movies only on Bollywood Hungama.