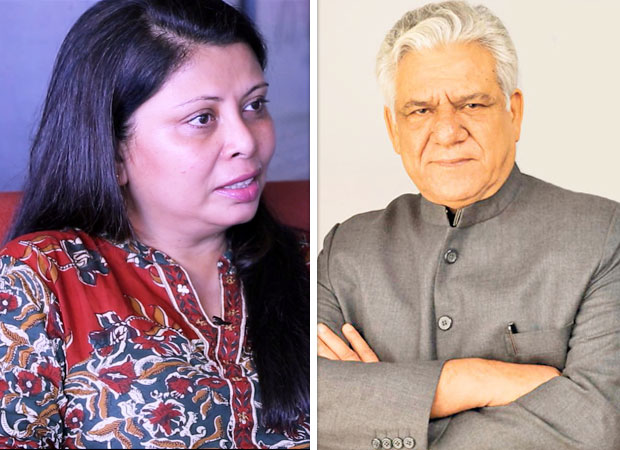 Senior journalist Nandita Puri in a no-holds-barred exclusive with Bollywood Hungama's Faridoon Shahryar pours her heart out on Mr Om Puri on his birthday. Mrs Puri is upset with MAMI for not paying a fitting tribute to Om ji while Oscars and BAFTAS have given a rich and glowing tribute to Mr Puri. Mrs Puri also came down heavily on "Rabid news channels" who instigated and provoked Om ji and the aftermath of ignominy that pained him immensely.
Mr Om Puri's birthday is on October 18th. What are your thoughts on him when he's not around?
I'm gonna miss him terribly, still not sunk in. Every year he made it clear to his secretary that his birthday, Ishaan' Birthday and my birthday and anniversary, come what may, he has to be in Bombay and be with us and very unfortunately last year he was in Manali for the shooting of Tubelight and he told us to come there but somehow we couldn't go. And it's a big regret, we just wished him over the phone and even last year I think even on Ishaan's birthday he was not here and even my birthday he was not here. We thought okay this year is very unfortunate it's hard to believe that he's not here. Every birthday he was here, he didn't believe in parties. He came from a very very humble background in fact October 18, is not really his birthday, because that is the day his mother always told him that you were born 2 days after Dusshera. And two days after Dusshera she would make kheer for him and one particular year we found out that two days after Dusshera was October 18.
Also his mentor Ibrahim Al Kazi's birthday (who was the director of the National School of Drama) was the same and he kept his birthday on the same day hence forth. And it was such a coincidence that his favourite co-star Smita Patil's birthday was October 17. As he didn't like parties we celebrated by making kheer. Kheer with a particular gud and chaval from Kolkata 'Nolen gur'er kheer' and we would have the gud in the fridge and we used to make it and he used to taste a few spoons and he loved sheera and all. On his birthday we used to go out for lunch and in the evening the friends would drop by and maybe we could go for dinner or have good food at home and the house would be full of flowers full of bouquets. In fact I have two of my friend's birthday on the same day and they would get bouquets from our house. The neighbours would come and book the bouquets, because the whole house was full of bouquets. I'm going to miss that this year and of course he believed in helping the needy. He didn't believe in having lavish birthday parties and I don't even remember a big party. It was on his 58th birthday where we were like let's have a party for you and we had a little get-together at The Club and all his close friends and colleagues came. Naseer came and Om ji was a very simple man.
He didn't believe in brands, he didn't believe in anything and he would wear HMT watch along his time, then Titan watch and even if he got these expensive Longines and other things he would give it to me. On that birthday Naseer gave him an Armani which Naseer also wears and Om pointed out and I liked that. He actually wore that Armani till the very end. So that was one birthday and on his 60th birthday we were in Abu Dhabi for the film festival and I had told the hotel staff, they had this beautiful cake and they had balloons and everything. He was so embarrassed and said why did you do it and the other main birthday I remember was his 50th birthday. He was shooting for the Parole Officer in UK London and they gave him half a day off. I remember we had packed 50 gifts, Ishaan and me went out and we picked up about 50 gifts like his favourite liquor, bottle of rum, his whiskey, his cigarettes, aloo bhujiya, sev things like that and he had a blast opening the gifts. So that was one of the few birthdays I remember and that was very simple and in fact he was not a person who believed in expensive gifts. So every time we asked him what he would need he said "mujhe half a dozen chaddis de do and half a dozen jurab de do". I said jurab and chaddis he said yaa because I need them and then we would laugh. On one birthday Ishaan gave him a limited edition of Gold Label and he gave Ishaan a long moral lecture.
Ma'am his last film was Kabir Khan's Tubelight and he played a Gandhian character. Gandhian thought process is extremely relevant in today's day and age when communities are being turned against each other. The entire idea that he says that an eye for an eye will make the world go blind is very important. Mr Puri practised this thought process in real life as well. How important is the legacy of Om ji as a humanist?
You know we have started the Om Puri Foundation. The main idea is not just carrying the legacy of his films, but the main idea of humanity has to be carried forward. Om came from a very humble background. At the age of 6 he worked at a tea stall to earn money for food for his family. He always respected every profession. You wanna be a Farmer? Be the best, wanna be a chef? Be the best. Wanna be an actor? Be the best. Try to do the best in whatever with passion, that's what he said. He never turned anyone away from his door step. Whether in the union, somebody needed money for their daughter's wedding, he was always there. If there was some Javan who died or a Farmer, he was there. Farmer community was always close to his heart. Poor student and Om ji would help. He always saw to it. He did it so quietly and his brother and nephews, he settled all his nephews in terms of buying them house each, settling them, getting them married. Even his extended relatives. Charity begins at home, he said. He was never indulgent as a person, it's not that he didn't spend but he spent on the right things. In terms of education, health every staff member in my house has an insurance. For all of them he bought a house for them. His entire childhood was spent without a roof over his head. He kept changing houses and they were so insecure in terms of food, in terms of roof. So he thought that everyone was well provided for. He was a humanitarian first. Om ji actually taught me to respect the staff, to respect the people who are less fortunate and one of the reasons we have started the Foundation is to start off with Om Puri scholarship and fellowship in his name in the National School of Drama in the Film and Television Institute and to give grants to young film makers.
Ma'am the reason why I immediately agreed to your interview is that even though I met Om ji very few times, I was deeply disturbed by the way he was disrespected and instigated by certain news anchors and how he was trolled even post his death. Many Indians realised the greatness of Om Puri when Oscars and Baftas gave a superb and befitting good bye to him. Does this insensitivity of certain media people and a certain section of people bothered you? Are you hurt?
Yes it does. He was in Gandhi. He worked with Steven Spielberg, Tom Hanks, Jack Nicholson, Julia Roberts and Michael Douglas. He was a house hold name in UK. He was the only Indian actor to have been honoured by the queen with the OBE. He wore his laurels very lightly. He never had a PR, he never had a publicist and he said my work speaks for itself and it did and it's so sad that when he passed away the Academy which first time in the history they honoured an Indian actor as part of their Oscar family. The BAFTAS gave him such a wonderful tribute. I think they gave him the longest tribute in their memorial. It is so sad that our award functions, magazines, (these award functions where actors say they buy the awards), they didn't even respect him, honour him. The worst is this Bombay film festival which is going on MAMI. When MAMI started in its second or third year they approached him that we want to give you the life time achievement award because of your contribution to cinema, Indian and internationally. He said no don't give it to me. I'm working, giving a lifetime achievement means retiring an artiste and I'm not retiring so soon. But he was gracious enough to accept it and that time they gave it to him because they needed a name like Om Puri. Nobody knew MAMI those days in the first, second, third or fourth year nobody knew what MAMI was. You needed names to establish your award and today the same festival has not even bothered to mention him, to pay tribute to him, to show his films. I mean it's disgusting and really pains me. Today you are a big name; you have a big corporate backing you. That doesn't mean you forget a great man, the legacy of this person is immense. The salon.com in 2004, 2002 or 2003 called him the greatest living actor. That he was above Robert De Niro, Al Pacino, Dustin Hoffman that particular year, they voted him.
He didn't make a huge hue and cry about it. It was not in every Indian newspaper or magazine or public. Om ji was a humanitarian. If he said something he said it as a humanitarian as a humanist and we have some channels who are very rabid in their views and these are the channels which are looking for sensation. They instigate you, they make you say things that are provocative and they go on because they have to run their channel for the next one week on some sensation. It did pain him and the comment he made on the BSF soldiers, he didn't mean it because he was instigated he said it and even when he said it I think in a way he was right what he meant but they misrepresented it and went all over. He did feel so bad about it. Two three weeks later he went to the village of this guy in Etawah near Banaras. He attended a havan he quietly went to the other room and gave a cheque of 10 lakh rupees to his parents which no one knows because he didn't make a huge hue and cry about it. And they sent him achar also and we have the achar. So even if he made a mistake, even it was a slip or whatever he was man enough to admit it. Not many are, people make mistake and then they twist and turn and play around. It does hurt me that the world recognises him when we launched the Om Puri foundation at the British Film Institute Pavilion in Cannes. They went out of their way to put together the event and you don't see anything happening in India.
BOLLYWOOD NEWS
Catch us for latest Bollywood News, New Bollywood Movies update, Box office collection, New Movies Release , Bollywood News Hindi, Entertainment News, Bollywood News Today & upcoming movies 2020 and stay updated with latest hindi movies only on Bollywood Hungama.