THE GREAT INDIAN MURDER is the story of a high-profile murder in the capital of India. Vicky Rai (Jatin Goswami) is a rich, spoilt brat and the son of Jagannath Rai (Ashutosh Rana), the home minister of Chhattisgarh. The other members of his family are his stepmother, Sandhya Rai (Parinitaa Seth) and stepsister, Ritu Rai (Rucha Inamdar). In 2018, Vicky is embroiled in multiple controversies. He calls famous actress Shabnam Saxena (Paoli Dam) in Delhi and asks her to stay in a suite booked by him. She assumes he wants to sleep with her. However, when she reaches the hotel suite, Vicky brings his African client and he asks Shabnam to spend time with the client. Shabnam gets enraged. She gets into a fight with Vicky and leaves the room. Vicky kicks Shabnam in the hotel corridor. Some guests in the hotel shoot videos of this altercation and it goes viral. Vicky then gets two girls at his Chhatarpur farmhouse for the African client. The next day, Vicky finds out that both the girls are dead. He tells his men to dispose of the bodies. Sadly, the cops stop the car and discover the dead bodies. Vicky is arrested. The case goes on for 3 years and in 2021, Jagannath Rai manages to bribe the officers and plant fake evidence. Vicky Rai is acquitted. He decides to throw a party on November 23, the day he was implicated in the case. At this time, Jagannath is in a political crisis. Due to the controversies of Vicky, he had to step down as home minister. The Chief Minister of Chhattisgarh, Shashikant Vohra (Kenneth Desai), doesn't allow him to take up the home ministry even after Vicky's acquittal as the elections are just a year away. Jagannath decides to break away from the government and form his own alliance. He wants to buy MLAs from the ruling party. However, Shashikant Vohra warns all the millionaires of Chhattisgarh to not help Jagannath financially. With no other option, Jagannath Rai asks Vicky for help. However, Vicky refuses, which enrages his father. On the day of the party at the farmhouse, hundreds of people are in attendance. While the party is going on in full swing, Vicky is shot suddenly and dies. The security team and the cops instantly seal the place and begin to frisk each and every guest. They nab a waiter, Munna (Shashank Arora), who is carrying a knife. The other person who gets arrested is a tribal from Andaman, Eketi (Mani PR), who is carrying a gun. The case is transferred to the CBI and Suraj Yadav (Pratik Gandhi) is given the charge. He asks Delhi Police cop, Sudha Bharadwaj (Richa Chadha), to assist him in the case. Suraj and Sudha are puzzled as they fail to understand why Munna or Eketi would want to kill Vicky Rai. While investigating, they also realize that there's one more suspect - Mohan Kumar, Former IAS Chief Secretary (Raghubir Yadav). Meanwhile, Suraj is under pressure to change the narrative of the Vicky Rai murder case. On the other hand, there's a mystery vlogger who is posting multiple videos on Vicky Rai and the murder case. He seems to possess a lot of inside information. What happens next forms the rest of the series.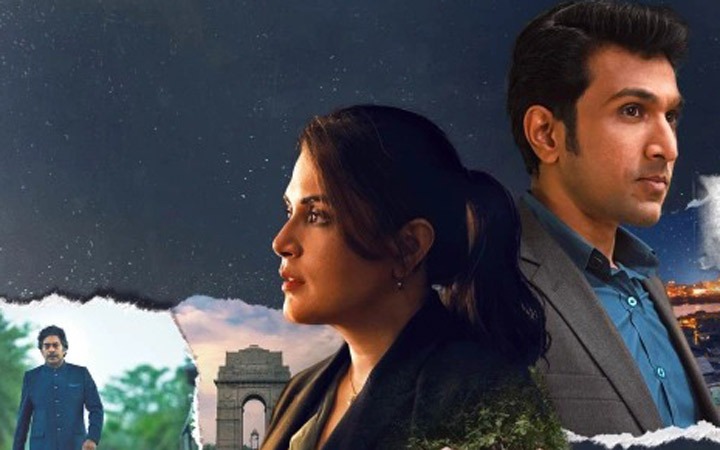 Web Series Review: The Great Indian Murder
THE GREAT INDIAN MURDER is based on the book 'Six Suspects' by Vikas Swarup. The story is intriguing and has a lot of potential for a great whodunit. Tigmanshu Dhulia, Vijay Maurya and Puneet Sharma's screenplay is simplistic and flows very well. There are too many characters but the script is written in such a way that audiences can easily comprehend what's going on. However, a lot of changes are made from the contents in the novel. A few of the developments in the book were far more interesting and ideally, should have been retained. Moreover, the answers to some of the questions are never revealed. Tigmanshu Dhulia, Vijay Maurya and Puneet Sharma's dialogues are sharp and conversational.
Tigmanshu Dhulia's direction is effective. He was not in top form in some of his last films like SAHEB BIWI AUR GANGSTER 3 [2018] and MILAN TALKIES [2019]. Here, he handles such an expansive storyline and numerous characters with finesse. He never lets the narrative become too complex even once though there are so many suspects, point-of-views, motives etc. A few scenes are handled exceptionally like Jagannath falling into the pit in the golf course, Mohan Kumar's interrogation at home, Mohan Kumar being ousted from the house of his lover Rita Sethi (Himanshi Choudhary), Suraj Yadav's lunch meet with Vicky Rai's media advisor Sharad Jalan (Kumar Kanchan Ghosh), Suraj's conversation with Munna in the cell etc. He also tackles issues like racism, caste divide or how women are badly treated, that too with pride, in some parts of India even today. On the flipside, a few developments are not shown at all and are conveniently skipped. For instance, viewers are never informed of what happened with Eketi in Jaisalmer and how and when did he arrive in Delhi, or why the African client killed the girls in Vicky's farmhouse. It's also bewildering that Suraj and Sudha didn't know about the Ashok Rajput (Sharib Hashmi) angle in Eketi's case and they didn't even bother to find out initially. The other development that is not explained is how exactly did a man like Munna woo the rich Ritu Rai. The character of Arun Deshmukh (Amey Wagh) is also bewildering, especially his back story. A development that's difficult to digest is that so many guests at the party shot videos and some of them even captured the shooting. Yet, not a single video got leaked out; it's too unconvincing especially in the times that we are living in. Lastly, the climax is the biggest downer. It's sudden and abrupt and fails to answer some of the important questions. Probably, a second season is in the offing. Yet, it's sure to disappoint those who'll be looking at a conventional conclusion to the show.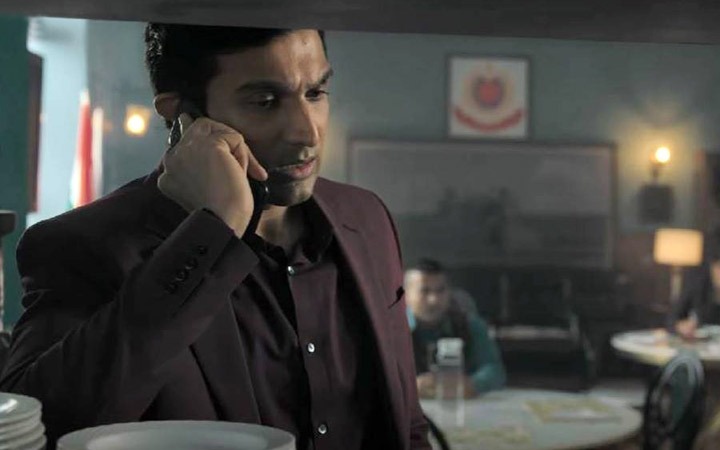 Speaking of performances, Richa Chadha is in fine form and shines in some scenes. Pratik Gandhi is first-rate and manages to make his ruthless character different from his act in SCAM 1992 [2020]. Jatin Goswami is a great find and is sure to benefit from this series. Ashutosh Rana, as always, is dependable. Mani PR is terrific and gets adequate screen space. His track is quite moving. Shashank Arora, as usual, delivers a worthy performance. Raghubir Yadav is the surprise package of the series. Some of his scenes are sure to bring the house down. Paoli Dam is shockingly wasted. The show starts with her and then she's completely forgotten. Sharib Hashmi is not consistently present but nevertheless, his casting and able performance add a lot to the show. Amey Wagh is decent but his character suffers from a lack of back story. Himanshi Choudhary gives a confident performance. Kumar Kanchan Ghosh is apt for the part. Guneet Singh (Inspector Manjot) is great and adds to the laughter quotient. Deepraj Rana (Prithvi; Jagannath's henchman) does well in a small role. Nikita Grover (Prerna; Arun's girlfriend) leaves a mark and the same goes for Ronjini Chakraborty (Champi), Ashish Shukla (Brijlal; Mohan Kumar's driver), Hemant Mahaur (Billu Biryani) and Sakshi Benipuri (Ashok Rajput's bhabhi). Parinitaa Seth, Rucha Inamdar, Kenneth Desai, Moss Ali (Michael Busari), Vineet Kumar (Ambika Prasad; Delhi minister), Vivek Mishra (Guru Atmadev) and Rajat Bhagat (Lallan; Munna's friend) are fine. Madhuri Bandiwdekar (Shanti; Mohan Kumar's wife) and Rushad Rana (Prateek Bharadwaj; Sudha's husband) do not get much scope. Debu Da (Kali Prasad Mukherjee) has a blink-and-miss appearance and one wonders why he is even there in the series. Liam Macdonald (Larry Page) is also wasted. His character has a lot of importance in the book but here, his presence is inconsequential. Lastly, credit should also go to casting director Mukesh Chhabra for the superb casting.
Music fails to make a mark. 'Jaane Re Mann', 'Bhagad Bille' and 'Mon Amour' are relegated to the background. 'The Great India Murder' theme is catchy and the opening credit video is well presented. Ketan Sodha's background score is impactful.
Rishi Punjabi's cinematography is excellent and the interior as well as the exterior shots in Delhi, Rajasthan, Chhattisgarh, Andaman, Chennai etc are well captured. Dhananjay Mondal's production design is very rich. Tulika Dhulia's costumes are well-researched and it's very appealing in the case of the rich characters. Vikram Dahiya's action is realistic and sans any gore. Unnikrishnan P P and Prathamesh Chande's editing is passable but too quick at some places.
On the whole, THE GREAT INDIAN MURDER keeps one hooked from start to finish and rests on some excellent performances. However, a few questions are left answered. In addition, the ending is too abrupt and it might disappoint a section of viewers.
Rating: 3 stars
BOLLYWOOD NEWS - LIVE UPDATES
Catch us for latest Bollywood News, New Bollywood Movies update, Box office collection, New Movies Release , Bollywood News Hindi, Entertainment News, Bollywood Live News Today & Upcoming Movies 2023 and stay updated with latest hindi movies only on Bollywood Hungama.