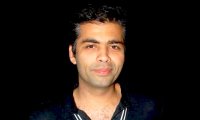 Karan Johar">
Keeping aside certain threats that Kurbaan has received courtesy its posters, even otherwise the film comes with a volatile theme which is centred on global terrorism. With the film's release almost coinciding with 26/11 attack in 2008, the matter becomes further sensitive. This is why one strongly hopes and believes that even after the release of Kurbaan, there would be no disruptions from any political or religious sections that may see red in the content or timing of Kurbaan. Joginder Tuteja gets into a conversation with Karan Johar and asks if he fears any further protests.


Karan, knowing the sensibilities of Dharma Productions, one always expects a quality outing with a sensitive storyline that doesn't threat anyone's sensibilities – whether social, political, religious or emotional. Still, in the democratic environment that we are in, do you fear any protests coming the way of Kurbaan since it deals with
terrorism?

No, I don't see foresee any controversies around the film since it is only showing things as they are. It has been made with a huge level of sensitivity and I am sure it won't be offending anyone's sensibilities. (Pauses) No, there should not be a protest or any other disruptive activity.



It has been made with a huge level of sensitivity and I am sure it won't be offending anyone's sensibilities

So, is the element of terror constant throughout the film or do we see some other layers as well?

Of course the film is conveying an important point of view with an eye on global terrorism. However, at the heart of it all, it's a love story and that itself is its biggest strength too. This is what constitutes for an emotional narrative against the backdrop of terrorism. Of course emotional strength is the film's mainstay but I can confidently state that
Kurbaan does scratch the surface more than any other film based on a similar subject. Still, we are not making a political or a social commentary here.


Well, one has to agree that in a limited time span, Kurbaan has managed to create quite some curiosity around itself…

I am thankful that this has happened for both the movie and the songs. Our marketing window for the film was just 5 weeks and it's great that we have been able to penetrate the market in such limited framework of time. See, certain products need a slow build up, like it was in the case of Wake Up Sid. We had to work our way in people's
mind. On the other hand Kurbaan is thrilling. Also, it has Saif and Kareena and this is why the movie is so hot today and has a curiosity of its own.


I remember you mentioning that once they are hired, you let your directors loose. Was it the same case with first timer Rensil D'Silva as well?

Rensil cinema has nothing to do with me. Yes, the story is mine but I have nothing to do on a creative level. It's entirely Rensil's take on how the film has been shot and executed. In fact you would know that when you see the film. Every director has his own voice and Rensil has his own. Another strong point that he brings to the table is that he is also a writer. Sometimes writers become indulgent but he is not. He is very easy to deal with. I didn't have to tell him what to cut. He understands the pace of the film and kept it's duration just the way it should be.



Rensil cinema has nothing to do with me

You seem to be quite impressed with him…

And that's because he knows what he is talking about. He has written the film's screenplay and the entire mystery of Kurbaan lies in this element. He knows his subject inside outside.


Ever since Jab We Met, I have never seen Kareena so gung go about a film as has been in the case of Kurbaan. What is it so special about the film that makes her extremely confident and close to the product?

In fact Bebo has been a huge support to the film and has given it all. She has grasped the character very well and worked hard on the film. That level of passion shows. I believe that everyone has done an exceptional job, whether it is Saif, Vivek or herself.


However, Kareena believes that Saif is all set to walk away with the biggest honors after Kurbaan. Do we actually foresee that coming?

[Smiles] Bebo is very passionate about Kurbaan and obviously has great things to say about everything associated with it. Yes, I am proud of the work done, the technique applied and overall filmmaking. However, the biggest verdict is the box office verdict. That's going to validate if we have actually come up with something that deserves critical and commercial acclaim.