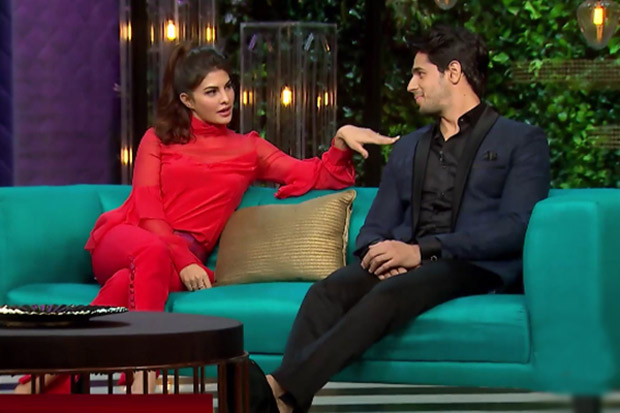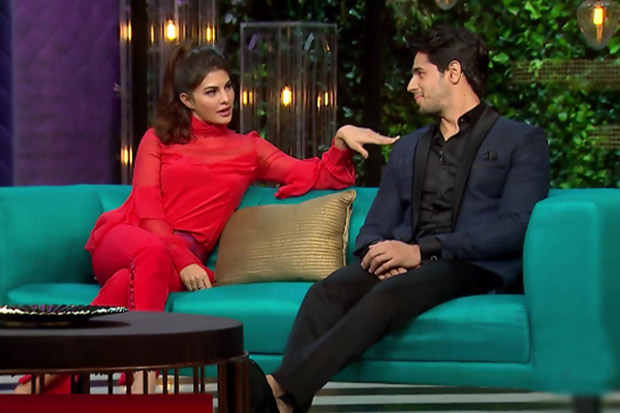 After having featured the usual and unusual pairings of Bollywood, it won't be wrong to say that the much talked about show 'Koffee With Karan 5' is definitely on a roll and how! Yesterday's episode featured the extremely hot Jacqueline Fernandez with the 'hunky', 'handsome' and 'swag' Sidharth Malhotra. Since this was the first time when Jacqueline Fernandez appeared on the show, Karan Johar termed her as a 'Koffee virgin'. For those who missed the telecast, here's what you missed:
The 'single' Jacqueline Fernandez
When Karan Johar asked Jacqueline Fernandez about her being single, she made no airs about confessing that she was indeed single and that too since a very long time. She said that she wanted to get her mojo back because she had been working too much. She also added that one of the reasons for her to be single is because she had sacrificed her social life, relationships and family… all for the sake of work. With a smirk on her face, she also confessed that she missed having a boyfriend… since a long time.
'Relationship status' of Sidharth Malhotra
When asked about the relationship status, Sidharth Malhotra confessed that he was single. He stated that the reason why he was single was because of his focused approach towards his work. And when Karan Johar asked about him about dating Alia Bhatt, Siddharth Malhotra smiled and denied. To which, Karan Johar said, "The guilty smile tells it all". Amidst the conversation, seeing Jacqueline Fernandez dressed in the red dress, a 'very disappointed' Karan Johar made a statement that she was more covered up than she had ever been in her career.
Nothing's brewing between Sidharth Malhotra and Jacqueline Fernandez
Karan Johar asked about the truth behind the photographs that had appeared in the media, wherein Jacqueline Fernandez was seen coming out of Sidharth Malhotra's building. The duo not only rubbished the photographs, but also any kind of link ups between them. They explained that they were photographed when they had met for a 'reading' of a film. Sidharth Malhotra said that he was in a relationship with his dog Oscar! Reacting to the half-baked news reports in the papers, Jacqueline Fernandez made a sensible statement stating 'When you read the papers, you are misinformed. And when you don't read the papers, you are uninformed'.
Sidharth Malhotra's inferiority complexes and moments of anxiety
While Karan Johar admitted that when he saw Dangal, he felt very inferior, Sidharth Malhotra's also spoke about his set of inferiority complexes. He said that he had so much to learn from his peers when they perform really well. In the same breath, he also added that he found solace in the fact that he has reached where he is today after having started off from the scratch. He said that it was his humble beginnings that gave him a sense of gratitude and not envy.
Jacqueline Fernandez and Sidharth Malhotra's industry friends
Revealing about her friends in the industry, Jacqueline Fernandez said that she and Sonam Kapoor were really great friends and that her friendship with Sonam Kapoor was for real. She also said that her friendship with Sonam Kapoor was just not a 'fashion act'. Jacqueline Fernandez described Sonam Kapoor as someone candid, honest and would tell anything on the face. She also confessed that she lacked the guts that Sonam Kapoor has.
On the other hand, Sidharth Malhotra said that he has loads of friends from the industry like Ranbir Kapoor, Parineeti Chopra, Katrina Kaif, Ayaan Mukherjee, Aditya Roy Kapur, Varun Dhawan, and Arjun Kapoor. He said that he was pretty much in touch with all of them and that they socialised pretty often. He also clarified the so-called tension between Varun Dhawan and him were only made up (by the media) and that no truth existed in such things.
Jacqueline Fernandez, the animal lover
By her own admission, Jacqueline Fernandez revealed that, while her father had a pet monkey, she had seven dogs, two cats, parrots, turtles, rabbits.
Truth confessions through 'Koffee shots'
In yet another innovative game within the show, Karan Johar got the duo indulged in 'Koffee shots', which they had to gulp the 'koffee shot' it their answer to the question was affirmative. On their own admission, both, Jacqueline Fernandez and Sidharth Malhotra confessed that they had fantasied about their respective co-stars, (without revealing the names, of course!). Sidharth Malhotra also confessed that, while he was almost a part of a threesome… which just did not happen! Jacqueline Fernandez, while gulping a 'koffee shot' said that she did get turned on while watching a movie as it was very natural. Sidharth Malhotra, while seconding that, also confessed that he had taken a shower with someone and also have had phone sex!