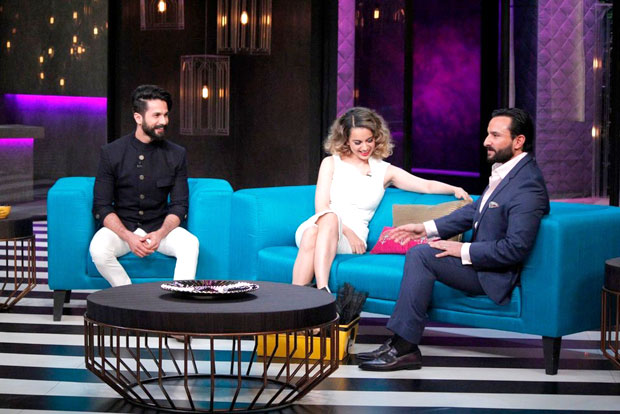 Koffee with Karan season 5 episode featuring Kangna Ranaut, Saif Ali Khan and Shahid Kapoor was more about calling out each other. The episode kicked off on a serious note as informed by Karan as Kangna had asked it to be a little less frivolous and more dignified.
Koffee with Karan 5: Kangna Ranaut calls out Karan's nepotism; Saif Ali Khan and Shahid Kapoor's drama over Kareena Kapoor Khan
Here are some top moments from the episode.
1. Karan revealed that it was Preity Zinta and Saif Ali Khan who had kicked off his talk show shooting the very first episode for him.
2. Kangna Ranaut somehow managed to call out Karan's snootiness and informed him that it was a driving force for her. She said, "You've been a driving force in my life. If it wasn't for the rejections and mocking, I would not have reached this point. I mean you did mock me and my English on this couch. I am not complaining, just saying."
3. In the opening episode of the fifth season, Karan Johar had asked Alia Bhatt whose airport looks she liked. She had said Kangna and wanted to know where she is going every time. When quizzed Kangna, somehow she managed to mock Karan on this by saying, "Alia said she likes to stalk my airport looks. So, he is putting words in her mouth and now you want me to reply. I'd like to say it's a secret."
4. Then came the segment of Koffee shots because what's the point of the show if's there's no gossip to talk about.
- Have you ever dressed up for a role play? Kangna drank the Koffee shot.
- Been jealous of another's successful film? Kangna once again drank the shot mentioning Aamir Khan's major successful film Dangal. "I mean Dangal made so much money. I mean come on,"- said Kangna Ranaut drinking another shot.
- Cheated on your partner? Saif Ali Khan drank the shot this time.
- Gone skinning dipping with someone? Both made sure to drink the shots.
- Kissed someone and regretted it later? With crazy expressions, Kangna and Saif had two Koffee shots.
- Tried a position your friend recommended? Kangna definitely was winning the game drinking away all the shots.
- Had friends with benefits? Saif drank the shot saying, "I can't keep drinking this stuff anymore."
5. The rapid fire was full of fire as Kangna Ranaut did not leave any chance to fire Karan.
- Karan Johar asked, "As per your experience, who has given you more unnecessary attitude in the film industry- male or female co-stars?
Kangna- "I think you, Karan."
Saif- "What gender he comes in?"
Kangna- "If there's a biopic on me, Karan will play the stereotypical Bollywood biggie who is very snooty and completely intolerant of outsiders. The flag bearer of nepotism, the movie mafia. You will have big part."
- Karan Johar quizzed about love by asking, "Find love and be poor or be rich and single."
Kangna's clap back was finest here saying, "Your idea of poverty is very different from my idea of poverty. If you have true love, you lead a rich life."
- Who, according to you has verbal diarrhoea?
Kangna: *points at Karan*
- One good and bad thing about your co-stars Saif Ali Khan and Shahid Kapoor
Kangna about Saif: "Good thing is that he is a charmer and extremely funny. Bad thing is that he always takes the centre stage. He is the centre of attraction."
Kangna about Shahid Kapoor: He is very moody. On good days, he gets everyone breakfast from his home. We'll be rolling on the floor because he is that funny. On bad days, he'll look at you like you are a suicide bomber."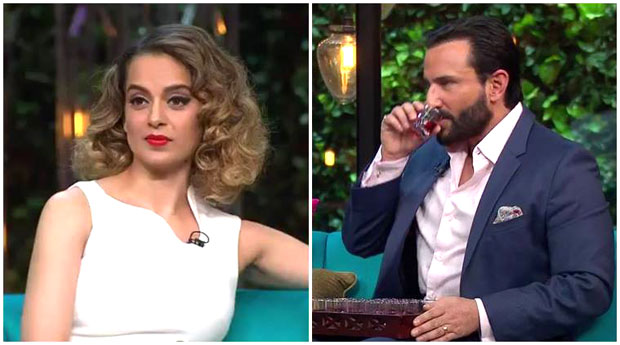 6. Saif's rapid fire was more of diplomatic, though.
- Karan quizzed, "If you could clone your wife Kareena, what traits would you leave behind?" Saif said, "Addiction to the phone."
-Have you been involved with someone while being a relationship with someone else? Saif said, "Yes."
- If you were stuck in an elevator with your ex-wife Amrita Singh and current wife Kareena Kapoor Khan, what caption will you give it?  Saif said, "Dear Otis. Thank you. Today was an unforgettable day. Jab they met. I hope they don't compare too many notes."
- Kill, marry, hook-up? Shah Rukh Khan, Aamir Khan and Salman Khan? Saif said, "I will marry Shah Rukh Khan, hook up with Salman Khan and kill Aamir Khan."
7. Saif Ali Khan admitted that if he were to write a biography on himself, it would have a title, 'I'll be good from tomorrow'. "Chapter 1: 'Oh Saif', Chapter 2: 'Probably, should not have had that whisky', Chapter 3 from my wife: 'Someone take him to a club'."
8. Then, for the last segment, Shahid Kapoor made an appearance as he is also starring in the film Rangoon. When quizzed about his rapport with Saif and Kangna, he joked, "Very simple, very complicated."
9. Then came the question of the hour, when Karan asked, "Did you guys have a weird moment considering you guys have Kareena in common?
Saif: "I do like history but this is older than medieval times now. He is an extremely amazing guy. He got along really well. Unfortunately, people who were expecting some drama, it did not happen."
Shahid: "The first time we hung out in Mumbai during the shoot, it was at lunch on the sets. It was easy and good."
All in all, the episode was less drama more about Karan's redemption for rejection Kangna Ranaut.
BOLLYWOOD NEWS - LIVE UPDATES
Catch us for latest Bollywood News, New Bollywood Movies update, Box office collection, New Movies Release , Bollywood News Hindi, Entertainment News, Bollywood Live News Today & upcoming movies 2022 and stay updated with latest hindi movies only on Bollywood Hungama.