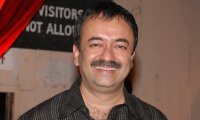 All of us have been called idiots at some point in our lives. But 'you were only going down the untrodden path' and being pulled up for it, opines Rajkumar Hirani, the director of the forthcoming college-comedy 3 Idiots.


We are interviewing the musical trio of the 3 Idiots team today. These gentlemen make eccentric personas, to say the least. Each has believed in his own unique cinematic language and has managed to make it popular. Raju Hirani with his heartfelt comedies, Shantanu Moitra with his soulful and melodious music and Swanand Kirkire with his contemporary yet poetic songwriting.


As we sit munching over a bread-and-omlette snack, they enthusiastically talk about the songs, the philosophy of the film, why they made the word 'idiot' cool and share their mantra for success - if nothing works, chill out, all is well.


Like in Munnabhai, the music of the film is cheerful and casual, but at the same time has an underlying philosophy.

Raju: Yes. In the film we've tried to portray a philosophy which says that by nature we get scared of things; when you get scared all you have to do is tell your heart, 'Bhai, dar mat. All is well. This too will pass away.' Aisa agar karoge, zaroori nahi hain ki problem solve ho jayega, but you'll be able to face it better.


Swanand: Actually the concept of 'All Izz Well' is a part of the script but we had to take it to the song level. I happened to come across a cartoon where a chick is looking at an omlette and saying, 'Is that you brother?' You really don't know what's going to happen to you the next moment. Ek ko life milti hain, aur ek tave pe fry ho jata hain. That's where we found the song.


Raju: (sings) Murgi kya jaane andey ka kya hoga, life milegi ya tave pe fry hoga. Koi na jaane apna future kya hoga. And since we don't know our future - Hooth ghuma, seeti baja, seeti baja ke bol bhaiya all izz well.


All three have done inspiring work, where did you draw inspiration for 3 Idiots?

Shantanu: We have passed through our college days, and the thing with the youth is that baat ka batangad nahi ho jaata. If there's a big issue, someone tells you, 'Problem hain, daru pee lay.' If it still doesn't get any better, you drink some more. What you are doing is that you are basically trying to handle the situation by not going 'Oh my God!' That's the youth's way of thinking. Forget it yaar, bandi ne ditch kiya hain, doosri dhoond le. I think this casual, yet in-depth way
of thinking about life is what exemplifies what this film is all about.


Raju: You know, if you are speaking the college lingo, you have to stick to that. You can't be very poetic because it will look false, that's not what they speak there. What I admire about Swanand's writing is that language college ki hain par uske peechey ek badi philosophy hain.


Swanand: The same applies to the film too. The story's about college kids but has an underlying philosophy, which is revealed through laughs and cries in the film. It's the beauty of Raju's cinema.



Shantanu: If there's a big issue, someone tells you, 'Problem hain, daru pee lay.' If it still doesn't get any better, you drink some more

In the film posters and other communication, you have made the butt-grabbing idiots into the next 'cool' thing.

Raju: Who do we call an idiot? Anybody who tries something different, somebody who's a non-conformist, who does something which is not on the trodden path. Usko bolte hain 'Yaar, aisa kaise karega? Pagal ho gaya hain tu?' We are all born conditioned in a way to live our lives on a normal path.


Shantanu: I remember an instance from my school days. The word idiot was very liberally used then. During a football match, I chose to play barefoot because it was raining and the ground was very wet. My PT teacher called me an idiot and didn't let me play for the first half. He finally had to relent as I was the only one who could run without slipping. Therefore, being an idiot is somebody's point of view but what he is doing is actually sane.


Does this mainstream projection of non-conformists draw from the kind of films you have made so far, from your own life?

Raju: Even if you don't draw from your life, you believe in a particular way of living. Yes, we do particularly believe that zindagi aisi honi chahiye, that's why we've made this film. We draw from stories we've read, we draw from our lives.


Swanand: Basically the crux of the film is 'chase excellence, success will follow'. And that's what Rajkumar Hirani, Aamir Khan, Shantanu, all of us have been doing all our lives.


What's the message of the film?

Raju: There is a message in the film. Kaabil bano, kamayabi to jhak maar ke peechey aayegi. If you think there was a message in Munnabhai MBBS, in Lage Raho Munnabhai, then there is a message in this film. We strongly feel that cinema is for entertainment, nobody's going to pay 100-200 bucks to be given a lecture. Hence the message is sugar-coated and you will take it home, but with lot of entertainment.


Now that the music is out, let's talk about your favorite songs from the film.

Swanand: 'Behti Hawa Sa Tha Who', which is a journey song is one of my favs. It's a marriage of Simon-Garfunkel and SD Burman and gives you the old town feel. Besides, 'Zoobi Zoobi', which pays a tribute to films of yesteryears... jaisa filmon mein hota hain... is another favorite.


Raju: I like all the songs, each on a different occasion. But 'Jaane Nahin Denge Tujhe' would be my favourite because Sonu Nigam has sung it in a way which is very unusual. Jab usne gaana gaya, hum logon ke roongte khade ho gaye, we were shocked. What we are trying to say is that these three idiots were actually probably the sanest people but the world thought that they were idiots.



Raju: These three idiots were actually probably the sanest people but the world thought that they were idiots

Shantanu: Yes the song has an unusual structure, its operatic in style, has minimal music and the power comes from voice. Sonu has used an amazing vocal technique where he's singing on one-and-a-half octaves, which is incredible.


I like 'Give Me Some Sunshine' because it's the first song we composed and I am emotionally attached to it. This song was composed even before the script was ready, to help Raju visualize the film. It's has a very acoustic, college mein akele, anthem-ish feel to it.


The music has a soul.

Shantanu: It does. We didn't go hunting for catch-phrases before composing the songs. We have never done this and are not doing this now. We have been with the songs for 1.5 years. If the songs were gimmicky we would have ourselves got bored of them. People will like the songs. This is an honest attempt to address the real youth and not sell them music as a brand.


Swanand: We are not only approaching the energy of the youth but its spirit.


Raju: In a nutshell, we have made songs that we would like to hear and not caring about adding bhangra beats or something to make a song that would work with a particular audience. All will be well.
BOLLYWOOD NEWS
Catch us for latest Bollywood News, New Bollywood Movies update, Box office collection, New Movies Release , Bollywood News Hindi, Entertainment News, Bollywood News Today & upcoming movies 2020 and stay updated with latest hindi movies only on Bollywood Hungama.