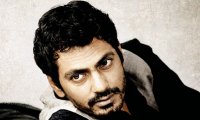 His understated portrayals of a terrorist, weirdos and oddballs have turned this actor into one of Bollywood's finest character actors. So what does that
say about him? Here's what: He has stood on the wooden stage for two hours being a tree in a play he did a decade ago with Manoj Bajpayee. He's the guy who missed the bullet
fired by Aamir Khan in Sarfarosh in a scene that lasted for approximately a minute. He once pleaded a director to give him roles more than two minute long so he could
show him his prowess as an actor. He has grown up watching C grade movies in his village and got exposed to The Godfather, Scarface, A Streetcar Named Desire and Scent
Of A Woman once he came to Mumbai city to fulfil his dream as an actor. All this and then his off screen infatuation scene inspired the on screen 'permission scene' in Part 1
of Gangs Of Wasseypur. Richa Chadda quotes, "2012 is the year of Nawaz". Huma Qureshi quotes, "Nawaz has a smile that's more like a hesitant question than an
exclamation mark. Eyes that draw you in yet always keep a part of his personality hidden away, like a secret waiting at the bottom of the ocean". Little about Siddiqui suggests
Bollywood megastar but yet his dishevelled hair, dark complexion and those eerie eyes have combined to make him one of the most recognised faces in Indian cinema. So all you
casting agents in B-town, have you got Nawaz on speed dial? I present you Part 1 of this unbelievable story of Nawazuddin Siddiqui.
"All my directors didn't have starry hang-ups and that's why cinema is seeing good acting than just good faces"
I feel proud because my director's have put their trust in me, be it Sujoy Ghosh, Anurag Kashyap, Reema Kagti and Ashim Ahluwalia. But before this happened, I've got a long
struggle story of mine that's been going on for nearly 15 years now. It's only because 9 of my films are going to be released back to back in 2012 /2013 so people have suddenly
started to take notice of me. In Mumbai, as an actor, I've been working my a** off and today I feel proud of not giving up. These new directors came with no 'starry' hang-ups.
Cinema was also changing in the last two to three years. I guess I fitted in that slot quite well.
"Everyone is a fan of Amitabh Bachchan but if there is one actor who has inspired me by leaps and bounds it has to be Naseeruddin Shah"
Everyone is a fan of Amitabh Bachchan. Everyone is. I've loved his movies like Mili, Deewar and Zanjeer. But if there is one actor who has inspired me by leaps
and bounds it has to be Naseeruddin Shah. I'd love to work with both of them, though I've worked with Mr. Bachchan in Soojit Sircar's Shoebite. But to imitate Amitji will
be wrong on my part. If you noticed, I am a big fan of his movies. So apart from his hairstyle and his style of shirts, I have not had to do anything extra. I don't talk and walk like
him.
"The 'permission scene' in Part 1 of Wasseypur was my true life incident when I fell in love with a girl. Anurag loved it and incorporated it in the film"
The most talked about 'permission scene' between Huma Qureshi and I was inspired by my real life story. We were a part of the GOW workshop and Anurag told us to
recall our real life incidents and the 'permission' incident was recalled by me. Anurag straight away incorporated the scene in the film. In reality, I was attracted to one of the girls
and I put my hand on her hand. She took offence and I got nervous and believed that I have committed a big crime (laughs). There is another scene in Part 2 of GOW
that's inspired by my real life too. You have to wait and watch for that.
"I've grown up watching C grade movies like Ranga Khush, Bindiya Bandook, etc. in my village"
My upbringing is quite unimaginable when it comes to movies. I used to see all C grade movies as a teenager. Movies of Joginder, etc. But when I came to the city, I started
watching The Godfather, Scarface, Scent Of A Woman, Goodfellas, etc with my group that comprised of some intellectual people. In the village I used to stay, I've only
seen C grade movies. There was no other option. Movies like Ranga Khush, Bindiya Bandook, etc. I've never been exposed to commercial Hindi movies till I joined
NSD.
"A good film is one that makes you relate to the story or characters"
A good film is one that makes you relate to the story or characters. Unfortunately, and I am sorry to say this, but I never found commercial Bollywood movies relatable. Now
when I do a Kahaani or when I did that one scene in Sarfarosh, and then Gangs Of Wasseypur or even a Black Friday, those were believable stories
and scenes or the characters I played were real. When I saw Al Pacino in Taxi Driver, Brando in The Godfather, etc I felt the characters were too close to me in
spite of them being foreign actors but in Hindi movies the characters were too larger than life and I thought - 'That wasn't me'. Acting doesn't have any boundaries and as an
actor, I felt these characters near me somehow.
"Faizal Khan is very unpredictable as a character and has inherited a lot from his father and grandfather"
As a kid, Faizal Khan seeing his mother having an affair with someone changed him as a human being. He is happy in whatever he is doing and whoever he is. He wants to smoke
up all day, watch movies and drink. He doesn't want to get involved in anyone else's matter. But here's the instinct of Faizal Khan that no one knows. He kills people too. It is
unpredictable. I guess as a character he has inherited it from his father and grandfather. Part 2 of GOW is filled with vengeance you've never seen before. I haven't seen
the Part 2 trailer of the film though.
"If you gift an expensive car to Anurag Kashyap, he will one day sell it and make a movie. That's his passion for cinema"
Anurag Kashyap has never tasted success. He isn't a changed man. He is like he was fifteen years ago. Nothing can change him. His passion for movies is absolutely crazy. If
you gift him an expensive car, he will sell it and make a movie (laughs). That's Anurag Kashyap for you. But our relationship as a director and an actor is quite strange
sometimes I feel. So if he is sitting at an arm's length and asks me for a lighter to light his ciggy, I just hand it over to him. But on the sets if Anurag is walking towards me, I feel
the most secure as an actor. I can be the world's best actor when Kashyap is in front of me. That's a relationship we share on sets. Sometimes, I know what I've done wrong when
I goof up in a scene but it was only Anurag who'd come to know about it by seeing the monitor and I would know when he walks in my direction what he is going to tell me. We
both know each other so well.
Watch this space for Part 2
BOLLYWOOD NEWS
Catch us for latest Bollywood News, Bollywood Movies update, Box office collection, New Movies Release & upcoming movies info only on Bollywood Hungama.