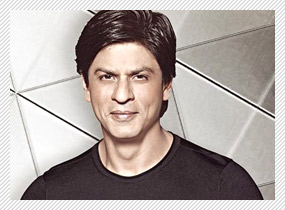 It's official! Chennai Express in the highest grossing Hindi movie. Add to
that, the actor's personal life that's almost single-handedly keeping the tabloids in the
business. What does that mean? It means that Shah Rukh Khan has mastered the art of mega
stardom. Over the course of the next one hour, Khan proves to be unfailingly gracious, good
humoured and game for all the questions, including those about his life in general. It's a
skilful summary of Shah Rukh's two-decade career. As an actor, he's blessed with an unusual
physical agility - there's no one whose moves the camera loves more - those stylishly stretched
hands over the cliff, from a snow peaked mountain or from a college campus, the man's got the
nation drool over his trademark move for years. There's no getting around the fact that the
public interest in him goes far beyond explanation. Staying in one of Mumbai's costliest
mansions, he has a pick of what he wants to do, when he wants to do and if he wants to do. But
in all these dos, the actor never fails to connect with his hundreds of fans sitting everyday
outside Mannat wanting to have a piece of him. So he too, like many actors, climbs his wall,
waves at the stampede and air kisses them all. And then he pauses to utter this, "I don't want
you to be my fan. I want you to be mine". And it is this line that makes him, and only him, one
of the biggest superstars to walk the planet.
I present you Part 2 of my special chit-chat with Shah Rukh Khan from Mannat, where he talks
biopics, business and his future in television - all heart to heart.
Biopics make a very interesting cinematic experience. In whose shoes would you like to fit
in?
Any of them yaar! I've been telling my friends for the past six to seven years that I want to do
a biopic. Sometimes they think it's not interesting and sometimes they think I don't fit well
into that biopic. Asoka is hardly a biopic and Chak De India is based on someone I
know but it's not entirely a biopic. But if you ask me interesting characters, I'd love to do a
Charles Shobhraj. I know it's not an interesting thing to do (laughs). I'd love to do the real
Natwarlal, the conman. These negative characters make for an interesting, not appreciable life.
I'd like to do sports personality. I would love to do a boxing film. I still like to do it. In
the Indian context there might not be many known so it will be a difficult subject to do. I
would've done Bhaag Milkha Bhaag but I didn't have the dedication and time to do it.
Farhan has taken it to a different level and I always knew that. I can do anything - from a
philanthropist to a business head, I'd change myself physically and mentally to get into them. I
have the capability to do that. If I can do it for 'Dard-E-Disco' I can do it for
anything. But it has to excite me. Whoever is making a biopic with me, I'll have to tell that
person to leave me alone for a month or two so I can get into the character. Even My Name is
Khan was, in a generic way, talking about a very serious issue. I couldn't mess around with
it. I told Karan Johar to wait three months so that I could finish everything else I was doing.
I told him I'll get the autism part right and that he need not worry. I want to do a biopic with
dedication. Rahul Dholakia has a biopic that I am very interested in doing. I haven't committed.
Somebody told me I should do 'Dhyan Chand'. He was one of the greatest people my father talked
about. He talked about Mohammed Ali too and that's why I would love to do a boxing film.
You've got your first 200 crore film after two decades. The next feat will be
300 crores. But how much of the business do you think will change in the next five months and
for you to hit the next target?
It doesn't work for me in this calculation. I am an actor. When I am called to Taj Lands End to
speak about a serious issue, I go prepared and speak that language. I can't speak the language
unless the topic is there. The topic in this case is a film like Chennai Express. It
speaks the language the people have been speaking for the last four years. Now you know the
answer. So take the monkey off my back and the donkeys off my head. This is a film that speaks
the language in terms of numbers. It's an entertainer and comes during a holiday period. You
can't release a My Name Is Khan and speak that language. You'll be fighting a losing
battle. Chennai Express is a very popular film made by the most popular director of our
country with the most popular heroine of the country and distributed by the most popular studio
house of our country. Red Chillies has made the biggest hit this country has ever seen. I am
proud of that and it'll do very well for everybody. My choice of movies will never be dictated
by the language of numbers or the opinion of guys who praise movies. If my heart tells me to do
a film, I believe a lot of other hearts will attach to it. Numbers will follow if it's that kind
of a topic.
And which film do you recall on top of your head that came from the heart and hit the box
office bang on?
And very seldom it happens for every actor that a film comes along and convinces all three - the
creative of the actor and the director, the appraisal of the film and the box office numbers.
I've had it with DDLJ, Kuch Kuch Hota Hai, Chak De India, and now Chennai Express.
All these movies came from the heart, especially Shimit's. So here was a guy who assisted my
director on Darr, who came from America and wanted to make a film on hockey with women in
it. Yes, he speaks with an accent too (laughs). He has edited Asoka too. So I knew him.
It came from the heart. Swades was made like that. I loved Jodhaa Akbar. Ashutosh
Gowariker told me once, "My dad says after making an important film like Lagaan, people
will throng to see your film. Make a film that says something important". I asked him if it has
the potential and he again said, "Sha, my dad wants". I immediately said 'Yes' because a
friend's dad wanted to. I think the choices are like that.
Now that American television shows are gaining more popularity over their movies, as a
visionary, would you like to dabble in Indian TV too like you did years back with Fauji and
Circus?
I think it's a fantastic thought to bring the best of the director and actors and producers to
make T.V. shows but in India, business is personal. It's just not business. So till people
actually in India start to realize the importance of business as business, I don't think there
are too many people coming together and doing jobs. It's unfortunate. It's a sign of a developed
business doing nation. It's got nothing to do with my personal relations with anybody. I'll give
you an example. In Japan, it's highly wrong that if you make the same product and I make the
same product, except buying, there is no talk. Mushtaq Sheikh and Shah Rukh Khan are friends but
if we do business it has to be only business. Japanese make square watermelons as it's easier to
carry and there was a meeting once done after the price rise in Japan. One decision was taken
that changed the Japanese economy. They shared the transport but in that truck the products
would be of three different companies. They'll never go personal. In India, it's still personal.
There are very few people like Ronnie Screwvala who, when they sit across the table, they'll
only talk business. Peter Jackson goes to Steven Speilberg because the latter has the rights of
Tin Tin. Peter Jackson says, "You're dying to make it and I am ready to make it." Both
join hands and make one of the best movies of that year. In India, a few studio houses know how
to do business and only business and that's the way you should. There should be no ego battle. I
am dying to do T.V. shows because there are certain stories that can't be told in two or three
hours. Anil Kapoor and Amitabh Bachchan have started. I would love to produce it and creatively
be a part of some series on Indian television.
here for Part 1
Watch this space for the finale - Part 3.
BOLLYWOOD NEWS
Catch us for latest Bollywood News, New Bollywood Movies update, Box office collection, New Movies Release , Bollywood News Hindi, Entertainment News, Bollywood News Today & upcoming movies 2020 and stay updated with latest hindi movies only on Bollywood Hungama.