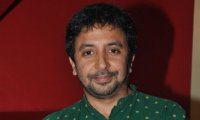 He is the youngest Indian director to get an Oscar nomination and also the first Indian to be nominated at the European Film Academy and to receive honours by BAFTA, for his film Little Terrorist (2005). Independent film maker Ashvin Kumar, who has received accolades world-wide for his issue based documentaries, is now ready with his first commercial feature film called The Forest. The 'ecological thriller' starring Jaaved Jafferi, Nandana Sen and Ankur Vikal in the lead roles, releases today.
Bollywood Hungama's Divya Rajani speaks to Ashvin Kumar about his film The Forest, shooting with leopards, his filmmaking journey, issues with the Censor Board and more.
Tell us something about your journey from being a theatre actor to becoming a director.
I have always been very active in theatre since my school days. After I came back from the university in UK, I went to US and learnt editing When I got back from the US I did amateur theatre in Delhi and joined Atul Kumar's theatre group. We worked together on three or four plays. Theatre is actually one of the reasons why I got into filmmaking.
Your mother, designer Ritu Kumar is one of the biggest names in the fashion industry and has an established business, why didn't you join her?
It never occurred to me that I should get into my mother's business. I always had a deep passion for performance on stage or in films.
Your film Inshallah Football was banned by the Censor Board, but it won the National Award for Best Film on Social Issues this year. Do you feel that you were targeted unnecessarily by the Censor Board?
I think anybody who makes truthful films about contentious issues like Kashmir and Gujarat gets banned by the Censors. I don't think it is anything personal but one does get this sense that they give me more of a rigorous time than most people would get. I don't think I am being targeted by them but I just feel because I made a movie on Kashmir they did what they normally do, which is ban the film. We as a nation have difficulty in acknowledging that we have problems but my point is that if you don't acknowledge the problem then how will you solve it. I think it is quite funny that first they ban the film and then give it a National Award.
What is your film The Forest all about?
The Forest is the story of a couple Pritam (Ankur Vikal) and Radha (Nandana Sen), who arrive at a wildlife sanctuary to attempt to mend their faltering and troubled marriage. But things start going wrong from the moment they run into the local cop Abhishek (Jaaved Jafferi), who is also Radha's ex-lover. While the husband and lover quarrel, a man-eating leopard is on the prowl, and both men must unite in order to outwit the predator and survive the night. The film also conveys a strong pro-environmental message.
How was it working with Jaaved Jafferi and Nandana Sen?
Jaaved is a wonderful actor to work with. He had got so much experience and so much talent. I really don't understand why other directors have not tapped his talent, they have used just one aspect of his ability that is comedy. He is a great actor when it comes to serious roles and can really pull off any role. Working with Nandana was also great. She is a very beautiful woman. She brings to the screen a lot of charisma and charm. She is like this authentic Indian beauty. I chose her because she looks fragile and delicate
Where did you shoot the film?
We shot the film in Jim Corbett National Park, Thailand, Madhya Pradesh and Uttar Pradesh.
Did you shoot all the scenes with real leopards or did you use some special effects?
Everything in the film is real. We flew in trainer Thierry Le Portier and his two leopards from France. He is the best trainer in the world and has done films like Gladiator and Two Brothers.
Dr Vijay Mallya has financed this film. What prompted him to do so?
I had just been nominated for the Oscars and I was the youngest Indian to go there. I met him at that time and I said 'Sir I have this film and I need some money to make it' and he readily agreed to do so.
Your film The Forest was ready by 2007, so then why did it take you so long to release it?
I don't know. To be honest I made a lot of efforts to get the film released. In fact we had some offers from some very big production houses and we were very close to closing those offers and doing the deals and then those guys backed out. This happened to me twice and each of them wasted about six to eight months of my time. By the time two years had passed and nobody wanted to distribute the film as it was an old product. Then I just gave up. Thankfully PVR Directors Rare is a wonderful platform for independent filmmakers who find it very difficult to break into the Bollywood system. I think in Bollywood you need to have some kind of Sugar Daddy or Godfather otherwise it becomes nearly impossible for you to make a mark because the situation is very adverse towards an individual and very favourable towards corporate and big production houses. There is no way for a new comer to enter. For example in the fashion business, they have the India Fashion Week where anybody who is decent fashion designer can come and put their show up and they can compete with the rest. But in Bollywood we have distributors who will take a movie out of the theatre to replace it with a big banner one or they will give us bad show timings, etc. In order to get yourself a proper platform you need to have a lot of money power behind you. I have a lovely deal with PVR as they have promised to keep the movie in the theatre for at least two weeks so that it gets a chance to get its audience.
You have waited really long years for the release of The Forest, now that it is releasing how does it feel?
I must say that having waited for so long has been like a growing up experience. It teaches you a lot of things and one of them is patience. I feel relieved and feel that everything has a time and may be this is the time for this film to release and not earlier. Of course there is a lot of excitement along with anticipation. I feel this film has all the ingredients, people just have to come to the theatre to watch it.
What are you making next?
I am making a movie called Hype, which I am writing at the moment. It is the story of a young woman's journey in an urban city like Delhi. It's a story of ambition and greed. It is basically how women are perceived and treated in a male chauvinist society and what it is like to be a single young women working in a city like New Delhi. I have not yet decided on whom I want to cast but am planning to cast a big star in this film