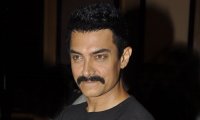 More than his face, you'd recognize Aamir Khan's work. That's why they are called pioneers, aren't they? Since Lagaan, the actor, director and producer has carved out a niche for himself because he understands the limitations of how films are actually made. That's his imagination, and imagination can do wonders. Welcome Delhi Belly! I meet the visionary at the Taj Lands End in Bandra for a quick one on one for his most bizarre selection of movies for his production house. Dressed in his beige cotton trousers and black polo t-shirt, Aamir was giving some television interviews as if the movie was already declared a blockbuster. But that's Aamir Khan. The atmosphere in the hotel room mirrors Aamir's own, casual, easy-going attitude, which, combined with youthful enthusiasm, farsighted vision and a determination to get it right, goes a good way towards explaining his and his company's incredible success. Aamir specialises in timelessness that ensures his films longevity. So to term Aamir as a 'geek' is right, isn't it? Because Aamir is an enthusiastic proponent of new ideas that have never been tried and tested before in films. UK's Harrow Observer columnist and Bollywood Hungama's London correspondent meets the man who is on the verge of changing the mindsets of not only the audiences with his innovative selection of movies he is producing, but changing the industry too. Aamir Khan is all yours!


You are the Steve Jobs of Bollywood aren't you? I mean, there is less supply and more demand coming in from your audiences?
(Laughs) I am pleased to know that and you've made my day by calling me the 'Steve Jobs' of Bollywood (smiles). I don't know whether I can do more films than I am already doing, be it acting, producing or directing because I feel that I cannot do more than one thing at a time which is why Delhi Belly took so much time to make because they waited for me to finish 3 Idiots.



I told my team that if we do not get flack for it, we are going wrong somewhere
You knew you were going in the right direction when you selected Delhi Belly?
We've made this film for the youth. When we were planning this film, I told my team that if we do not get flack for it, we are going wrong somewhere (laughs). But if we do receive it, we are on the right track (laughs). Delhi Belly isn't about the 'generation gap' or 'generation changing', etc. It's a mad film about these three guys in particular. It's essentially a dark comedy.


How experimental are you then?
I am not someone who is good at predicting trends. I just make what I feel like making. Yes, it is a film that hasn't been made in India. In fact, this genre has never been attempted. It's a new genre for Indian audiences. I think the youth will love it. Let's see what reactions we get. Yes, I have shown the film to my son Junaid and to some of his friends. They all found it rather funny.


So how would one describe Delhi Belly? An English film coming out from the Hindi Film Industry?
I initially liked the script's language how it was written in when I first time read it. I didn't want to mess with that. Delhi Belly is an 'Hinglish' film. 50% is English and 50% is Hindi but nothing is deliberate. The characters speak naturally and instinctively in Hindi and English. Yes, this language barrier can reduce our audience. I also thought that today, there are so many English films releasing which shows that there is a market for English speaking audiences. Then they dub the film in three to four different languages. We decided to do the same thing. We are releasing Delhi Belly in 1200 screens. That's a very big release. It's releasing in two languages.


What feedback have you received from your focus group screenings?
I don't think the two languages will make a difference to the cinema going audience. We've tested both the versions and have got fabulous response. The youth hasn't changed today. I think that the youth, no matter which generation you pick, is still the same. We feel it has changed. Our fathers used to say that. We say that to our kids, our grandfathers say that about our fathers. So every generation thinks that the new generation is different from theirs but the fact is, it's not so. It is 'We' who has changed.



I don't think the two languages will make a difference to the cinema going audience

...and what is that unique quality about the youth now-a-days?
The quality of youth is rebellious. They don't have experience, they have energy. With experience, the youth becomes more mature and start changing as a person. But when you are young, in your late teens, say fifteen to sixteen, that time you want to explore, you are absorbing much more, you are free to experiment, braver in many levels and willing to take a leap. These are the qualities that every generation brings with them. A few of us retain it as we go along and that's why we have this term 'Young at Heart'.


Did you use foul language while in your teens?
As a young growing student I never used foul language and wasn't naughty at all. In fact, I was very shy. I use some fowl words occasionally now but it's very cathartic. It's a nice way to release what you're feeling. I take care not to use it in front of children. Amongst my friends, I am a little free if I had to use the fowl words (laughs).


But long back in Baazi the film you did, you were an item girl, weren't you?
(Laughs) I did a song dressed up as an Item Girl for Baazi but that wasn't an item song. I was throughout the film. It was a part of the film. Maybe this time it isn't the 'female' version they'll see. Maybe some other time (laughs).


You believe that music equals power?
Yes, Music is such a powerful platform. No, actually, it's a wrong word. When you listen to music, your mood changes. I've often felt that when I go for shooting, I'd like to listen to a song which is of the kind that puts me in the mood for the scene. So if I am shooting a sad scene, I'd like to hear sad songs, etc. Music affects the way you feel. In Delhi Belly, we've chosen the music as a very strong path to take in reaching out to our audience because when I heard Ram Sampath's soundtrack, I was really amazed. He is truly a new and a dynamic talent we have in the music world. I was so impressed with his music that I told him, 'I will only promote your music Ram' (laughs) and in that the film too will get promoted.



We've chosen the music as a very strong path to take in reaching out to our audience

I tweeted this morning - Rajma Laaj Rakhna. Are you sure you people know what Delhi Belly even means?
(Laughs) Nicely put. The phrase 'Delhi Belly' that means 'an upset stomach' became so popular that it was widely used throughout the world. So even if you are in New York and you eat the street food there and your stomach gets upset, you'd say that 'I've got my Delhi Bellies'. So Delhi Belly became a popular phrase. You do not use the word New York bellies or Paris bellies, etc. Delhi Belly is the talk of the town (laughs).


And when do we see you behind the director's chair again?

I guess that can wait for quite some time because before that I'd rather have Kiran and Mansoor Khan direct a movie (smiles)
BOLLYWOOD NEWS
Catch us for latest Bollywood News, New Bollywood Movies update, Box office collection, New Movies Release , Bollywood News Hindi, Entertainment News, Bollywood News Today & upcoming movies 2020 and stay updated with latest hindi movies only on Bollywood Hungama.