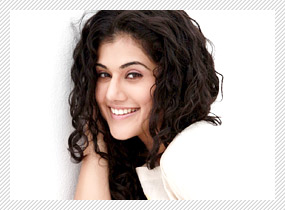 Tapsee Pannu who made her very successful transition from Tamil to Hindi cinema with Chashme Buddoor, is now waiting for her second release in Bollywood even while shooting her third Hindi film with Akshay Kumar. The vivacious screen-stealer chats up with Subhash K Jha.


You have a very successful career in the South - in Telugu, Tamil and Malayalam cinema. Are you focusing entirely on Bollywood right now?

Funny you should ask. Because as we speak I'm shooting for my Tamil film, an old commitment that I've gone back to fulfilling after completing a schedule of Neeraj Pandey's Baby. It is the third part of a Tamil franchise film called Muni.


And you were in all the three parts?

No, there were other girls in the other two. The heroines keep changing in the franchise while the hero remains the same. It's a male-driven industry and audiences sadly, need to constantly add to the glamour quotient of their movie viewing experience. But I refuse to give in. It's a sad situation. But I am struggling.


You didn't have to struggle to get a foothold in Hindi cinema, did you?

In my life no matter what I've done I didn't have to struggle much. I got a big break in Chashme Buddoor. I wasn't a great actor with natural-born talent. I didn't even stay in Mumbai. I came to the city only when there was work. So I didn't really qualify for stardom. I had no production house to support me. No sugar daddy and no protective Mummy either. I did it on my own. I guess I got lucky. Allow me to feel some pride.


Allowed. Was it easy to get your second and third film?

My struggle actually began after Chashme Buddoor. And that's been the case in the Tamil and Telugu industry as well. The first film happens with zero expectations from the audience. Once they see the actor they form their expectations. And you better not let them down. I am glad I have Runninngshaadi.com as my second film. Chashme Buddoor was a perfect debut for me. Runningshaadi.com I feel is just the follow-up film I needed. And now I've Baby with Akshay Kumar. I couldn't ask for more. If I had a chance to alter anything in my Bollywood career so far I wouldn't want to change a single thing.


I believe you play the effervescent Ms. Bubbly again in Runningshaadi.com. Isn't there a danger of you becoming another Preity Zinta?

Wait till you see me in Baby. I am quiet reserved and completely different to the way I am seen in my first two films. As for Runningshaadi.com, Shoojit Sir (producer Shoojit Sircar) is known to deliver very strong content. So I knew from the start that whatever we do would be worth the while. Then we have Vikram Malhotra of Crouching Tiger productions to handle the marketing. He is a man who knows his job.


There were two Amits on the sets of Runningshaadi.com?

Ha ha, yes. My co-star Amit Sadh and my director Amit Roy. We didn't know how to tell them apart. This is Amit Roy's debut film. But it doesn't look like a first film. He has not just directed the film he's also done the screenplay and cinematography. So young and so much responsibility!


How different was Amit Roy from your first director David Dhawan?

David Sir had already edited the film in his mind. He was very clear about what he wanted. But with Amit there was a lot of give and take. Of course, David Sir also allowed us to improvise a huge amount. But with his experience I had to think a million times before making a suggestion. With Amit I was like a comrade on the sets. The fact that I'm playing someone very close to the person that I am, also helped me a lot in Runningshaadi.com. I took the liberty of asking for changes in scenes and constantly questioning him. Amit Roy was very flexible.


How did a 2-film old, or shall I say young, actress bag a film with Neeraj Pandey opposite Akshay Kumar?

Come to think of it, Akshay has been doing films with Punjabi actresses who have come to Bollywood from South Indian films like Kajal Aggarwal, Tamannah Bhatia. In Baby I don't only have Akshay to support me I also have the director Neeraj Pandey.


Kajal Aggarwal had very little do in Neeraj Pandey's Special 26?

All I can say is just wait and watch. I am not saying I'm in every frame with Akshay. I am not there throughout. But I've a definite character to perform. I guarantee you audiences won't be able to forget me. I am very comfortable with the space I have. Neeraj's films always feature an ensemble cast. Every character is so well-etched. When I heard about the project I pounced on it and I forced myself into the project.


What do you mean?

I wasn't in Neeraj's mind to play the character. But when I heard about the character I had to play it. It offered me a chance to make a complete departure from the two characters I played so far. Baby is not a comedy or a rom-com. It's not a happy-go-'ladki' film. I play a very in-control reserved, elegant and sophisticated character. I played an intelligent but bindaas girl in Chashme Buddoor and a really immature, spontaneous small-town girl in Runningshaadi.com. And gosh, I am so serious in Baby.


So you did it break the bubbly image?

Absolutely. I wanted to break that small-town Punjabi, feisty bindaas girl image. Baby will help me do that.


It is, in an industry where actors mug their Hindi lines after writing them down in Roman script?

Ha ha. Not me. Audiences won't believe I am the girl from Chashme Buddoor when they see me in Runningshaadi.com. And when they see me in Baby they'll do another double-flip. I've changed my look and body language to the extent that when I shot one schedule of Baby I had a tough time dubbing for Runningshaadi.com although I speak like a Sardarni in this film, which I am in real life and it was home turf.


So what was the problem?

In Baby, I am completely different in language and personality. I hardly speak in Baby. After I returned from Baby my Runningshaadi.com director Amit Roy was worried about my accent. I had such a ball shooting with the two Amits in Runningshaadi.com. We'd shoot for 12-13 hours at a stretch. But I never felt the weight of the long hours. That's the spirit I want to shoot in.


What next?

For now, I am just looking forward to the response to Runningshaadi.com and Baby. I have fulfilled the self-expectations in first phase of my career. I am not going to preen as an Akshay Kumar heroine. My criteria for accepting roles would be my role, not the co-star. I am young. I am open to working with everyone, younger or older.


Some actresses believe working with A-listers is more important than their roles?

Best of luck to them! Not me. To me visibility is not the main concern. I want the audience to enter the theatre and look forward to seeing what I do.


Are you now going to move to Mumbai fully?

I am already fully in Mumbai. And that was a good move. After I shifted to Mumbai I immediately got to sign Baby.
BOLLYWOOD NEWS
Catch us for latest Bollywood News, New Bollywood Movies update, Box office collection, New Movies Release , Bollywood News Hindi, Entertainment News, Bollywood News Today & upcoming movies 2020 and stay updated with latest hindi movies only on Bollywood Hungama.