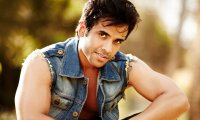 Tusshar Kapoor is always in a reflective mood every time you meet him. Deep in thought and with a spectacular knowledge of business and creativity, you don't often get to see the real madness behind the man who's always believed in behaving. Gentleman he is! Ok, so one fine day Tusshar gets up, puts on his dancing shoes (Yes, they had to be 'white'), buttons his blue suede suit, a touch up on his 'Bee Gees' beard and gets the chick in the pink (Neha Sharma). Gentleman out, Madman in. What happened next was trending on twitter. The first song to unleash out of the crazy sex-com Kya Super Kool Hain Hum called 'Dil Garden Garden Ho Gaya' has become a nationwide success in just 24 hours. The song gave that defining image. It was like even Adel would've tripped on it and would've given one of her Grammys to the boys (Sachin- Jigar). Now who said these boys should hang their heads in shame huh? I think it's a proud moment and Tusshar is on cloud nine already! I spoke to the actor this morning whose head is high with pride and he said, "'Dil Garden Garden' has become an anthem on Twitter and I hope it becomes an anthem outside Twitter too. I think the time has come for the track to trend outside the social networking site."


Ever since the coconuts came out, big and strong on the posters of Kyaa Super Kool Hain Hum, the buzz is that this one's going to brab you by the 'b***s'. "Yes, you are right. This one is going to be a crazy ride. This is not even 5% of what's going to be unveiled in the days to come. Yeh toh trailer ka trailer hain. Picture abhi baaki hai mere dost", Tusshar delivers in his style.


But then how is the song promo more impactful than the talky trailer that could've been released yesterday too? Tusshar's got the answer - quick and smart. He says, "We did that with The Dirty Picture too if you recall. Just the teaser of the first song about to tickle your buds. Then it got people excited and the next thing you know was wired in and listening to 'Oh La La'. That's the strategy we are using. It's just that songs always grow on you. We wanted to start the paid campaign with the 'Dil Garden Garden' song and tomorrow it will be on all channels on the television."


And what about Fakru the dog? He too makes his first debut in the song. Is it like 'Dil Garden Garden Ho Gaya' featuring Fakru? Tusshar laughs and reverts, "Fakru is a sweet pug but the one in the song was Riteish's pug and he had to take proper care of him. Riteish has one horny dog I should tell you and he is the perfect master. But he looks dapper, doesn't he? I'm talking about Fakru."


Talking about Tusshar, I ask him why the unshaven look in the song and why do I sense it was his idea too. Kapoor clarifies, "Yes, it was my idea. I wanted to have the Bee Gees look, the bearded look and I didn't want to look like the John Travolta clean shaven Saturday Night Fever boy. But I am getting lots of compliments for a different look."


Well, if I was Tusshar, I'd have loved to keep the retro suit. You never know how much 'super kool success' the song would be once the film releases on the big white screen. All this and then the crazy steps in the attire. I ask Tusshar if he did fumble. "I think the most difficult step in this song was when we had to keep our hands in the air and going round and at the same time lift our leg and kick it down. It was tedious and lot's of retakes (laughs)" answers Tusshar.


Well, with everything doubling up for Balaji, success, movies and of course, the 'double' meaning, is 'Dil Garden Garden' the tip of the iceberg? Tusshar quotes, "'Dil Garden Garden' was a very fun and frolic song but crazy lyrics. I think the lyrics do the trick. There is another romantic number with mad lines called 'Shirt Ka Button'. It's got lyrics that go - 'Teri baalon ka mein clip ho gaya, aankhon ka mein liner ho gaya, teri ungliyon ka ring ho gaya'. But yea, more madness guaranteed".


Watch Song Promo: Dil Garden Garden (Kyaa Super Kool Hain Hum)