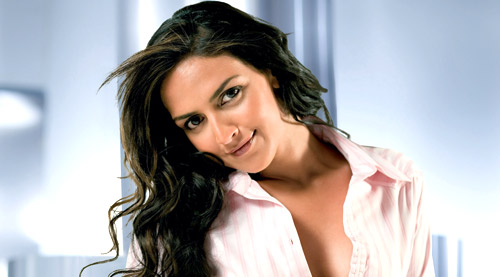 Dharmendra and Hema Malini's first-born Esha Deol is happily married to the love of her life Bharat Takhtani. She broke away from her idyllic domesticity to do a Kannada film
Care Of Footpath 2, which now goes to the Oscars as a lateral entry.


Says Esha, "It couldn't get more perfect for me. I've an ideal husband. Bharat is everything that any girl could want a husband to be. We dated for some years when we were younger, then parted and
then decided to get together again and marry. Such is life. Such is destiny. I can't imagine what life would have been without Bharat. And his parents are most supportive of anything I do, whether
it's my dancing or whether it was my decision to host Roadies some months ago or to do a Kannada film. They are absolutely hands-off."


While she says she prioritises her in-laws and parents in her daily schedule, she is now open to doing interesting roles. "Like Care Of Footpath 2. It was interesting because I had never
done a Kannada film and I play a lawyer which I had never done. What sealed the deal for me is that it will be released in Hindi as well. The director Kishan Shrikanth is only 19. Would you believe
he was only 9 when he made the first part of the film. He is in the Guinness Book for being the youngest director in the world."


Now, Esha Deol is glad the film is going to go to the Oscars albeit as a lateral entry. But Esha is happy. "As far as I know, lateral entry means our film will compete in all the mainstream
categories rather than just the 'Foreign Film' category. I will be going to LA to support my director who is so painfully young. I'll be there with him for at least ten days, maybe more."


Back home, Esha is focusing ferociously on her dancing. "It's a family passion and one that my sister Ahana and I intend to pursue all our lives, just like our mother did. Ahana and I are now
planning a new ballet about the two beloveds in Lord Krishna's life."


Esha Deol brightens while talking of her kid-sister who recently had a baby boy. Esha has no plans of starting a family yet. "Bharat and I decided we won't start a family for the first three years
of our marriage. We wanted to utilize this time to discover each other and to get to know one another's family. I am like a daughter to Bharat's parents. And Bharat is like a son to my parents. As
for becoming a mother, it will happen soon. I will take time off from dancing and acting to concentrate completely on our child. I can only be a hands-off mother."


Mom Hema Malini lives just a stone's throw away from Esha's sasural.


"Almost my entire universe is within walking distance. My trainer is downstairs in the same building as my sasural. My mom lives just 15 minutes away. I am in and out of both homes. Life
couldn't get any more perfect. Touchwood," sighs the Deol heiress.