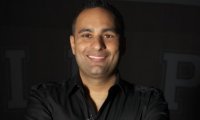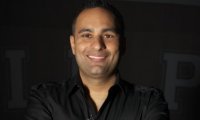 When you know that you are going to interview the funniest man alive on the planet, you better be well-guarded cos you never know what joke or fast one he
may pull on you. That was what I felt as I headed out to meet ace stand up comedian Russell Peters who would now be seen in the Indo-Canadian co-production
Speedy Singhs. In this exclusive interview with Bollywood Hungama's Nikhil Ramsubramaniam, Russell in his own inimitable style talks about his
experience of working on the film, his first meeting with Anupam Kher, his much awaited Indian tour and also why he would never do a typical Bollywood film.
Read on...


Russell, who would have ever thought that you would one day be a part of a crossover Bollywood film like Speedy Singhs?

Firstly Speedy Singhs is definitely not a Bollywood film. The film is in English, there is only one Bollywood actor in the film (Anupam Kher) and
there is just one song and dance number which is also a dream sequence. So you see, its nowhere like your typical Bollywood film and if it was, I would have
stayed far away from it (smiles).


How did you bag the film?

They brought it to me a couple of years ago actually and my first reaction was 'I am not doing a Bollywood film'. They then re-worked the script a few times
and I kinda liked my character which is why I said 'Yes'.


You seem to be having some kind of aversion towards Bollywood. Why so?

You guys make around 120 odd films a year out of which hardly 10-12 are good films while the rest are all shitty films. There is nothing appealing about
them. They don't take me back to any part of my life. Growing up, I never watched any Bollywood movie neither did my parents watch any. I can't connect to
such cinema. I know that for a lot of the NRIs, Bollywood movies are really huge. It kinda takes them back to their childhood, but I have no such feeling.
Coming back to Speedy Singhs, tell us something about your character Sonu in the film?

Sonu is an a**hole but he is a lovable guy. He is trying to antagonise Vinay's character in the film and tries to make his life miserable and he is pretty
successful at that. He is one those characters whom you hate yet love to see more of him on screen. So in short, he is the lovable jerk.


So do we get to see the quirks and nuances that you are so well-known for in the film?

Oh Yeah. There are some definite Russell moments in the film and I'd like to take the credit for it. To be honest after a few test screenings, Ajay Virmani
came back to me and said we need to add a few scenes with 'You being You', that's what the audience is missing. We went back and added those sequences and I
gotto say it's pretty damn good.


You are from Toronto, Canada and Speedy Singhs is an Indo-Canadian collaboration. Was this also a factor for you to be a part of the project?


I am from Toronto but I now live in L.A. The way I look at it is that if this movie had been made in Toronto without me, there would have been a glaring
hole. It's like making a documentary about Bollywood and not including anything about Amitabh Bachchan. Not to say that I am Amitabh Bachchan
(laughs).


How was it working with Vinay Virmani and Camilla Belle?

Most of my scenes are with Vinay. I always make fun of Vinay. Camilla, Anupam, Ghuggi, we all used to hang out together on sets and really had a fun time.
There was no tense moment on set.


You also had quite a memorable first meeting with Anupam Kher? Talk us through that...

Yeah...Anupam came up to me and said, 'Aren't you the guy who made fun of my son during your show in Mumbai?' It was funny, he wasn't mad at me or anything and
that kind of broke the ice between us. Anupam is a really fine actor; he and I became really close during the shoot.


And what about Akshay Kumar? Did you get to interact with him? Have you seen any of his films?

Akshay is a really sweet guy. We used to hang out whenever he was on set. I tried watching his film Singh Is Kinng and when I got to the first song, I
checked out.


Speedy Singhs had a grand premiere at the Toronto International Film Festival (TIFF). How was that experience?

Oh it was really cool. It was my first film premiere at TIFF. The biggest street in Canada is called 'The Young Street', it's also one of the longest streets
in the world. They closed 2 blocks of that street for us and it was pretty amazing. Usually I would get annoyed that they went the indo-centric way but it
was great to see the scale at which the event was organised.


You are a pro when it comes to doing stand up comedy, and have done a few films as well. How easy or difficult is it acting in films vis-a-vis doing a
live act?

You know for a guy with Attention Deficit Disorder (ADD), it's a little difficult. You see I am playing around with my phone checking out the Wi-Fi
connection even as I talk to you. I have crazy ADD.


You last performed in India to a packed audience in 2008. Your fans are eagerly looking forward for yet another performance. When do we see that
happening?

Next year. I am writing a new show at present and am looking forward to tour India next year.


How did you find the Indian audiences' response to your stand up comedy?

The Indian audiences are so much sharper and smarter than the Indians outside of India. I think it's because you are somewhat on the outside watching
everything and the more you are an outsider, the more you get things in life. That's how you gain perspective. Besides the Indians don't have this identity
crisis which Indians abroad have. I always say, racially I am an Indian but culturally I am a North American. It's not about race it's about culture. You put
a white guy in India from birth, racially he will be American but culturally he will be Indian.


Does it upset you that your shows are such a rage in India and yet are not available officially on DVD? Most people either watch them on YouTube or
download them illegally.

If it was readily available in stores, I'd be mad that you are downloading it. But it's not available in India so I can't really help it if fans download it
and watch it.


The Indian stand-up comedy scene is slowly but steadily growing. Have you got a chance to see some of the Indian comedians perform?

Not really...I do know about Papa CJ and now Ghuggi as he is in the film with me. Ghuggi is amazing dude. From the minute I met Ghuggi, I knew he was a real
comedian. I always say, you don't chose comedy, comedy chooses you, Comedy chose me and it chose Ghuggi as well. Can you visualise Ghuggi doing anything else
other than make people laugh? He is the way he is and I am the way I am.


Finally, what are your forthcoming films besides Speedy Singhs?

I am in New Year's Eve. It's this big multi-starrer which stars the Who's Who of Hollywood. It's a bunch of parallel stories and my scenes are with
Sofia Vergara (of Modern Family fame) who's not tough on the eyes at all and Katherine Heigl who is also a really good looking woman. There is yet
another movie coming out with Eva Mendes. Basically, I am getting to work with everyone whom I ever j**ked off to (smiles).