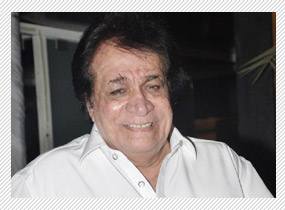 A migrant Pathan who stayed in a shady Mumbai locality and yet became a Civil Engineer and then a lecturer, moving on to act and write in theatre and movies, Kader Khan is now in his 74th year. The living legend rewinds to his life and times, and also speaks about his current activities.


From engineer to entertainer


His knees are troubling him - physically; but mentally, the living legend is as sharp as ever. A gentleman to the core, he is soft-spoken, courteous, warm and humble. Kader Khan's life is itself rich material for a play or film with the kaleidoscopic changes that have seen him move from one point to another.


"Our family migrated from Kabul, and we settled here in Mumbai's Kamathipura, a precinct known for drug-peddlers, bootleggers and prostitution. It was from here that I did my Civil Engineering from M.H.Saboo Siddik Polytechnic, and after that even taught subjects like Mathematics, Applied Mechanics and Hydraulics there," says the veteran. "I would also do theatre, write plays for colleges and act in them."


With a broad smile, Khan informs me, "It was said then that jisne Kader Khan ka play nahin dekha, woh college kabhi gaya hi nahin. Dilip Kumar loved one of my plays and offered me Sagina and Bairaag as an actor. But before that, I got my first offer as a film writer."


In those days, Jagriti was an all-India Dramatic Competition in which Khan participated with his play Local Train. "Film waale waise bhi meri mala japne lage the because they thought that I was thorough as both writer and actor," recalls Khan. "After Local Train won all major prizes, the three judges, noted author and filmmaker Rajinder Singh Bedi, his writer-director son Narendra Bedi and actor Kamini Kaushal came to meet me backstage. They asked me why I was not inclined towards films. They took offence when I said something to the effect that I was not mad to think along those lines. 'Do we look mad?' they retorted."


Adds the writer-actor, "I told them that to me there was no break-up in the script and dialogues, whereas in Hindi cinema even then, the screenplay was frequently written in English or some other language and the dialogues in Hindi. But they persuaded me to work on Narendra Bedi's Jawani Diwani (1972). I was paid Rs 1500."


After the film's success, Khan admits that films became a tempting option. "My salary then was Rs 400 a month. One day, a man came up to me as I was approaching the Polytechnic and told me that he wanted me to write dialogues for his film too. He insisted in giving me a thick envelope. When I opened it, it contained Rs 21,000! The film was Khel Khel Mein and the man was Ravi Malhotra."


Zooming up


But the amount was scoffed at when Manmohan Desai asked Khan what he expected for writing the dialogues for Roti, which along with Bedi's Benaam and Rafoo Chakkar were released before Khel Khel Mein. "Manji had a prejudice against Muslim dialogue writers and was blunt about it. 'They are only good at sher-o-shaayari and muhaavare,' he said. I was hurt, especially at his reference to my religion, but he also told me that if I did a good job and gave him what he wanted, he would metaphorically place me like Ganpati on his head and dance around the room. True to his promise, after I wrote the film's dialogues, he danced. He then 'phoned a lot of his friends and told them, 'Ab industry mein ek asli writer aaya hai!'"


After this, Desai asked his new writer to mention a fee. "I told him that I knew nothing about rates and that I had been paid Rs 21,000 for my last signed film. He snorted dismissively and said that he would pay me Rs 1,21,000! He also gave me a gold bracelet and gifted me a new television set that he had just bought for himself. After that, we worked together on Dharam-Veer, Amar Akbar Anthony, Parvarish, Suhaag, Naseeb, Desh Premee, Coolie and Gangaa Jamunaa Saraswati in an association of 15 years."


Though Khan only wrote the dialogues of most of his films (over 100 at final tally), he was always part of the writing team, especially with Desai's team of Prayag Raj, K.K.Shukla and K.B.Pathak. "No dialogue writer can pen his lines in isolation. A knowledge of the screenplay is absolutely essential," says Khan.


Desai apart, Prakash Mehra also wanted him. "Desai and Mehra were rivals, but Amitabh Bachchan, who always wanted me, and I were common to both!" remembers Khan. "The two filmmakers shared a love-hate relationship. Desai once told me that I could either work with him or Mehra but I ignored him, and he never said anything more on the topic!"


It was only in two films, the Sanjeev Kumar-Amitabh Bachchan film Khuddaar and Shama, that Khan wrote the complete script with dialogues. Shama was also produced by him - his wife being billed as the official producer. "It was a very good and progressive subject that starred Shabana Azmi, but people did not take to it. I had a lot of trouble producing the film and came to the conclusion that creative people should not plunge into production," says Khan ruefully.


But though once bitten, he wasn't twice shy. "I launched a big-budget action film called Jaahil. I did not do anything more to sell my film when the names announced were Amitabh Bachchan, Kader Khan as writer and Laxmikant-Pyarelal as composers. But just then, Bachchan had his accident on the sets of Coolie. By the time he recovered, the political scenario had changed and Rajiv Gandhi pulled him into politics. Jaahil had to be shelved."


Multi-hued actor


Khan, the film actor, took off with minor assignments, like playing a small role as the prosecuting lawyer in Yash Chopra's debut production Daag and doing the voiceover of the villain in Benaam. But the tide turned with two Bachchan films for which he also wrote the dialogues, Adalat and Khoon Pasina. "I was a villain in the latter and played Inspector Khan in the former. People said that there are many actors to play cops, so I was preferred as the villain!"


Khan chalked up almost thrice the tally of films as actor than as writer! Most films had him in negative roles, but there were strongly positive turns too, and apart from films where he also doubled as writer, there were also movies wherein he only acted, notably David Dhawan bonanzas - Bol Radha Bol, Aankhen (in a dual role), Hero No.1 and Mujhse Shaadi Karogi, Lawrence D'Souza's Saajan, Harmesh Malhotra's Dulhe Raja and his last release till today, Umar (2005).


It was around 1983 that Khan's South phase took off in a big way. "It was a new grammar of writing and filmmaking," he says. "There was precision timing, two shifts meant two and never three, the preparations for a shoot were immaculate, the organisation was perfect and the punctuality was exemplary. From villain, I shifted to comedy. I learnt to write scripts in a particular andaz. I became hugely popular as an artiste and most of my films were with Jeetendra and Mithun Chakraborty. Then came the Vimal Kumar and Govinda chapters, and of course my pairing with Shakti Kapoor, with Asrani and Aruna Irani also added in many films, was loved by the masses."


In those days, Khan was remarkably prolific as both actor and writer down South. "Many Mumbai producers resented that," he smiles. "But my career progressed fast because after writing my scripts I would record them on audio and send the cassettes to my director, who would get an exact idea of the lines and sequences. After listening to Himmatwala, director K.Raghavendra Rao summoned me the same afternoon to Hyderabad, 'You have written the munim's lines in such a way that the actor we had in mind cannot do the role, and no one else can. Producer G.A.Seshagiri Rao and I have decided that you have to play the munim!' "


A son's promise


But life always changed shades for Khan. "My father, Moulvi Abdul Rehman, was an Aalim, a learned post-graduate in Arabic and Islamic Literature," he says. "He migrated to Holland and started his own institute there. He passed away at the age of 95 with hardly any gray hair and perfect eye-sight minus glasses! Before dying, he had called me, caught hold of my hand and said that I should apply my skills to developing awareness of Arabic and Islamic Law and the Quran. I told him that I did not know anything about that field. My father retorted, 'What did you know about theatre or films? You made an effort and succeeded! Try karne se sab kuchh aa jaata hai! The need of the hour is to make the subject interesting, just like you do with your boring film stories!' "


Khan goes on, "He extracted a promise that I would make an effort and a year after he passed away, I juggled with my work and quietly completed my Masters in Art from Osmania University around 1993," he reveals. "I formed a team and have now developed a syllabus right from Kindergarten to post-graduate level. The Quran, contrary to perception, is a book of law. If it is understood - the text is in Arabic - in its true sense, Muslims will come up in life and progress. Education is the need of the hour for broadening mindsets and horizons. We have to take the responsibility of teaching them, and teaching them right, in a language that they can understand. I want to do a lot for my community, and while I am back to doing films and television now, I am going to use these media for my mission too."


Then and now


Khan sentimentally states that after losing Desai and Mehra, "Main aadha mar gaya! " His few other friends from the industry included Amitabh Bachchan and Vimal Kumar, the filmmaker who is now coming back to films after a hiatus. "I am doing the serial 'Hi! Padosi...Kaun Hai Doshi?' for Sahara and a film called Mussalman among others. I hope to do more work again," he says.


Though he keeps in touch with current films, he feels that the technique has taken precedence over content. "In my times, the voice dominated the song, but now there is more focus on arrangements and sound. We had clear posts in our scripts, like dialogue writer or screenplay writer. There was fire in the way we narrated a story or scene to the director. Now there are only printouts!"


He adds that it was tough to enter the industry earlier. "Industry ka darwaza bahut chhota tha. Ab darwaza kya, deewarein bhi tod ke naye log aa rahe hain. But because of this, there is no staying-power."


A unique change that Khan perceives between his peak-time and now is something personal. "We lose a lot when we are successful. Our family gets habituated to us being away for long hours. Now they sometimes have a problem because we are around for longer hours!" says the actor, who has three sons, Kuddus, who works in Canada, Sarfaraz, who is an actor, and Shahnawaz, who is planning to make films.


And the writer/actor/writer-cum-actor of films as memorable as Laawaris, Satte Pe Satta, Agneepath, Hum, Dariya Dil, Ghar Ghar Ki Kahani, Kishen Kanhaiya, Biwi Ho To Aisi, Khoon Bhari Maang, Khudgarz, Sindoor and many more reveals another rare side about his multifaceted life when I ask if there is anything else about him we do not know: "I conduct a series of shows called Shaam-E-Ghalib Kader Khan Ke Saath. I explain every word and line to the audience and even quiz them on the poetry."


Surprises, clearly, never cease coming from Kader Khan.


BOLLYWOOD NEWS
Catch us for latest Bollywood News, New Bollywood Movies update, Box office collection, New Movies Release , Bollywood News Hindi, Entertainment News, Bollywood News Today & upcoming movies 2020 and stay updated with latest hindi movies only on Bollywood Hungama.