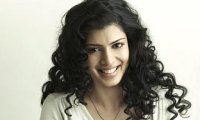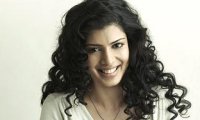 To say that Tena Desae is following Frieda Pinto's path to popularity isn't true. This curly haired lass definitely has got lucky in the West by signing her first Hollywood movie, a biggie directed by John Madden staring Dev Patel, Judi Dench, Tom Wilkinson and Maggie Smith. It's the feeling like when we were in school eyeing the hottest girl of our class and suddenly you wake up in the morning to know that she has sent a card to you through someone saying - I Love You. Something you've dreamt of all these years, one day I tell you, surely comes knocking on your door. The Best Exotic Marigold Hotel did knock on Tena's door and in no time she'll be seen walking the lavish red carpet for the London premiere of her movie alongside Dev Patel, her love interest (in the film). Ask her if she is ready to romance him off screen, pat comes the reply, "I hope his luck rubs off on me as well." Ssssssh! I'll let her do the talking now. Introducing 'The Best Exotic Tena Desae.'


What a fitting debut to make Tena. Congratulations.

Thank you so much. This is a dream debut everyone looks for in Hollywood, right? I went in for the first rounds of auditions. I had no clue who the director was, who the star cast was and what the name of the film was. But there was a bulletin board in the office that had pictures of Dev Patel, Judi Dench and Tom Wilkinson. I go to know that these were the names associated with the movie and I literally fainted. Trust me, it's a bl***y blessing in disguise. When you have John Madden, Twentieth Century Fox as a producer and Judi Dench and Tom Wilkinson, you can't thank your stars enough. It's a dream come true and I am truly blessed.


Do you think Dev Patel will be lucky for you too?
I hope Dev Patel's luck rubs off on me as well (laughs). He is carrying the torch right now. I will sit on his head and tell him that if he doesn't rub off his luck, he'll be in deep trouble. Just kidding! I'm so happy with this experience and to share screen space with one of the best from the West, Dev Patel.




So, you will be taking off to Hollywood. Is it bye bye Bollywood before it's even started?

I don't want to think in the direction of fame and glory right now. If it has to happen it will happen. Freida got lucky but that doesn't mean I follow next. I may be working in Bollywood for what you know! I don't want to spend too much time dreaming. I'd rather work towards my movies. Going to Hollywood will get me attention but I pray the movie is noticed more.


Tell us something about Dev Patel that not many people know out there.
We all know Dev Patel's rise has been magnanimous. He is an underdog definitely. When I see Dev perform there's so much to learn. Dev does one take in fifteen different ways. It's funny sometimes, sometimes heart warming. That's a lot of talent to have. John Madden too was surprised. I hope to learn from him more someday. Dev has done a brilliant job in Slumdog Millionaire and even though The Last Airbender didn't work for him, his work keeps surprising people in the West. He is a bit selective in his roles too.


Did you faint doing scenes with Judi Dench? I mean, it was a surreal experience, isn't it?
I had a few scenes with Judi Dench where her character helps me in the problem I'm facing as a part of my story. I was so lucky to have scenes with her. When I met her for the first time, I was surprised to see her standing at five feet. I mean, for the stature and recognition I've seen of Judi Dench, one would expect her to be standing quite tall. She is flawless in her performance. Adorable, Beautiful and Elegant is how I'd describe her. She loved the India she had never seen before.


What about one of my favourites - Tom Wilkinson?

I'm not having any scenes with Tom Wilkinson but I did interact with him during our seating together with the entire cast of the film. I had a long conversation with him on India and he was quite concerned about our country. It was like a paradox. He was disturbed about what the Government was doing for the poor. He said that we were put up in such expensive hotels and right next to the hotels are tiny slums. He was shocked to know why the world's fastest growing economy cannot do anything about it. I had to explain him what I could. He is such a humanitarian.




Have you had a chance to catch up on the new Hollywood movies before you embark to Hollywood?
I've still got to catch up on a lot of Hollywood movies nominated this year at the Oscars but I have seen a few. Tonight I'm going to see Moneyball, I've seen Tinker Tailor..., I want to see The Descendants and The Artist. The trailer of The Best Exotic Marigold Hotel was playing with The Descendants in L.A and I was very happy to know that.


One reason why we should watch The Best Exotic Marigold Hotel.
There isn't just one reason why one should see The Best Exotic Marigold Hotel. There are three: one for John Madden, two for Judi, Tom and Dev and three for me, who is making her debut (Laughs). I'd like to add the fourth one too: It's a heart warming story that'll touch people's hearts, make them laugh and entertain.