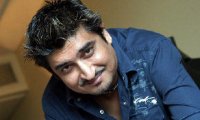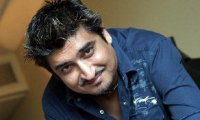 For many years now, Neeraj Shridhar has been delivering consistent hits as playback singer. Though neither high-profile nor prolific, the singer is extremely happy with his decade-long journey in Hindi films. What's more, he considers himself extremely fortunate that names he idolises are fans of his too


Why is it that your repertoire of hits is going up every year but you continue to be low profile?

(Laughs) Yeah, I realise that today it's not just the music that counts. Visibility has become more important than capability. I guess there are many reasons for my face actually being known less after I became famous as a playback singer! As Bombay Vikings, people knew what I looked like, but now, since I am not much of a stage person and am not seen on television shows, there is no splash in the media. I guess I do not know the knack of promotion-or is it politics? But this does not bother me, because I have achieved far more than I thought possible. As Bombay Vikings, I never imagined that I could be a successful playback singer. Those were the days of melodious voices and I never dreamt that I could sing for a hero, or at least be accepted or wanted in this capacity.


So how did it feel when you were welcomed? And what do you think were the reasons?

I think that trends changed and melodious voices gave way to vocals with attitude, which called for a different kind of expression. Living abroad for a large chunk of my life helped me when this happened, for I loved moulding songs and playing an active part in the song's making. So whether I was doing backing vocals or rap, I was becoming a part of the composition, almost like another instrument.


Since you are aware that you are low-profile, why not change things?

I don't know...maybe I should. I have been told that I must be on Twitter. Even my Facebook profile is only for personal use for family and friends. And I do not party either. Yes, I am a family person who loves spending times with my kids, my wife Nikhila, who also manages my affairs and even my mother has come down to stay with me. So far as work is concerned, I have always been more of a studio person where I can sit and make music all day. And I do a lot more things apart from playback.


Are these activities music related?

Yes. I love arranging music for artistes as well as ads and I do this almost exclusively abroad-in Sweden where I was living. That's because once they accept your scratch song, they give you a free hand. Radio jingles there are more creative as they are almost like songs and are generally longer than 60 seconds.


Why do you sing almost exclusively for Pritam?

I have actually sung for all the leading names. But yes, I do have more songs with Pritam and most of them have been hits. Though I started out with Sandesh Shandilya in Rules-Pyaar Ka Super-Hit Formula and had backing vocals in Himesh Reshammiya's Maine Pyar Kyun Kiya, it was Pritam's Bhagam Bhag title-track that was my first big break and it was his Bhool Bhulaiya title-track that got me big-time recognition and started a never-ending phase of songs as a playback singer.


Yes, in that sense, Pritam is special. I enjoy singing for someone who seems to recognise qualities I may possess but am unaware of until then. Like when I expressed doubts about Chor bazaari in Love Aaj Kal, he just said, "Are you crazy? I made this song for you!" Now, something like that makes you feel so good. He is a man who loves to experiment. Look at the wide variety he has made me sing in Kismat Konnection, Race, Golmaal Returns, Billu, Ajab Prem Ki Ghazab Kahani, Tum Mile, All The Best, Ready, Desi Boyz and now the rap song I have done for him in Agent Vinod.


For who else have you enjoyed working?

Vishal-Shekhar gave me Halke halke in Honeymoon Travels Pvt. Ltd. and more recently, Rascals. Shankar-Ehsaan-Loy gave me Ticket to Bollywood in Jhoom Barabar Jhoom, the title-track of Heyy Babyy and Papa jag jayega from Housefull. I have enjoyed working with Sachin-Jigar on the programming of Do Knot Disturb, and then working with them as composers in F.A.L.T.U.. Sajid-Wajid have given me some good songs and the forthcoming Papa band bajaaye in Housefull 2 is fantastic. Rajesh Roshanji, who represents that age of melody and gave me O re lakad in Krazzy 4 has now called me for a beautiful number that Hrithik Roshan will be enacting in Krrish 3. I have been very lucky. When you are someone's fan, and that person compliments you and turns out to be a fan of yours too, it's fantastic. After the recording, Hrithik complimented my voice. Sajid Nadiadwala called me for Housefull 2 stating that we had given massive hits in both his earlier films and so my song here was a must.


Any other such examples?

Salman (Khan)bhai is a big fan of mine. I was thrilled to sing Tumko dekha for him in God Tussi Great Ho, but the real charrtbuster was Pritam's Character dheela hai in Ready. Salmanbhai loves my Bombay Vikings work, especially Tera mera pyar sanam, my re-creation of Woh tere pyar ka gham from My Love. On stage for introducing me once, he mentioned this song and did not leave till I sang the song, so I started that concert with it.


As Bombay Vikings, you have done so many re-creations. What is your take on old film music?

We have to learn from it. Listening is a part of one's lessons. One must try and analyse what it was in an old song that worked or which touched you, which could be even a single note. There is no musician, alive or dead, who has not learnt from older songs in their area of work. Anything that happens today has to have a relation with the past.