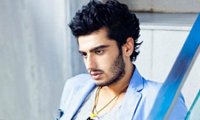 It's been just a day since his debut film Ishaqzaade released and already Arjun Kapoor has become the talk of the town. After a super response to Part 1 of this exclusive interview with Bollywood Hungama's Nikhil Ramsubramaniam, we bring you Part 2 in which Arjun talks about his toughest scene in Ishaqzaade, his journey from fat to fit, how he deals with people comparing him to Abhishek Bachchan and also blasts his fake impersonator on Twitter. Read on...


Which was the most difficult scene to perform during Ishaqzaade?

I think the first day of the shoot was the toughest. It was a song sequence with about 500 junior artists on set and I had to make my entry on a motorbike just as the song ends. Contrary to what people might feel, I didn't really know how to ride a bike that well to begin with. I remember rehearsing and practicing at YRF but riding and driving a bike on cue for the camera is very different. Besides being my first day of shoot, there were some nerves no matter how much you prepare. So in that sense, that was the most difficult shot to perform.


You seem to be having quite a blast in 'Chokra Jawaan'…tell us more about that?

It was quite the other way in fact...Humaari Haalat Kharab Thi as we were shooting nights and the temperature was zero degrees at that point of time. So it was quite a challenge shooting in the freezing cold. But yes…I had a blast cos I love dancing. I've been fond of dancing since I was a kid especially this kind of a dance sequence which is not your typical choreographed dance number. If you've seen 'Chokra Jawaan', you will realize that we are dancing free-style without any set pattern, just listening to the beats and having fun like how people dance in a marriage procession or a Ganpati Visarjan. That was the fun of it. Song and dance sequences are a big part of our cinema culture which is essentially what separates us from the West so as an actor, you need to be good at dancing. I love it so for me it was like a double bonus that I got to do such a dhamakedaar dance number in my very first film.


Your look and styling in the film reminds one of Abhishek Bachchan's Lallan Singh look in Yuva...what do you have to say about such comparisons?

I look at comparisons as a positive…it means people are looking at you and trying to find a reference. We all do it, when we see somebody, we try to compare or relate him / her to somebody else we know. It's a normal thing to do. When people are comparing you with someone, at least they are noticing you. As far as Abhishek's Lallan Singh is concerned, the only real similarity with my character is the ganji (banian) look but if you see the film, I've worn the ganji for just one scene. It's a nice feeling to be compared but hopefully when people see the film, they will realize that its two completely different characters.


You said you were obese (nearly 140 kgs) until a few years ago and you are now 85 kgs, tell us about your journey from fat to fit?

It took me around 4 years to achieve this weight-loss. I knew it that it can't happen overnight so I started out with a long term goal in mind. Once the decision was taken, it boiled down to taking single step each day to make your lifestyle better. From being a laidback person, I became focused on what I was eating, what I was drinking, how much I was sleeping and my work-outs. In fact before I even began working out seriously, walking was something that really helped me. I couldn't run because I was over-weight but I used to walk for about 2 hours daily on Juhu beach. Salman bhai helped me with my work-outs, he used to count my every single rep. We started out with light weights and gradually increased with each passing day. I also made changes in my diet like replacing rice with roti or eating brown bread instead of white bread. These may seem like small things but they go a long way in giving you a healthy lifestyle. You have to inculcate these changes in your lifestyle over a course of time. You can't give up in two months and say 'I'm not losing weight...so chuck it'. Now my body is used to leading a disciplined lifestyle.


What's with the Dabangg track pants, is it your way of paying tribute to Salman?

No, it was Habib sir's idea. It's more about the character Parma. He is the kind of bloke who would enjoy a masala film like Dabangg and hence sir thought why not incorporate it.


There seems to be a lot of love coming your way from industry folks on twitter, what do you have to say about that?

It feels really overwhelming when people whom you have grown up in front of appreciate and encourage you. It feels amazing that people have given so much love even before the film is out and that just goes on to show that the industry is always ready to encourage and welcome new talent. I hope that they all enjoy the film as much as they've loved the promos.


There is apparently even a fake Arjun Kapoor on Twitter who is basking in the glory. What do you have to say about such people?

What do I say yaar? I am tired of telling people that I am not on Twitter. I got to know through my sister Anshul and cousin Sonam of this fake who is posing as me and trying to get his two minutes of fame. He has been taking undue advantage and even gone to the extent of accepting condolence messages during my mother's demise. It's really cheap and disgusting and I hope that whoever that person is has some kind of shame and stops this ridiculous behavior.


What are your forthcoming plans…are you also part of the 3 film deal with YRF?

Yes I am...looking forward to working with YRF again. Whatever offer comes my way, I'll treat it on merit and take a call. Right now it's all about Ishaqzaade.


Finally, what do you think is the USP of Ishaqzaade?

I've always said this in my interviews that the USP is the world which Habib sir has created that actually exists in present day India in the small towns. So people who want to see a nice love story unfold in a small town should come and check out Ishaqzaade.


Click here to read Part 1 of interview with Arjun Kapoor

BOLLYWOOD NEWS
Catch us for latest Bollywood News, New Bollywood Movies update, Box office collection, New Movies Release , Bollywood News Hindi, Entertainment News, Bollywood News Today & upcoming movies 2020 and stay updated with latest hindi movies only on Bollywood Hungama.