After the blockbuster success of War (2019), superstar Hrithik Roshan is back with Vikram Vedha. There's a lot of hype for the film, which also stars Saif Ali Khan, not just due to its exciting content but also because it's Hrithik's release after three years. As a result, the film is expected to open well on September 30.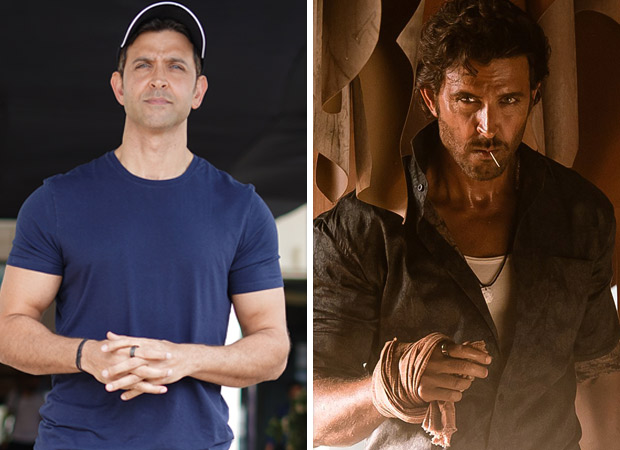 Hrithik Roshan BREAKS silence on complaints of doing fewer films: "Vikram Vedha has such INCREDIBLE writing. If I get writing like this, I'd do 4-5 films a year"
Hrithik Roshan, along with Vikram Vedha's directors Pushkar-Gayatri, spoke to a group of journalists about the film and a lot more. Hrithik gave some deep, yet entertaining replies and the director duo too came up with interesting answers. What was heartening to witness was the deep admiration that the actor has for the makers and it's evident at several places in the interview.
After the release of War, was there pressure on you? Did people advise you on what kind of films to do from here on?
Hrithik Roshan: I don't know what to say other than No (smiles)! War put a different kind of pressure. There was so much adulation for my character Kabir that I got lost. I didn't know what I should take up as it's a very confusing time for me. I can't go very deep into this episode but I'd like to say that I was a little lost. I was getting a lot of love for something I was not. It was time for me to realign with the person that I am and to fulfil myself as Hrithik because I can't constantly keep filling myself up through the love for my characters. I need to be comfortable being me. It's okay that I am not as good as Kabir or Vedha. Those characters are not me. That's my work and it's so important to differentiate between the person I am and the persona I project on screen. If I don't separate the two, I'll live in chaos. I'll always live as a hungry soul, trying to get applause all the time and trying to portray all of that in my real life. That'll be traumatic.
There has been a complaint from your fans that you don't do enough films…
I want to do more films. I just don't find the right content. These (points at Pushkar-Gayatri) are the best minds that I have come across. Vikram Vedha has such incredible writing. If I get writing like this, I'd do 4-5 films a year. But I am a slave to my instincts and my instincts are determined by how impactful the script has been on my soul. It's not my decision. It's all in the hands of the writers and directors. Fingers crossed. Maybe I'll be lucky again (and get to work with Pushkar-Gayatri).
When did you see the original version of Vikram Vedha?
I saw the film way back in 2017 and I was blown by it. I also expressed a desire that if there's a remake happening, I'd love to do it. So, I sent the wish out to the universe. Three years later, (I was offered the film).
With South cinema flourishing massively at present, would you be interested to do a South film if you get an offer?
I'm open to all kinds of films from every part of the world. I would like to collaborate on any and every good content. It doesn't matter where it's from. I am a student of cinema and cinema can be from anywhere. Post-pandemic, we are a time where we have to sit and take this amazing feedback that's coming in from the audience. It's time to recalibrate. It's the time to grow. It's the most incredible phase that we are in. I look at it in a positive sense. The audience is exposed to the best works from all over the world in theatres and on OTT. Obviously, the tastes are becoming better. Through the feedback received, we'll grow. Hence, it's a damn good thing that's happening.
How do you cope with the expectations that people have from you and your film releases?
When I was starting out, I was probably aspiring to be a star and to be acknowledged as one. Today, I aspire for success as an actor. I want to grow and satisfy my directors and my audience. My job is not to be a star. My job is to be an actor. That's the difference. That's the change.
How do you feel before your film's release and just before Friday?
I have always been very aligned with my movies. Before my release, if I am nervous, that means the movie is good. And I am nervous right now (smiles).
What makes you say yes to a film?
It is the emotional impact that the script has on me. There's one thing to say that the film will touch me and it's another thing that you actually have tears so that you know it has touched you. So, I look for scripts that affect me on a cellular level. It needs to change my vibrations. It can't be calculative. I can't think that 'This scene will make people cry or make them laugh'. Are you laughing or are you crying yourself? If you are not, they are not going to laugh or cry either.
When I saw Vikram Vedha, it didn't change my cells. It blew my mind. It still blows my mind though I have worked on it and even watched it multiple times. I discover new things every time I see it. Every time, in the middle of the film, I want to ask my directors some question because I'd forget by the time the film will end! Next time, I am going to sit with a notepad. I swear, I am not kidding. It's such a complicated script and I don't know how they pulled it off in the most simplistic and entertaining manner. I wonder what's the first thing they wrote? Did they crack the end first or the middle portion? I am not trying to blow our trumpet. But this is a film on which you can do a proper case study.
What do you have to say about the way social media has invaded our lives and has become the deciding factor for many films? Does that concern you?
Pushkar: 15-20 years back, films were judged by 6-7 people (whose views used to be published in newspapers). Since social media came in, there has been a democratization of reviews. Now everybody who has access to an account or a phone puts their thoughts down on social media. One might argue that a certain degree of education is required to review a film. But whoever has seen the film has the right to put out his views. So you'll have to just think of it as all those people are contributing to talking about cinema.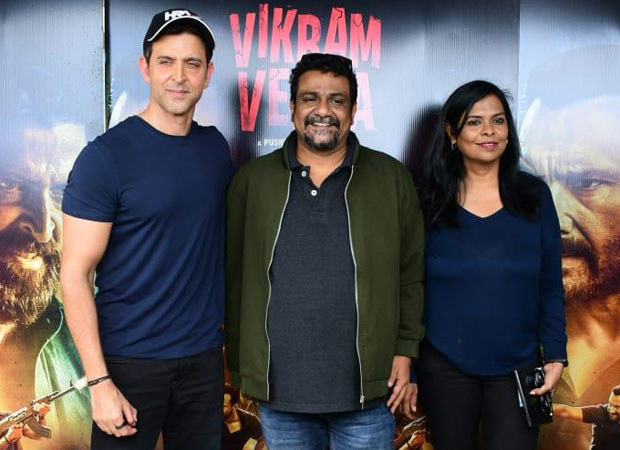 Gayatri: Regardless of all the negativity that happens, the word of mouth spreading on social media is huge. Like for a film to pick usually took a long time. Now, if people like it, (the word spreads faster). So, that's a huge advantage.
Pushkar: People might pan the film or love it but at least, we are hearing what people are thinking rather than a very small section of people who get to write in a newspaper.
Hrithik: I agree. I have not seen social media as a negative tool. It's always been positive. You should have the ability to control the way you respond or the way you react. So, it's a really good arena or mental gym to see what and how you react to it. It's an opportunity for you to grow.
How much is the remake similar to the original?
Pushkar: It's the same script. Some of the setups are also the same. Fundamentally, we have not changed the script for the sake of it. It's not like we have changed one scene over here and one scene over there and claim, 'It's a brand new film'. However, when a person like Hrithik interprets Vedha and Saif interprets Vikram, new magic is going to happen.
Which are the roles you don't want to do?
That will be all the films that I have not done (smiles)! I don't want to do films that are superficial. Even in light-hearted films, you can find depth in a situation. So how deep you are thinking is what I consider; it doesn't matter what you are thinking. It doesn't matter where you find water. You might find it under sand or you might find it under concrete. There was this comic book, Tinkle. It had published a tale of Suppandi. He goes digging for water. He digs some 50 feet and doesn't find water. Somebody crossing by tells Suppandi, 'Why are you trying here? Try over there. There's definitely water at that place'. So he goes over to that spot and digs 50 feet. Another person comes and advises him to dig someplace else. This happens many more times. He comes home and tells his wife, 'I dug 250 feet at so many places and didn't find water'. His wife replies, 'If you had dug 250 feet at any one of those places, you would have definitely found water'! That story stuck in my mind. So I believe that we should choose our spot and dig deep. You'll find the water.
You had revealed that you had plans to do a sci-fi film next. Is there any update on that front?
(Hrithik Roshan's eyes light up and he gets excited, hinting that he'd love to be a part of it. Pushkar-Gayatri laugh)
Pushkar: It's still in the very early stages of writing. But we'll get on it very soon.
Your earlier film War was a two-hero flick and so is Vikram Vedha. Don't you feel skeptical while working in such setups?
I enjoy two-hero films much more than my solo hero films. It's easier! There's more for me to learn, and there's more for the audiences to watch. Hence, it's more fun. I don't know why one would have insecurities (in doing such a film). Your job is to act to the best of your ability. As a student of cinema, I enjoy watching two-hero and ensemble films. Why should I not work in such kinds of movies?
There's a lot of negativity in the air with regards to actors and cinema nowadays. Do these things spook you and does it have an impact on you as a person?
I don't know what kind of negativity you are talking about. Negativity is important. It's a contrast, just like day and night, good and bad. Negativity is there to keep you in the state of seeking. It should nudge you to a better place. It is there to help you in some way.
Also Read: Vikram Vedha gets U/A certificate; the Hrithik Roshan, Saif Ali Khan starrer to have a run time of 2hrs, 40 mins
BOLLYWOOD NEWS - LIVE UPDATES
Catch us for latest Bollywood News, New Bollywood Movies update, Box office collection, New Movies Release , Bollywood News Hindi, Entertainment News, Bollywood Live News Today & Upcoming Movies 2023 and stay updated with latest hindi movies only on Bollywood Hungama.