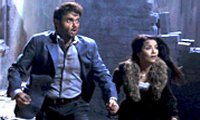 >
2011 has been quite a vibrant year what with films like Haunted, Shaitan, Ra.One and the varied genres releasing to either a good or unfortunately a bad place at the box-office. With all the 107 films released this year, remaining unique from another, one aspect that forms the common thread in the creative process is the post-production, playing a crucial part in making those films complete. Whether it is 3D stereoscopic filmmaking with ghouls coming towards you in Haunted or pulling off a heist in Berlin in Don 2, the industry is turning the spotlight to innovative filmmaking techniques and post-production process to unleash its inconceivable power. It may perhaps be its visual effects that can make a train destroy the iconic CST station in Ra.One or make Ranbir croon to a larger audience in Rockstar; Indian filmmakers are achieving bigger post-production feats every passing year with their films. Bollywood Hungama explores 2011 a visually effective year in story telling, collaborative efforts and what's in store for the future of digital filmmaking.


One of the biggest accomplishments in Indian filmmaking and post-production this year was that, we saw the first 3D stereoscopic film coming to fore with Haunted, a horror film directed by the maverick Vikram Bhatt. The unconventional director shared a common fact that now 3D stereoscopy has become quite a stable platform to make films with since it is not an experimental platform anymore. The director also emphasizes on the fact that 3D theatres are rampant everywhere in the country streaming a lot of 3D content every week. With Haunted being the first stereoscopic film in the country, this trend of stereoscopic filmmaking will prominently gain momentum soon.


With the more recent Ra.One, being lauded for its VFX for being almost in par with some of the work churned out from Hollywood's post-production stables, Indian productions are adopting the collaborative post-production effort to beckon better quality VFX and other post-production efforts. Merzin Tavaria, VFX supervisor of Ra.One from Prime Focus, shone light on the 3D conversion process which was conducted simultaneously along with the VFX process saying that with about 4400 shots, it was difficult to manage the conversion process, we broke down each shot and designed on what parts of the frame needs to be pulled up or pushed back. To achieve the VFX in the film, Red Chillies VFX studios and Eyeqube Studios collaborated along with Prime Focus and its global arm in delivering quality post-production work, in a span of six months altogether.


One of the largest post-production houses in India, Pixion Studios, contributes VFX for most of the big banner Bollywood films like, Singham, Force, Shaitan to name a few. With Indian cinema leaving a hint of more stereoscopic conversion productions such as Ra.One, Viral Thakkar, CG VFX head of Pixion Studios Mumbai, downplayed the thought of Pixion Studios having a stereoscopic conversion setup in the country at the moment, due to an abundance of projects in its way. Pixion has not had the opportunity to look towards the stereoscopic fragment although the plan ultimately will include a state of the art setup available. With us inching closer to 2012, according to Viral, Indian cinema is going to expect a surge with VFX swinging upwards. He says, "I think most of the films are going to be in 3D, we have just delivered the VFX for Don 2; the film has been converted into 3D at Reliance Mediaworks. The quality plays a very big role if you are converting the films and if the quality is not right then the audience might experience these so called 'headaches'. I think for 2012, Bollywood is definitely going the 3D way at least where the big VFX and Bollywood films are concerned."


"The doors have already been opened with Ra.One and Don 2. I think we should see a jump in stereoscopic 3D productions for sure, with a lot of new theatres being equipped and the market witnessing the difference on the revenue that a 3D film can generate, I think there's a big upward trend in here for sure. Although Rockstar does not have very loud VFX in it, it's all invisible and very narrative. I give a, thumbs up to directors who are making this upward trend happen," says an optimistic Merzin on the scale of projects and quality work to hit the Indian post-production scene. "Krrish 3 is going to go on floors in 2012, so there's big movement towards that production and Agent Vinod is going to make a mark as well." Merzin concludes with some of the projects in sight for Prime Focus.