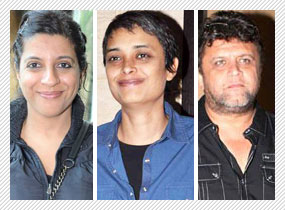 Bollywood celebrities criticize the government's proposal to ban porn in India.


Zoya Akhtar: "It's absolutely ridiculous. We're already seeing the downside of a repressed society. Instead of focusing on real issues like women's safety, anti-rape laws, marital rape, domestic violence and human trafficking, they come with a brainwave to censor the internet and ban porn! I think this is a way of skirting real issues. The government needs to enforce the law and not to impose any moral code on people. It's my business if I watch porn. They seem to not want to enter the bedroom if a man is raping his wife. They treat that as a domestic matter. But they can tell people what to watch and not watch in their homes! Makes no sense and should be condemned."


Reema Kagti: "I think banning porn would be regressive."


Rahul Dholakia: "No. Banning porn will result in more rapes and more sex crimes. Pornography is an outlet for sexual frustration. Banning it won't serve any purpose."


Tanuja Chandra: "Porn will survive due to the high demand whether any government bans it or not. If banned it'll flourish illegally. I am not interested in defending porn, as it has given rise to all sorts of exploitation and abuse. But I am surely concerned about government agencies constantly intruding on the people's freedom. Access to any kind of knowledge or information is our birthright."


Umesh Shukla: "If banning porn helps reduce crime rate, sexual harassment, child abuse etc., I am all for it. But first, the government needs to provide proper sex education."


Vipul Shah: "Ban of any kind is never the solution. We need to work towards a system where porn on the internet can be monitored and kids can't have access to it. Our failure to create a domestic censorship cannot be reason to ban porn."


Apoorva Lakhia: "If no porn, what will most of Bollywood do with their computers? And heck, I just bought a new comp!!"


Sudhir Mishra: "One man's porn is another man's sensuality. Who are we to stand judgment? In principle, I am opposed to the pornography industry because it also involves sexual abuse of children. That repulses me. But then I am also opposed to any form of censorship and curb of freedom. Any attempt to ban porn will only make the underground industry flourish. Let it be. If a 15-year old watches porn out of curiosity, it's healthy. But if I a 40-year old man watches porn something is seriously wrong with him. He needs to get a sex life."


Onir: "I am against every form of censorship and moral policing. Though at times it is difficult not to want some control over an industry which is highly exploitative. But the real issues of poverty and education need to be addressed. Banning porn is not a solution. It's absurd."


Pritish Nandy: "It is the stupidest idea ever. Is the government my father or my school principal? What amazes is that those who spend their adolescence celebrating and enjoying porn suddenly turn hypocritical at a later age and want to ban porn so that subsequent generations are not exposed to its "bad" influence. This is sheer hypocrisy. When you ban normal sexual interest you create an environment for sexual crimes."


Bejoy Nambiar: "(laughs) The more you try and curb human impulses the more people will find a way to gratify themselves. Don't ban porn. Ban all bans, I say."


Ketan Mehta: "This is a lost cause. Information on internet can't be controlled or contained."


Mahesh Bhatt: "It's the oldest trick in the book. Pretend concern over the deteriorating morality of our society and have the paranoid sections of the population on your side. Does the government give a damn about what happens to its citizens? I fear all those who take a high moral stance. This is just a ploy for them to exercise more control over us. Banning porn can't work in the digital age."
BOLLYWOOD NEWS
Catch us for latest Bollywood News, New Bollywood Movies update, Box office collection, New Movies Release , Bollywood News Hindi, Entertainment News, Bollywood News Today & upcoming movies 2020 and stay updated with latest hindi movies only on Bollywood Hungama.