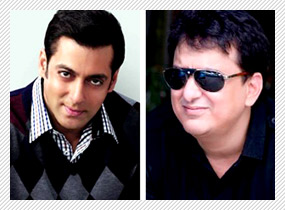 He may not be declaring it from the rooftops yet but other than Rajshri Productions, which has been associated with three back to back Salman Khan hits (Maine Pyaar Kiya, Hum Aapke Hain Kaun, Hum Saath Saath Hain), his is the only production house to be consistently delivering a success with Salman Khan. For Sajid Nadiadwala, an association that was formed between Salman Khan and Nadiadwala Grandson close to two decades ago has been a fruitful journey for all involved, what with five films already being released and Kick expected to be 'baap' of them all when it arrives on the coming Eid.


"That's true," comments an insider, "Many filmmakers make headlines when they deliver two or three successes in a row with an actor. That is right too on their part, considering the fact that this is showbiz and as the word conveys, it makes sense to elevate your business by showcasing what has been achieved so far. However, Sajid likes to keep it all low key. His passion is to make movies and while his personal as well as professional equation with Salman has been for the keeps, he doesn't like to hype it to an extent that it becomes bigger than the product itself."


Just like Yash Raj Films and Shahrukh Khan have never looked back ever since they came together first with Darr, an impeccable bond exists between Sajid Nadiadwala and Salman Khan, ever since the days of Jeet.


"It had Sunny Deol in a key role but Salman was gracious enough to be a part of it, and made his presence felt. That was way back in 1996 and in the decade to follow, Sajid and Salman came together for four more films. Judwaa was the film which marked a huge transition for the actor from Jeet to the David Dhawan affair which featured him in a double role. Sajid was very attached to the film and was super happy for Salman when the film turned out to be such a good success. Later he made back to back films with Salman with Har Dil Jo Pyaar Karega turning out to be a good success too," an observer adds. Incidentally, Shahrukh Khan made a special appearance in the film and Sajid also roped him in for a key song sequence in Heyy Babyy.


Meanwhile with Salman, the journey continued with Mujhse Shaadi Karogi, one more good success which had another Nadiadwala favorite, Akshay Kumar, as a parallel lead. Though the producer repeated his much loved actors in Jaan-E-Mann, a heads-on battle with Shahrukh's Don proved to be costly.


"That was in 2006 and for Sajid and Salman, it was now about getting together in a film that was worthy enough to feature their names in the credits," a close associate adds, "A film had to be really special and this is where Kick came into picture. It was also destined that Sajid turns director with the film and it was none other than Salman who pegged his friend to wield the megaphone. Sajid, albeit surprised, didn't resist much and pronto began work on the film."
Perhaps this is the first time ever in the history of Hindi cinema that a producer, who has been around for close to 25 years, is now turning director and that too with such a big film.


"He has a lot to prove," the associate adds, "For someone who has been making so many films as a producer (this year itself he has released three films - Highway, 2 States and Heropanti), it is a matter of showcasing how he can shift gears and change hats while picking a new role. The promo has already done the trick, the release date is just right, the actor is super-hot and the production values warrant a big screen watch."


Now all that one waits to see is Sajid delivering while resuming his big screen innings with Salman Khan, who has entrusted his friend and associate to deliver big, and deliver well.


Will there be a box office history re-written all over again and industry get a new director who has perhaps embarked on the biggest adventure of his professional life and that too not just for a 'kick'? Well, Eid is not too far away and it would be known for one and all!