Given our fetish for food, it is hardly surprising that samosas and caramel popcorn are big earners at the theatre near you. While ticket sales comprise a major chunk of theatre revenues, the owners also earn a significant amount from F&B. Krutika Behrawala finds out exactly how much.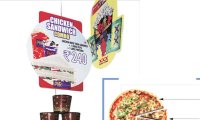 Multiplex Choices


The bright-coloured kiosks at a multiplex displaying an array of food items are as attractive for moviegoers as the movie itself. "Food and beverages (F&B) is a great attraction for the audience because it is now entwined with the movie-going experience," says Rahul Singh, VP, Operations, PVR cinemas that has around 173 screens spread across the country.


While the revenue that multiplexes earn from ticket sales amounts to 65-70 per cent, the revenue share from F&B amounts to 20-25 per cent which is a whopping Rs60-70 crore business annually. "While earlier, it was only about watching a film, today, a tub of popcorn actually serves as an 'emotion bag' that the patrons eat according to the emotions in a movie. So F&B is actually a huge support to multiplexes," says Arpan Dutta, COO, Cinemax. Meanwhile, the costs incurred in this department are a mere 29 per cent of the revenue earnings.


Since, F&B is such an important constituent in the revenue earning model, the theatre owners leave no stone unturned to ensure that the diverse tastes of their audience are satisfied. "The variety of food items and its pricing depends on the demographics of the cinema hall as well. But usually we serve hot corn, sandwiches, pasta, burgers besides the conventional samosas, popcorn and cold drinks," adds Dutta.


Moreover, regular upgrades are a priority to add novelty to the menu cards. Singh says, "The idea is to make food and beverages look very attractive. We offer a lot of concessions and combination deals." Upgrades also include innovative services for the patrons like inside-audi-services wherein patrons are served food on their seats. "We have also become tech-savvy and use Personal Digital Assistant (PDA) that are palmtop computers from which patrons can order food. Plus, we have different weekend and festival menus," says Dutta.


Moreover, a lot of space in multiplexes is also rented out to various food brands for setting up their stalls. "The money that we earn from these stalls is usually on profit-sharing basis or rental basis depending on the scale of the business that the brand does," says Dutta.


Multiplexes


Hot Com Rs. 45-60


Cakes Rs. 50-100


Nachos Rs. 90-110


Sandwiches Rs. 90-100


Single Screen Choices


While single screens may not display a wide variety of food items as multiplexes, their reasonable price range helps to lure cinegoers to a great extent. For single screens, the revenue share from F&B amounts to 14 per cent.


"Usually, we earn at least Rs. 30 per patron," says Balwant Prasad, manager at Suburbia, localted in Mumbai suburb Bandra. Meanwhile, Murlidhar, manager at Eros, one of the oldest theatres in Mumbai, says, "We earn around Rs. 1.5 lakh per week on food sales, depending on the popularity of films running in the theatre."


At single screens, the price of food items start from Rs. 25 and can range upto Rs. 150. Murlidhar says, "Here, our maximum sale comes from samosas which are priced at Rs. 25 while the most expensive food item on our menu is London Dairy ice-cream priced at Rs. 110."


Moreover, single screens upgrade their menus regularly to be at par with the changing tastes of audiences. "Earlier, we were not able to sell many wafer packets like Lays and Hippo. But when we have a childrens' film playing in our theatre, all the Lays packets are sold out," says Prasad. According to Murlidhar, Eros also serves chicken burger, chicken roll and chicken patties based on audience feedback.


On the other hand, at some single screens like the G7 and Regal, canteens are rented out and the theatre owners earn the canteen rent instead of sales from food items. Manoj Desai, owner, G7 cinemas, says, "The canteen is run by a Parsi family and we earn Rs. 4000 per month as its rent which is very nominal. Our major share of revenue comes from ticket prices."


Single screen


Popcorn Rs. 30-50
Pattice Rs. 25-40


Ice-cream Rs. 25-30


Mineral Water Rs. 30


BOLLYWOOD NEWS
Catch us for latest Bollywood News, Bollywood Movies update, Box office collection, New Movies Release & upcoming movies info only on Bollywood Hungama.