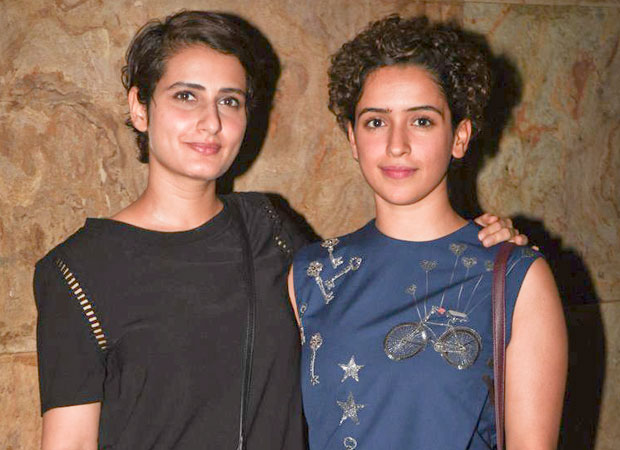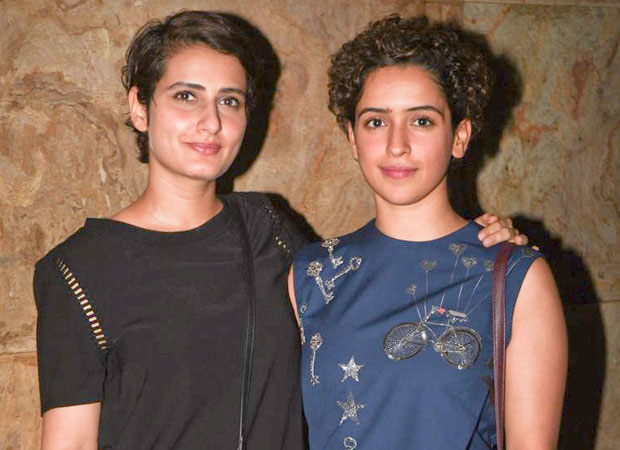 The Dangal girls Fatima Sana Shaikh and Sanya Malhotra in an exclusive with Faridoon Shahryar share their thoughts on the experience of being part of a film that is being touted as one of the best films ever made in the Indian film industry.
All these huge expectations, how're you guys dealing with these expectations coming your way?
Fatima: Are people expecting anything from us? (Laughs!)
Considering the praise coming in that it should win an Oscar, even from you guys as well. Sanya: Right now we guys are numb.
Fatima: We're floating through it. I can see everything happening and I'm over it and nothing is sinking in. Mujhe lagta hai jis din phatega na boht solid phatega.
Sanya: Haan, bilkul, mere saath bhi yahi hoga. We also took time to sink in that we're in the film. Now kaafi time lagega to sink in to realize ke jis movie ke liye we've been working since two years woh release ho gayi hai and people are watching it and they like it.
Anyone and everyone must be asking similar questions about how you got the film. Now as we know how you got the film, we even want to know how you were awestruck by Aamir Khan, you took selfies at his house...
Sanya: I was not awestruck by Aamir Khan, I was awestruck by his house. Because Aamir was not Aamir at that time Aamir Khan was Mahavir Singh Phogat, completely into his character. So we were not awestruck when we first met him.
I saw a video of you guys in which you're having a great time dancing on some English songs. May be that's the sort of side of you guys that many people aren't aware of. So let's talk about that side, the fun filled side?
Sanya: That's all we used to do when we were shooting. Kabhi kabar break hota tha, just to keep ourselves entertained we used to make such funny videos. We've a lot of them and we have a stock of funny videos.
Fatima: That's us you know, that's Fatima and Sanya, that's not Geeta and Babita. So it's been so long about Geeta and Babita, toh hum thodi apni personalities idar udhar daalte rehte hai.
When we saw your Koffee With Karan episode with Aamir Khan, what came out was your comfort level with Aamir Khan, you can rag him, joke with him. You guys actually share a bond like a father-daughter relationship, a thing we very rarely get to see. How do you guys manage that comfort level?
Fatima: Whole credit goes to Aamir Khan and Nitesh sir. They always kept it very comfortable.
Sanya: We shared the same relationship with our director also. Ragging, making fun of other people, making fun of each other. We've spent a lot of time with each other. I totally agree it's a lot to do with them. Because they're very warm and simple people.
Fatima: Aamir Khan and Nitesh sir always welcomed us. Nitesh sir, Aamir and us we genuinely get along.
Sanya: The other cast crew too, we're like a big happy Sooraj Barjatya family.
Hum Saath Saath Hain?
Sanya: Hum sab saath saath hai.
Fatima: I'm damn close to her, Aamir Khan and Nitesh sir.
I went to Balali before Geeta Phogat's marriage and we interviewed them in the akhada.
Sanya & Fatima: WOW!
How important was it for you guys to bond in personal life as well on screen?
Fatima: It happened organically.
Sanya: We became friends from the day of the auditions. Though I was also auditioning for Geeta and Fatima was also auditioning for Geeta at that time. I wasn't auditioning for Babita till then. We used to help each other after auditions. We used to go on her scooty, I used to pillion, used to sit behind.
Vespa? The whole world knows that.
Fatima: Now everybody knows.
Sanya: We used to go together and it actually helped. It's genuinely there and I think I found a soul sister in her.
There was a time when people were thinking maybe you guys were dating each other?
Sanya: Yeah, that's why I used the term soul sister not soul mate. (Laughs!)
The language must've been equally tough, it's not easy to get that nuance right, especially for Haryanvi.
Fatima: Yeah! I'm from Mumbai so I used to listen Marathi around me. Haryanvi mere aas paas koi hai nahi. Mujhe thoda difficult hua. Actually when we were auditioning, workshop ke time pe, they were like aapko jitni bhi Haryanvi aati hai aap bol do. Mujhe toh pata hi nahi Haryanvi, so main dusre logo ko sun rahi hoon and I'm getting very intimidated of what to do. That's when I asked Sanya for help.
Sanya: I'm from Delhi, so mera suna hua hai. Friends the, baat karte rehte the, police wale Haryanvi mein baat karte the toh mujhe idea tha.
Kripa Shankar ji, I think you owe a lot to him in terms of physical transformation?
Fatima: All of it actually.
Sanya: Majorly wrestling helped us get in the character. It's because of him we were Geeta and Babita. We used to look, walk and stand like wrestlers because of our coach.
Sanya: To wrestle for 8 months, you need that one person who drives you to do that. Woh journey ya toh bahut interesting ho sakti hai ya bahut boring ho sakti hai. But woh journey ko interesting banaya sirf Kripa sir ne.
How do you look at your Bollywood career from here because considering that Karan Johar has seen your work and everyone and anyone have seen your work, they've been showering praises on you guys. Where does it goes from here. Have you got any offers?
Fatima: No, nothing. As of right now, there's nothing.
Sanya: Dangal Dangal is happening.
Fatima: Yeah! I hope I get to work on great scripts. I'm not thinking of any graph right now.