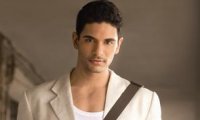 If anyone would've got the video footage of my interview with Angad Bedi, with of course, the conversation muted, it won't be any different from any 'Master Chef' episode. Why? Well, for that my friend, you had to be at the right place at the right time. For a change, I was. I waited patiently for almost the longest time outside any celebrity's house (4 mins) after buzzing the bell. Then....think of the F.A.L.T.U and the F.A.L.T.U arrives. Angad Bedi was right there in front of me and apologises for his late opening. To err is human, to forgive is divine...and we move on. Bedi is feeling a bit low in health due to back to back sleepless promotions of F.A.L.T.U on the many reality shows. So the first thing he asks me is, "I'm hungry and making an omelette. Do you want one? Aahh! And some tea too?" Now you don't have to think twice in such matters. I nod in positive and it was 'anda' aur Angad time in his open kitchen which took me back to my London days. What Angad wasn't aware of was my next move. I ask him if he was comfy talking about his film F.A.L.T.U as he chops a few onions and tomatoes and beats the mixture with the white and the yellow. But that's what F.A.L.T.U is, he quotes, "F.A.L.T.U is as fluffy as this omelette. It's yummy and everyone is going to relish it." What continued was one of the most candid conversations ever. And knowing Angad's passion for almost anything and everything, we start off with his religion first. Cricket: his religion and Films: his God. Trust me; we had no 'F.A.L.T.U' time to talk on 'F.A.L.T.U.' things anyway. UK's Harrow Observer columnist and Bollywood Hungama's London correspondent brings you Bollywood's latest debutant who doesn't believe in keeping all his eggs in one basket but don't mind cracking three to four on a hot frying pan for some sizzling conversation! F.A.L.T.U indeed was a delicacy that evening, and much more in this Bollywood Hungama exclusive! Presenting F.A.L.T.U #2 Angad Bedi.


"India winning the match tomorrow versus Pakistan is bigger than any film"

I really want India to win and want them to go to the Finals. As a country, we are cricket crazy emotionally, not mentally. We are involved in cricket only if India is winning. If India is losing, nobody is interested. This is a tested theory. If India wins, I am glad to lose a day's worth of business at the box office. India winning the match tomorrow versus Pakistan is bigger than any film or anything on this planet. Once the World Cup is over, we have another eight days for our film to pick up in business. I don't think there is anything wrong in that.


"The Indian team has a responsibility to one living legend - Sachin Tendulkar"

If India can't win this World Cup, I don't know when we will ever win it again. We have Sachin, Sehwag, Zaheer, Yuvraj and Dhoni. These are the players who might not be there for the next World Cup. Age is catching up on them, and irrespective of that, they are in prime form. And to top it up, they are playing in India. It's a much better Indian team compared to that of the 1983 World Cup. Sachin Tendulkar is on a wild goose chase and he wants to prove a point by winning his first ever World Cup. The Indian team has a responsibility to one living legend - Sachin Tendulkar and they all should play to win for him.


"I have chosen this film for two reasons. Reason one is Remo"

I have chosen this script for purely two reasons: One is Remo and he has got a lot of goodwill in the industry. I have known him for seven years. He is fabulous as a person. He was very confident of me playing a part in his film. Secondly, I play a South Indian guy whose name is Nanj aka Nirenjan Iyenger. His parents want him to become a proper South Indian dancer but Nanj is into fitness and working out. He loves to go to the gym and wants to make a career in sports or in fitness. He is a soft hearted person and very naive. The comic thing is that whatever Nanj wants to do, he does it wrong but not intentionally. He doesn't know his own strengths sometimes.


"I got offered F.A.L.T.U. while I was talking to Ravi Shastri during the IPL"

I was supposed to make a debut with Remo three years ago in a film titled Knockout. Everything was ready but the finances didn't work out properly and the project was shelved. Last year, I was hosting the IPL. Remo saw me on the television while I was talking to Ravi Shastri. He called me but I couldn't pick my phone as I was busy talking. After some time, I got a text message from Remo which read - Hi Angad, this is Remo, call me urgent. I called him and the next thing I knew is that he offered me one of the three male leads in F.A.L.T.U. At that time, he never told me it is a Vashu Bhagnani Film.


"F.A.L.T.U is a controlled excitement"

For the entire six months, they couldn't get Nanj. Remo thought that he wanted an adorable loser and I fitted the part very well (laughs). I am excited about my debut film but it is a controlled excitement.


"Jackky has this added pressure for no rhyme or reason"

Jackky as a guy is very sweet. He has a humane side to him. He hasn't got any airs that he is the son of a big producer. People can say what they want to, but there is an extra burden on him. Jackky is a producer's son and there is more pressure on him than us. He comes with a baggage. Now I can understand Jackky's position for the simple reason, I used to deal with that on the cricket field. He has that added pressure for no rhyme or reason. He has to prove himself and time and again he will prove us wrong. That's Jackky Bhagnani.


"My principal thought I'd be the first one to fail in my tenth grade while studying in Delhi"

I was in my tenth grade in Delhi. I can recall it was during our CBSE exams. My principal was very scared of me thinking that if I sat in the exams, I would fail. In class tenth, the rumour had it that it was going to be the toughest paper in the board exams and Angad had to pass. My principal never wanted me to be the first one to fail in class tenth. I left in an hour after giving the paper and only attempted 36 marks out of 100 but was confident that I will pass. A very similar scene is attempted by me in F.A.L.T.U.


"F.A.L.T.U is a non filmy film"

F.A.L.T.U is a very real film. I mean, firstly, there is no love interest in the film for anyone. Puja Gupta isn't playing anyone's love interest. We all are playing the best of friends. Somewhere on the line, Remo wanted to have friends who knew each other since childhood and that's what's real. F.A.L.T.U is a non filmy film.


"F.A.L.T.U says to believe in yourself and your abilities and don't let anybody curb those abilities"

F.A.L.T.U is a film where these guys, accidentally, go against the education system. In a way, there is a social message given out too. It says to believe in yourself and your abilities and don't let anybody curb those abilities even though they are your own parents. It's a strong message. Studies are very important but it is not the only thing. Pursue those dreams. India has a Sachin Tendulkar, Amitabh Bachchan and Late Dhirubhai Ambani. Why? Because all three gentlemen have pursued their dream and have not let anybody restrain their dreams.


"F.A.L.T.U is going to have a strong word of mouth"

Band Baaja Baaraat came out at a time where a new comer was introduced and a newcomer people were not interested to watch on the big screen. But today, the film is in the history books. Guess what? It's still running in theatres. It released in December and we are almost closing March. It means that F.A.L.T.U. is going to have a strong word of mouth because the film has shaped up well and is a genuinely a decent film with a strong story and strong performances.
BOLLYWOOD NEWS
Catch us for latest Bollywood News, New Bollywood Movies update, Box office collection, New Movies Release , Bollywood News Hindi, Entertainment News, Bollywood News Today & upcoming movies 2020 and stay updated with latest hindi movies only on Bollywood Hungama.