The year 2021 has seen a massive surge in solo music releases from Korean musicians. While K-pop groups continue to drop their summer releases, many have taken a plunge to showcase their newer side through their solo work. In an active space like the Korean music industry, it surely is difficult to create a path for yourself. One such group that has continuously shown a diverse side of their musical journey is the co-ed group KARD. From the group comes rapper-songwriter-producer BM, Big Matthew, also Matthew Kim, who is foraying into solo music.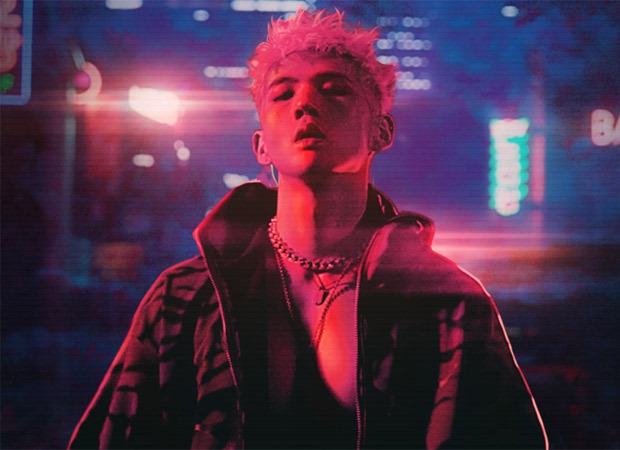 EXCLUSIVE: KARD's BM on his solo debut with 'Broken Me', channeling internal struggles in his music, and working with Penthouse star Park Eun-seok
Born in Los Angeles, The United States Of America, he moved to South Korea to pursue a career in music. But, it wasn't an easy road to make a debut as an artist. It's the rollercoaster of emotions, the internal struggles he faced in his early 20s is what is reflected in his digital single 'Broken Me' released on June 9, 2021.
"'Broken Me' comes from personal experience of when I was a trainee. I started my trainee days late and while all my friends were graduating college and moving on to their big boy big girl jobs, I was still borrowing money from my parents living alone in Korea worried and anxious about the future. I went through a lot of depression and anxiety because I was 25 and jobless and felt like I didn't have enough skills or experience to become successful. Broken me is about going through those internal struggles and letting you know that you can bring yourself out of it with time and hope," says BM. He channels his struggles in the lyrics, "Hide myself from the world / All of my scars
Blind and deaf to all of your words / I'm bleeding inside / Heart is weighing heavy / Everything that I've been bearing / All the pressure that I carry / I know, I know I'll end up on my own."
On a Friday evening in South Korea in May, BM spoke to Bollywood Hungama over an almost hour-long zoom call. Dressed in an oversized black t-shirt, snapback for the interview, he had a sweet smile on his face as we kicked off the conversation. He spoke at length about his solo debut, the story that he wants to tell through his music, starring alongside Park Eun-seok of The Penthouse –War In Life actor in the 'Broken Me' music video, and what can we expect from and KARD in the future.
So tell me how fun was it working on the 'Broken Me' music video?
We had a great time working on it. A new brand new company that works with virtual technology called Vive Studios. And the song is produced by myself along with my production house team 8PEX. Yeah, it's really great song, we got a lot of beautiful shots, the new tech was just insane. Like what we can show with that new technology was just ridiculous. If you saw the pictures, you'll see that there are huge LED screens and you see the one in the back, you see the ones on the side, and on the roof, there's two more on this side. So it's a crazy production, it's going to be of very high quality, and you're going to see things that you wouldn't normally see happening in real life too. So it's going to be really interesting.
Have there been mixed feelings about releasing 'Broken Me' since the anticipation for your solo music is unreal?
It's definitely a mixture of a lot of feelings. There's excitement, of course, to finally do something where I feel like it's just an expression of, of myself, of BM's character. So I'm definitely excited to share that with the world. But apart from that, I think there's also a little bit of an anxious feeling, worried about if the world will feel the music if they will, you know, continue to listen to BM an artist to say, well like BM as a solo artist, so I go back and forth. I mean, some days I'm like, 'oh, man, is it ready? Am I ready? And then some days I'm like, No, I'm ready. I'm ready. I'm confident. I know I could get to people's ears and hearts.' And yeah, I mean, I fluctuate back and forth so much. It's not even funny like some days I wake up ready. So ready and then other days I'm just like,' oh man, like, I don't know.' So we'll see when it comes out.
Why do you think now was the perfect time to release your solo music, BM? 
Why is now the time? To be honest, I don't know. I really don't know why now is a good time. I think now it's an opportunity. It's an opportunity that's been given to me so I feel like right now is the time to grab it while I can. And everything that's been in the making for the past year, year-and-a-half. It's just, everything that I could finally show. So I mean, it's just an opportunity for me right now, you know, while JSEPH's (KARD member) in the army right now. And what's funny is, I feel like this year, a lot of artists are coming out with solo activity. A lot of artists that are part of groups are pushing for solo stuff. So I don't know, maybe it's a year in solos.
What is the feel of 'Broken Me'. Is it from personal experience?
It's definitely easier to listen to. It's a rock-based song; it has its hard-hitting moments, but I don't want to say it's soft, but it's not super hard-hitting where it's like you can bump it like in a club or something it's more. I want to say it's a driving song, like when you're walking around, when you are by yourself. It's something for the fans that feel broken. So it's like okay, it's dark with a bright light at the end.
Was a solo project already planned or something that happened over the last year?
I always try to work on solo material, just, to better my skill set as a producer and as an artist, just for practice. But once corona hit, and once J-Seph went to the army, I guess we kind of had a chance to showcase a little bit more of our solo stuff as well. I don't know for sure. I can't tell you any teasers or if some interview will be coming out yet. But there's a lot of stuff in preparation right now. I'm just blessed enough to be the first one to showcase that. And, yeah, I have a lot of projects. I mean, the first one that I'm dropping to disable, but what I can tell you now is that since I sample only one, I'm dropping this summer.
While working on the 'Broken Me' music video, you were carrying it all together? Was there a point you missed KARD members?
It's very different. Usually having three people that are in your position, very exact position and know exactly what's going on, and how to go about it, and how you felt about it. Right? When I was shooting a music video this time alone, I definitely missed them. I definitely saw the difference. Yeah, there's the more manpower, the better is the way I see it. Not always. But if you're talking about KARD, it's always better with more man and woman power.
It must feel a lot of pressure doing it all alone...
Yeah, absolutely. Because when you think of KARD music, you have to cater to four different voices, four different characters. Whereas when I'm creating my music, I'm creating my music alone. So I feel like there's a lot more content I can put out with just being kind of focused on how I feel how I want to portray, it's on that aspect. A little bit easier, for sure. Because I know what I want, and I know what I like. And I know that's much easier to bring out of my creativity. So definitely a pro when it comes to that.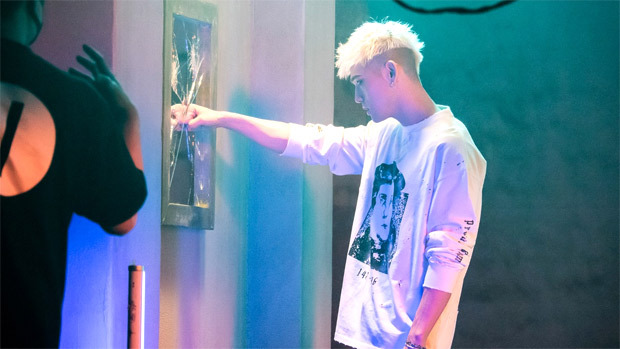 Tell me about Penthouse: War In Life actor Park Eun-seok's participation in the music video. How did that come about?
He is in the music video.  Yeah, what's crazy about that is I was a huge fan of him before I met him. So what this process is right now, so VIVE studios has also shot a short film, and he was the main actor of that movie. My song was lucky enough to become the background music of that short film (The Brave New World). So what happened was, we had me in a music video, doing what I do in acting and lip-synching and being cool, settings just looking, looking nice and visual, visually pleasing. And then we have shots from the movie that are in the video as well. That's interesting. I think you must see that before anyway.
Are you an avid Penthouse fan?
He's a great actor. I mean, I'm one of his biggest fans because I'm a huge Penthouse guy. I watched it. My Fridays, and my Saturdays when Penthouse was going on, was dedicated to Penthouse and nothing else.
What did you think of the season 2 finale?
I was so mad, I texted him. I was like, his English name is Danny. I was like 'Hyung? You know, if Logan Lee dies, Penthouse dies, you know that right?' And he texted me back and he was like 'I haven't even gotten this script for season three, man. I can't tell you anything.' I was like 'Okay, I will wait' (sighs, laughs). You also have to understand he's one of the nicest down-to-earth people I've ever met. He is a very nice guy. So if you're a fan, if you're a fan Park Eun-seok, you choosing the right one – great personality, great hyung too."
How much time do you spend creating music? Do you have a process or you go by instincts as and when you get inspiration? Last I checked, you had a collaboration with Jessi on her album which was a very different sound and a whole lot of fun...
Oh, the one I did with her on her album. There's no special formula for it. Honestly, it's different every time some days, I write the melody first before even writing the beat. And I'll send it off to my producer who I work with that in my studio, build the team around it. Sometimes I get a beat from my guys at 8PEX and then they send it over and I work with that. And sometimes like the notes come up or sometimes the melody comes out first. It's really hard there and at the time. And with the one with Jessi, that was really interesting. She sent me the beat and I loved it the first time I heard it, so I was like yeah, okay, and I wrote something real quick I think didn't take more than an hour I think and then I sent it back and she said I love this. I was like yeah, yeah. No, no revisions, nothing at all. She was there for the recording and helped me find the right tone for my song and her voice as well. Things were perfect from thereon.  As far as making music goes, there's no particular order. Everything is really good and goes on to feel like creativity shouldn't have a formula or a chronological order - like any type of order. It's different every time.
Has the COVID-19 pandemic changed the way your approach music?
I'm not too sure. I'm not sure if I think there is definitely a lot of stuff I consider more than before. Obviously, there's going to be visuals that come with it. So I kind of want the visuals and the songs and close together, you know, instruments for some sources. That's kind of where I lack the most, as far as being a producer right now. But I'm not working on that, too. And I'm trying to have a better ear for that. So yeah, I mean, before it was just, I'm in the studio, I punch in a bunch of keys. And then if I'm having fun, and feel that then I feel it. If not, onto the next song right. But now it's more just like on a more professional note. I need to have listeners. I have people resonate with the song, a lot more thought goes into it.
Are you more comfortable in your skin now than compared to your initial years in music?
Oh, yeah. Absolutely, I feel that way. Because they were capable when you first debut you are a product. And you're taught and you're conditioned to say and not say certain things being a part of a K-pop community in the industry. And as I tried to, there was a lot of, I don't know what to say in this situation type stuff. Because I don't know if it's going to offend someone, I don't know if it can create an issue where BM says this, and it's all on news articles everywhere. So I was really worried. In the beginning, though, right now, I think I've transitioned to just really saying what I want to say, and being comfortable in it, and just trying to be saying what I say in the most respectful manners. Not all the time, I thought I could be a little bit more respectful and conscious about what I say as well. But besides that, I mean, it always depends on the topic, too. I try to be conscious.
How does one reach a position in life? I feel I have seen a very different side of you as well in the past year, over the course of watching your DIVE podcasts. Do you feel that as well?
I mean, it's not that easy. Do you want me to be 100% honest with you? If I am being 100% honest, I just wanted a place where I could comfortably speak English with a couple of friends that also speak English. So that was the biggest reason why I started that podcast. But while doing it, I definitely see growth in myself because although it's only been a year since I started the podcast, there's been a lot that happened in the past year. And if you watch from the first episode till now, you may see you may not see it, but I see it I see a little bit of change in character that keeps happening to and I think it's interesting, interesting to watch. I mean, when you say, you know, is it a sign of him that KARD is never seen before, or the friends that have never seen before. This aside that I've never seen before either let me just see, you know, the only thing that's consistent with the change so that's how to take it.
Could there be an EP or a full-length album someday?
As a solo or KARD? For me, if it happens I mean it's for sure going to happen. I just want to say the opportunity will come but as of now, I have my summer songs that are dropping. And then we got other people in the next step on the list here so I want to let them near my level and all the artists in that are signed to the label, we all want to make sure we take turns sharing our artistry with the world. And yeah, if you like KARD, then obviously you don't just like me. You like Jiwoo, Somin, and J-Seph as well, right? Yeah, you guys want to hear some stuff from them too? Right?  So after me stay tuned because there might be some dope stuff coming up next.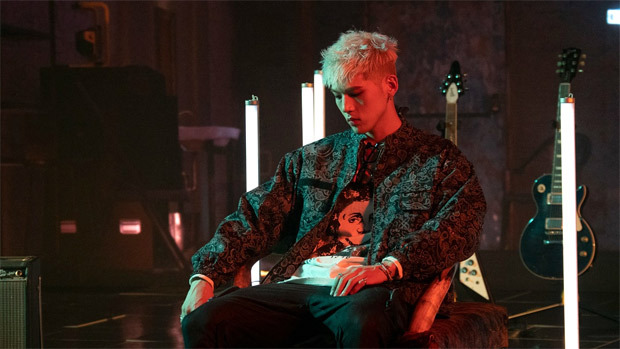 You were one of the few artists from the Korean music industry who spoke against the Asian attacks. At a time when the community was going through difficult times, you used your platform to raise your voice. It must be overwhelming to see these kinds of things happening…
I feel like artists or, a lot of artists right now are talking about it. I'm not knocking on the artists not talking about it. But I understand why it's hard to talk about it. But for me, it's more like if it's going help even 10 people, or 100 people doesn't matter – it's going to help somebody. It would be a little bit irresponsible to speak too much about it. I'm not saying that if you're harsh about it, you're a bad person. Obviously, a lot of people have their labels behind him and would rather not speak on the two. For me, I mean, you know, it's something that resonates for me too. I am Asian too. I've experienced Asian hate before, maybe not to that level. So seeing it happen like that, it's really heartbreaking. I really, would rather not go into detail about what videos I watched. But it's still things that need to change for people, you know, to come together. It's not just the Asian hate but hate in general – we could have a lot less of it now.
You used your platform and turned an ongoing meme 'Big Tiddie Gang' into an apparel label to raise money for Breast Cancer Research. I am sure so many are thankful for it. Could you tell me how it happened?
The whole joke started because on a live broadcast, a fan asked me 'what I like to work out on?' I said 'I like to work out on my tiddies. I like to keep my tiddies big.' And then that became the main joke on me in 2019 and 2020. And then at the end of 2019, we had our LA Tour. At the end of the tour, we have a high touch, right? So there was a fan who was waiting for us. And what she said was, 'Hey, your music, your guys' music really helped me get help me get my chemotherapy.' I said,' Oh, you had some sort of cancer.' She said 'Yeah, I had breast cancer.' And she also was appreciative of the fact that it was October at the time. So that's Breast Cancer Awareness month. So I also took time while I was on the stage, I sort of brought that up as well.  And so she thanked me for that. I saw tears. So in my head, I was like,' okay, you know, like, that's what I'm the turning things into 'tiddie gang' which is now going to be an apparel line from me and my family's apparel company. And part of the money was trying to breast cancer research.'
I think everyone's very appreciative of it…
Thank you. I hope I could do more. You know, when opportunities come in, I see. And I wish to help more people as much as I can. I feel like I can give you more. I can do much more.
Have you ever gone back to the songs you first made and recently made and sort of noticed how you've evolved not just as an artist but as a producer too?
Oh, my goodness. I will not listen to anything I made, even like two years ago. No, no, no, no, no.  I was actually curious. So yesterday I was in my studio and I pulled up some files that were from like, a year-and-a-half ago while we were touring then. I was in my head, and I used to think my stuff is so good. I listen to it now and I'm just like, 'oh my goodness, what was I thinking?' It's definitely a huge improvement. As far as what my ears perceive sonically. I would not listen to that ever as a music consumer as anything else I wouldn't do it.
Maybe, you were in a different space…
No, I felt like I was the man at the time. Maybe a little bit too much. Before I didn't really know much, I just thought I was the man. I didn't know anything. That's all I knew.
Circling back to the podcast, I remember when Jackson Wang had come as a guest on Get Real. Is the collaboration with him still in the works?
We are definitely working on something! Well, I want to say it's still in talks. But we both, as artists, want to work with each other. So we're picking up some stuff right now in 8PEX and trying to see where we can take it further. And hopefully this year, we can put out something together.
Is there something I didn't ask but you'd like to talk about?
Do I miss J-SEPH? Yes, I do miss J-SEPH (laughs). I like to keep him in the conversation all the time, just because I want people to know that. Even though he's not here, he's still here.
Since you mentioned J-Seph, KARD performed in India in 2019 in two cities. KARD was one of the popular Korean groups to perform in India. Do you remember the vibe at the stadium in Delhi?
Oh, man, you guys were a lot of fun out there. You guys definitely know how to play and have crazy energy out there. I mean, one thing was for sure – it was the heat out there was scorching. It was hot. It was hot and like the fact that you guys were energetic through that heat to 'I was like, oh man, like guys really know how to play you guys know how to block out like any type of difficult anything you just like really, really get in the moment.' So it felt really good to be there helped me do that as well while I was on stage.
And not being able to see your fans in person in this pandemic is very difficult for artists who thrive on live shows, right?  
It is the worst. It's the worst right now. I can't wait until it opens up. Is it okay in India right now? Are you guys getting better? I will keep you guys in my prayers.
What are the next plans with KARD? Would you guys wait out until J-Seph is back?
We're probably going to wait until J-SEPH comes back. KARD is always going to be four members. And I really wouldn't feel right putting out an album without him. So yeah, we're waiting until he's back.
BOLLYWOOD NEWS - LIVE UPDATES
Catch us for latest Bollywood News, New Bollywood Movies update, Box office collection, New Movies Release , Bollywood News Hindi, Entertainment News, Bollywood Live News Today & upcoming movies 2022 and stay updated with latest hindi movies only on Bollywood Hungama.