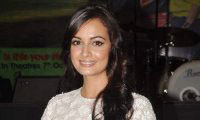 What is it about Dia Mirza that she just seems to have this intrinsic sensuality? At times, she can be so classically sweet in her floral knee length dress
as witnessed on the audio CD cover of her new movie and her first as a producer - Love Breakups Zindagi. Now put her
in a grand setting, some delicate pieces of embroidery, some palatial princess outfits and the whole dynamics changes. I keep flipping the pages of a glossy
Wedding Vows magazine where she'd been featured as an Eternal Princess, the copy of which was lying in front of me. I flip more and then in a jiffy Sahil
Sangha enters from the front door. He looks to his right and then looks at me before entering his domain. The Born Free office has too many butterflies at
the moment, literally! There's 99.99% chance that you might bump into someone and spill your coffee. Every individual is trying to perfect their last minute
detailing on the movie before its grand release. And in all this razzmatazz, my eyes were searching for the perfection called Dia Mirza. In a flash she
arrives in front of me. That chequered shirt was being hugged tight, so tight by her blue jeans. I too deserved one...and I got it. Thanks Dia! She takes me
in her private cabin. While she sits on her 'big boss' chair I make myself comfortable on the mini black sofa. I look right in her eyes and again ponder. In
Bollywood's scheme of things, Dia qualifies as a classic beauty. Every era must have at least one. If, in unofficial Bollywood parlance, a total babe tends
to be an overtly sexual bombshell with a dash of the girl next door, a classic beauty comes across as more intellectual, regal, exquisite. She stands out in
the culture because of her refinement and high standards, and she generally needs to have cheekbones that look, in profile, as though Bernini had carved them
from marble. Which brings me back to my original question - What is it about Dia Mirza that she just seems to have this intrinsic sensuality? Zayed, Sahil,
please help me! UK's Harrow Observer columnist and Bollywood Hungama's London Correspondent brings you an exclusive Part 1 of Love Breakups
Zindagi Dia style!


"Yes, Love BreakUps Zindagi was my story too"

When you speak about being relatable and you use a tag line like - Is this your story? The 'funda' is simple - You're obviously drawing a lot of inspiration
from people around you, their quirks, their good and bad habits and you are putting that into the characters that form the milieu of Love Breakups
Zindagi. Yes, Love Breakups Zindagi was my story too. There is a dialogue that Cyrus says - I won't call you guys in my next wedding. And the boys
reply Cyrus - No worries, we'll come in the one after this one. This was a real moment that Cyrus had experienced in one of his friend's wedding.


"LBZ has a strong storyline, an interesting screenplay and exceptional characters who are relatable"

When I heard the first draft of the movie, I loved it. At the first draft level it had three things very clear in it - it had a very strong storyline, it had
an interesting screenplay that flowed like a river because it had the right nuances and thirdly, a lot of evolution happened with every character in the
movie. Four to five months prior to filming, a lot of layers came in because of personal experiences and things that we had picked up and humoured about
ourselves. I always say that some of the quirks you see in some of the characters in the movie are mine. Like Radhika's OCD is me. I have a problem with
people putting a cup on a table without a coaster. It's funny but she is a woman who wants to be in charge and in control. So yes, there is a lot of our
life, whether it's our love experiences, breakups or life's experiences, they've all come together cohesively to form a very integral part of the screenplay.
"We are making more ensemble movies because stories are given more importance now"

The beautiful part about the evolution of Hindi cinema now is that even the hero or the main lead of the movie isn't your hero. He is just another character.
We are making more ensemble movies because stories are given more importance now. It's exciting for actors, there is a lot you receive and you draw. Love
Breakups Zindagi has an interesting mix of experience and freshness as far as actors are concerned. So when we needed seasoned actors we got them in the
likes of Shabana Azmi, Farida Jalal, Boman Irani, Amar Talwar, etc. and when we needed fresh faces, we got them too. This was a result of faith in the fact
that today the story is the king. The story demanded such a mix.


"Sandhya Mridul had the word 'fresh' immediately after reading the script and wanted to cast new faces for LBZ"

When Sandhya Mridul was approached to cast for this movie, she was very clear about one thing. She said that the only thing that comes to my mind after
repeated reading of the script is the word 'fresh'. That wasn't just her take but everyone else's too. Whether it's the space that these characters inhabit
or the lives that they live or the clothes that they wear or the people that they are, everything was fresh. We've made every technician a very visible part
of our movie. They are the people who make the film. If you don't give credit where it's due and hog it all and pretend that you've done everything, you'll
never get anywhere. Sandhya, Sahil and I sat on every sitting as far as casting was concerned.


"No creative space can thrive or flourish if there is no freedom"
No creative space can
thrive or flourish if there is no freedom. The first lesson of filmmaking that I have learnt through this experience and this process is - Yes, it is
important to be on the ball and to be aware of what's happening but you need to inherently trust the people that you're working with to deliver.


"We would not have been 'BORN FREE' if we didn't have Love Breakups Zindagi"

I will always say this - We would not have been 'BORN FREE' if we didn't have Love Breakups Zindagi. After hearing the script I thought that the time
has come to make this movie ourselves and make it the way we believe it should be made. It's safe to say that we were really attached to the story. When
people saw the layouts of our campaign they came up with things like - it looks like a Woody Allen film; it's like any Hollywood movie, etc. But we stuck to
saying that what you see is what you get. The colours that were seen on the poster were the colours of our movie. I can't wait for you to see the movie now
(smiles). When people see LBZ they will not believe that a first time production house has made this movie. I'm really proud of the way it's come
together.


"To earn the goodwill of your crew and cast is the best thing a producer can ever have"

Its heart warming when you get a message from your production designer saying that you are the best group of people I've ever worked with. When your crew
watches the movie and shows the love and passion towards it and is excited by it, that's what matters when you are making the film. Everything else is left
to fate. But one thing that you can control is earning the goodwill of your crew and cast.


"Even though LBZ is young and urban, at its centre, it's very rooted"

Sahara Motion Pictures loved the script straight away. Even though the creatives and the look of LBZ are young, urban and contemporary, at its centre,
LBZ is a very rooted film. There is a wedding in this film but it doesn't form the crux of the film. There are people who come together in a wedding
and then the story moves on.


"The biggest challenge for us was to make this film look the way it does within the budget we were given, and we did it"

I think I'm better with numbers now than I've been before. I understand that when I'm making a creative decision, I need to also be conscious of the numbers
we are working with. What's interesting is the fact that I've learnt to form creative ideas within the parameters that we have. The biggest challenge for us
was to make this film look the way it does within the budget we were given. LBZ is a medium budget film. It's not too less nor too exorbitant. We had
to really pull in our resources, goodwill and everything we could to make everyone come together. The biggest advantage the cast had was that they all had
the script two months before the actual filming. Plus, they also had their workshops. We bonded before going on the sets and that's what makes LBZ
special. After all, LBZ is a film about camaraderie (smiles)


Part 2 of Dia Mirza special on Love Breakups Zindagi continues. Watch this space!
BOLLYWOOD NEWS
Catch us for latest Bollywood News, New Bollywood Movies update, Box office collection, New Movies Release , Bollywood News Hindi, Entertainment News, Bollywood News Today & upcoming movies 2020 and stay updated with latest hindi movies only on Bollywood Hungama.