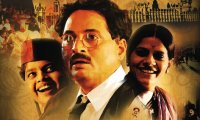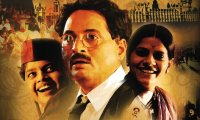 MOVIE DETAILS


Cast: Nandu Madhav, Vibhavari Deshpande

Director: Paresh Mokashi

Producer: Ronnie Screwvala, Smiti Kanodia, Paresh Mokashi

Music: Narendra Bhide


THE FILM


'It's the story that matters, not the background of a frame'


This single statement summarises the vision that Phalke had 100 years back when he began work on India's first feature film - 'Raja Harishchandra'. While shooting the film, when an assistant warns that a bunch of trees behind the lead actor were not in synch with the legend from the era gone by, Phalke wasn't a wee bit worried and came up with these golden words.


Now even if 50% of the film makers from today's time would have remembered these words, the state of Bollywood would have been totally different and far better today.


That was the magic of cinema that Phalke has envisioned a century back and it is enthralling to see an unknown story been told - that of the birth of India cinema. Hats off to first time film maker Paresh Mokashi for actually thinking of making a film around this story and coming up with results that are excellent and give a great account of what actually went into the journey of cinema that started in India.


Told entirely in a humorous tone, this Marathi film is sheer gem which could be India's own Cinema Paradiso if marketed, promoted and released well. Despite the fact that it was India's nomination to Oscars last year, there was just no buzz around its theatrical release that led to it being lost in the oblivion. Thankfully, the DVD of the film is out now (though again without any promotion and available only at select stores) which gives audience a chance to look at yet another story which could have been conveniently forgotten.


Phalke (Nandu Madhav), a middle class man from (then) Bombay was fascinated by the moving images when he happened to catch a quick show of an English film. Coming up with a strong resolve to make something similar in India as well, he set out on a journey where he was supported by his understanding wife (Vibhavari Deshpande) and two kids. Despite the hardships that the family faced in its journey, the smile was never lost on anyone's face, that ultimately led to the mission being accomplished in the form of 'Raja Harishchandra'.


A story like this could have easily become a documentary tale had Paresh decided to narrate facts as is. However, there is brilliance in his writing as he injects humour in practically each and every scene. Shot in a style that reminds of the good old days of 'Tenalirama' and 'Malgudi Days' from Doordarshan, Harishchandrachi Factory is so easy on mind and light hearted in appeal that you never feel burdened with the all the information being shared. Instead, you look forward to how a man with limited technical expertise, sparse resources, no female actors and an inexperienced cast and crew could actually pull off the first ever feature film from India.


It is hard not to chuckle at Nandu's antics as he doesn't allow any hardships to come in his way. Whether it is accumulating funds for his films, auditioning actors, getting exasperated by the indiscipline amongst his actors or props going wrong - he handles it all with a smile, something which is clearly a win for Mokashi as a writer and the director. Also, it is hard to ignore that in a way Mokashi's journey is similar to that of Phalke, both of whom intended to something that was never seen before. This is the reason why the entire film becomes further identifiable.


As actors, Nandu is ace and reminds of sincerity and focus that one had seen from Dilip Prabhawalkar as Gandhi in Lagey Raho Munnabhai. Vibhavari Deshpande as his on-screen wife is a complete natural and seems like someone who was born a century back. Every other supporting actor, whether in big or a small role, is totally capable and comes up with a convincing act. Also, the production values, despite this being a regional value, are decent and doesn't make you feel as if you are watching anything lesser than what you expect from a regular feature film.


In any case, Paresh too follows the statement that Phalke had made a century back:


'It's the story that matters, not the background of a frame'


PACKAGING


Harishchandrachi Factory comes in a regular paper and plastic packaging


DURATION


The film's duration is 106 minutes.


SPECIAL FEATURES


- None. Now that's a pity because it really would have been an educative trip to hear from director Paresh Mokashi about what went into the making of this film which actually brought to fore the making of India's first feature film.


TECHNICAL DETAILS


- 16:9 Anamorphic Widescreen Presentation

- Language: Marathi

- Subtitles in English

- Dolby Digital 5.1


PRICE


Rs. 199/=


CONCLUSION


A must watch, go pick this one up. If you are a movie buff, it would be a shame if you don't.


Rating:
BOLLYWOOD NEWS
Catch us for latest Bollywood News, Bollywood Movies update, Box office collection, New Movies Release & upcoming movies info only on Bollywood Hungama.