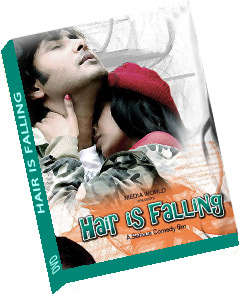 MOVIE DETAILS


Cast: Rajesh Bhardwaj, Sanjana Tiwari, Priyanka

Director: Vicky Bhardwaj

Producer: Urmila Sharma, Guddu


THE FILM


Whatttt? I was really surprised on realizing that the DVD I saw on the stands was actually that of a film. With a morose looking band head on the DVD cover and a title that goes as Hair Is Falling, my initial reaction was to believe that this was one of those remedy features. However on closer look I realized that this was actually a movie that I was holding in my hand. Curious, for all the sadistic reasons to check out how bad the film would eventually turn out to be, I picked up the film.


As expected, the results not just left me numb but also wonder how films - if they can be called as one - really get made.


The protagonist (Rajesh Bhardwaj) is a commoner who has a girlfriend and a reasonably decent life. However all hell breaks loose for him when, hold your breath, he realizes that he is turning bald. Now he wants to save it at all costs. However despite all his efforts, he fails, only to lose his morale and then find himself selling hair products on late night TV commercials. If that has already left you puzzled, it's okay because the film never promised to offer anything better in any case.


An amateur film which has been seemingly shot with a handy-cam and doesn't even boast of the kind of technical equipment that actually makes a feature film, Hair is Falling is as amateur as it gets. Right from the camera angles to the sound design to of course the performances; there is no redeeming factor whatsoever that could engage you even bit in this film which is mere 80 minutes in duration. There is a random scene or two that does get a smile on your face (when Rajesh is trying out his remedies) but that too happens because there is nothing else that entertains.


DURATION


The film's duration is 84 minutes


SPECIAL FEATURES


- None


TECHNICAL DETAILS


- 16:9 Anamorphic Widescreen Presentation

- Subtitles - English

- Dolby Digital 5.1


PRICE


Rs. 299/=


CONCLUSION


Don't even bother picking this one up! Or actually gift it to an enemy who is turning bald!


Rating: 1/2 (half star)