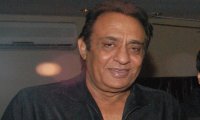 As Bollywood mourns the disappearance of hardcore anti-heroes from the screen, baddie supreme Ranjeet defends his reputation as the filmdom's ratified rapist over four decades now


Ranjeet's bungalow is a landmark in the posh Juhu neighbourhood in Mumbai. Tastefully done up interiors with a Mediterranean touch lead up to the terrace garden with a cobbled pathway and a swimming pool and jacuzzi on the other side. There's a dart board with a scoreboard in another corner. This could well be a scene from one of those masala films in which he used to act. Just then his man Friday ushers you to the office-cum-bedroom where from across a wide table, the man, dressed in chequered night-suit, offers a warm hand shake.


Welcome to Ranjeet's den! ''I don't smoke, I drink only socially, I am a vegetarian and I never watch any films,'' he dicloses by way of introduction. In his signature style, his shirt is unbuttoned till the waist and the naughty smile is firmly in place. However, the affluent surroundings of the filmi villain reflect investment savvy and the steady life he leads in real life in a stark contrast to his rakish reel life.


No dates, no rates

He begins by paying a tribute to his dear departed friend Prakash Mehra, who cast him in every film of his since Haath Ki Safai. ''He never discussed dates or rates with me - he would just go ahead and announce my name in his films,'' Ranjeet recalls. Mehra's was the only film office other than Sunil Dutt's that Ranjeet visited. ''He never lost his temper. He was a cool-headed man. He was a simple, emotional and passionate filmmaker. He wasn't an opportunist at all,'' he asserts. ''We were close friends and discussed everything from films to our affairs. But he never exploited his heroines,'' he adds. Mehra, he admits, offered him the best of roles in films like Namak Halaal, Sharaabi and Laawaris. Those were the days when a film was known by its director, like Manmohan Desai's Amar Akbar Anthony or Prakash Mehra's Zanjeer. There was a great rivalry between the two filmmakers since both made films essentially with Amitabh Bachchan in lead. ''A misunderstanding between the maker and muse led to his downfall. Mehra launched Ghungroo thinking he would create another star out of a new tall hero - Kunal Goswami. He also presented Chameli Ki Shaadi without his pet hero,'' he shrugs, as he analyses the downfall of the great filmmaker.


Air Force's loss

Born in Amritsar as Gopal Bedi and better known as Goli in film circles, Ranjeet is the nom de screen given to him by Sunil Dutt in his debut venture Reshma Aur Shera. Eldest of a brood of four with two younger brothers and a sister, Gopal was a keen sportsman. He enjoyed a good game of soccer any time. His father, Dwarakaprasad Bedi, had a factory of electrical accessories in Delhi and was rather orthodox. Young Gopal took the National Defence Academy entrance exam ''just for a lark with a bunch of friends.'' His father came to know of it only when he approached him for the official consent letter. Gopal was training as an Air Force cadet when he got romantically involved with his instructor's daughter - and as a result he was sent home packing. ''Look how destiny led me to films,'' he remarks.


Glorious intro to star-matazz

Back in Delhi, Gopal re-joined his football team and watched Dev Anand's Guide and Hum Dono 20 times each and he could mimic every mannerism and line from the two films. ''I was such a great fan of Dev saab's,'' he adds. A chance meeting at a party with a UK-based film enthusiast from Kota's royal lineage, Ranbir (Ronny) Singh changed the course of Gopal's life. He offered the 5'11'' tall, fiery young Gopal the lead role in his film Zindagi Ki Rahen, in which he was to play the cleaner boy while Jayant was to play the truck driver. The film never got launched but it sure led Gopal to Mumbai. Ronny Singh invited him over and in 1968 he flew in to the showbiz capital. ''I requested my father to let me visit Mumbai on the pretext of sightseeing,'' he guffaws. Since Ronny was well-connected in the industry, Gopal became his constant companion, consequently spending his first night in Mumbai at Chetan Anand's bungalow! ''Imagine, Priya Rajvansh served us slivers of ripe mangoes after dinner,'' he relates. The second night he was dining with Sunil Dutt and Nargis and the third night was spent in Raj Kapoor's company where he showed them the rough cut of Mera Naam Joker. ''Such was my glorious introduction to Mumbai, but I still had no job or role,'' he observes candidly.


Beach-riding with Dutt

Although Gopal became a production assistant of sorts to Ronny and started living at his hired office premises in Juhu, Mumbai, he still didn't have any work to do. ''I would run on the beach and then take a dip in the sea. I would play badminton with Feroz and Sanjay Khan in the evenings,'' he describes his daily routine. That's when he noticed Sunil Dutt riding on his white steed every morning and then having a tender coconut, and he hung around. Dutt recognised him as Ronny's pal and invited him to join in for a ride. ''Then on we raced, rode bareback together and became very close,'' narrates Ranjeet. By now Ronny had fought with his financiers and walked away in a huff. Gopal was left to fend for himself and since no film roles were forthcoming, he decided to call it quits and join his father's business partner who wanted to send him to Germany to start off a pharmaceutical factory. ''And that very day I got a call from Mohan Segal for the part of Rekha's brother in Sawan Bhadon, I went to meet him just to excuse myself from the film. But my gut feeling urged me to accept the role and bid goodbye to Germany instead!'' he says. Soon Sunil Dutt summoned him for a role in Reshma Aur Shera.


First take with Rekha

Dutt made him change his name to Ranjeet to suit the rough-hewn Rajput character he was to play in the film. But his first shot was not for Reshma Aur Shera, but for Sawan Bhadon. ''Mehboob Studio was buzzing with activity as it was the first day of the shoot. I was dressed in pyjamas with dangling drawstrings, a big bamboo in one hand and a lauki (white gourd) in the other. I had the entire scene by heart, I knew my lines as well as Rekha's and Navin Nischal's and director Mohan Segal was so pleased with my first take that he called me a watermelon - baahar kuch, andar kuch,'' he reminisces, happily. Sawan Bhadon was his debut venture as well as Rekha's. The two struck an instant rapport and even now when they meet, Rekha calls him Goli.


Lamenting a ''rapist'' son

Soon he accompanied Sunil Dutt and his retinue to the deserts of Rajasthan where the entire cast and crew was put up in tents for months. Ranjeet played the role of Reshma's (Waheeda Rehman) brother married to Raakhee who is shot down by Shera's (Sunil Dutt) brother Chhotu (Amitabh) in a family feud. ''I shared a tent with Amitabh, Ali Raza and Thapa,'' he says. This lavishly-mounted film turned out to be a box-office dud but by now Raakhee had recommended Ranjeet for the role of a molester in Sharmeelee. ''I invited my entire family for the premiere in Delhi and when they saw me trying to rape the heroine, they walked out of the theatre before the interval. When I went home that night, I faced the wrath of the family. 'What face do we have to show in Amritsar?' they lamented,'' he recalls, with a laugh. Sharmeelee was a blockbuster and Ranjeet's career was on a roll, albeit as a rapist!


Compulsory blind

Nothing succeeds like success and nothing thrives like a hit stereotype in Bollywood. So rapist Ranjeet starred in several baddie avatars, ''From a rustic dacoit, urban ruffian to a malicious cop - you name it and I have done it,'' he says. Soon Ranjeet became what the filmwallahs call ''a compulsory blind''. Producers would tell Hrishikesh Mukherjee to insert a nightmare sequence with my rape scene,'' chortles Ranjeet, adding, ''I laugh it off when people call me filmdom's ratified rapist. That was my job.''


Hulchul, Dost Aur Dushman ('71) Raampur Ka Lakshman, Victoria No. 203 ('72), Jheel Ke Us Paar ('73), Khote Sikkay, Aap Ki Kasam, Haath Ki Safai ('74), Dharmatma ('75), Laila Majnu ('76), Amar Akbar Anthony ('77), Vishwanath (1978), Muqaddar Ka Sikandar ('78), Lahu Ke Do Rang, Kartavya, Suhaag ('79 ), Aap Ke Deewane ('80), Namak Halaal, Laawaris('82), Rocky and Hero('83), and Sharaabi, ('84) were some of his big hits through the '70s and '80s. ''I worked 5-6 shifts per day. I had become a workoholic,'' he surmises. He would dash from one set to the other and it showed in his work, ''I was shooting for two film simultaneously. In one I played a cop and in the other a dacoit. Both the characters had different moustaches, but in all that hurry I ended up shooting the climax scene of Bundalbaaz with the dacoit's mouche instead of
the cop's one,'' he points out.


As for competition from other villains, he shrugs off the suggestion, ''No actor lives above the role and no role lives above the director. Why do you think people don't ever talk about any other film than Sholay about Amjad Khan?'' He adds that he had also been offered Gabbar's role after Danny Denzongpa, with whom he was also shooting in Afghanistan for Feroz Khan's Dharmatma. ''I had asked for Danny's 'no objection' certificate which they never got,'' he says.


Ranjeet's 'filmi' club

For the longest time, Ranjeet was a bachelor known for his spacious bungalow and warm hospitality. But naturally, his bachelor pad became the party hub for Bollywood denizens. ''I would call it Ranjeet's club - Zeenat Aman, Parveen Babi, Neetu Singh, Rekha, Moushumi Chaterjee, Reena Roy, Amitabh Bachchan, Shatrughan Sinha, Jeetendra, Dharmendra, Rishi Kapoor, Randhir Kapoor, Sanjeev Kumar, Vinod Khanna and Vinod Mehra were the regulars at my parties then,'' he enumerates. Fond of good living, Ranjeet was the first actor to import a Volkswagon camper with a bed, cooking range and refrigerator. Steadily, he was turning out to be a gypsy of sorts.


Production and sanyas

In the late '80s, Ranjeet found himself trapped in the monotony of work. ''I got so busy that I couldn't go and receive my mother at the airport and I couldn't even attend my brother's wedding,'' he relates. It was during this listless period that Ranjeet wrote the script of Kiske Liye which his well-wishers forced him to call Kaarnaama ('90) instead. ''They felt the earlier title sounded like Gulzar's film and did not go with my action image,'' he says, with a shrug. He also made Gajab Tamasha('92) thereafter starring Anu Aggarwal and Rahul Roy, ''But I failed as a businessman,'' he admits. Disillusioned, he decided to call it a day, ''I had 80 films on the floors then, which I completed,'' he clarifies emphatically.


Son-rise

Ranjeet returned to acting in the teleserial Baat Ban Jaye and his Colonel Khanna act made him a household name. He also was seen in two comic plays - Hanky Panky and Papa Don't Preach, ''Theatre calls for plenty of improvisation,'' he says. Currently, he's busy shooting for comedy serial, Jugni Chali Jallandhar on SAB TV.


On the family front, Ranjeet is a happy man. Divyanka, his elder daughter, is a prize-winning fashion designer and son Chiranjeev is a keen Formula One race driver. ''He's still young but in the next two years he will certainly be in films. I have a script in mind for him,'' he informs. Wife Alokaa aka Naazneen pops in to check if all is going well and Ranjeet beams proudly saying, ''She's the manager of the house, we have done up the house together. We have come a long way from the early days of our marriage when her aunt would ask if I ill-treated her.''


It's showtime and the Bedis get ready for a photo-session. Ranjeet is in form, striking the right pose with his buttons undone right uptill the waist! Some things don't change.


BOLLYWOOD NEWS
Catch us for latest Bollywood News, New Bollywood Movies update, Box office collection, New Movies Release , Bollywood News Hindi, Entertainment News, Bollywood News Today & upcoming movies 2020 and stay updated with latest hindi movies only on Bollywood Hungama.