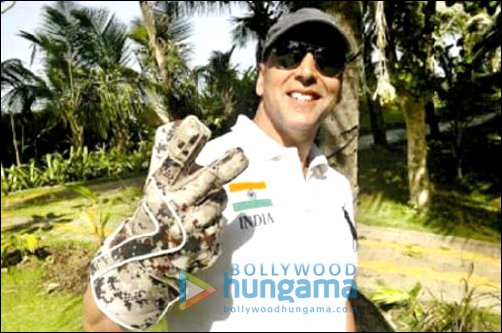 Akshay Kumar is on top of the world as the captain of the Indian team Mahendra Singh Dhoni gifted him the
gloves he wore in the match against Pakistan. Akshay had gone to see the India versus Pakistan Asia Cup match
as he is the brand ambassador of Micromax Mobiles, the title sponsor of the event.
Akshay Kumar, a self confessed cricket and MSD fan, met Dhoni after the India beat Pakistan in the Asia Cup
match in Bangladesh on Saturday. This was the first time Akshay met Dhoni and he congratulated Dhoni on the
historic win. Later that night, Dhoni sent Akki the gloves that he wore in the match against Pakistan along with a
'Thank You' note. Akshay was thrilled with gift and immediately called Dhoni and thanked him.
Akki now plans to gift these gloves to his son Aarav who is also a big fan of cricket and Dhoni.