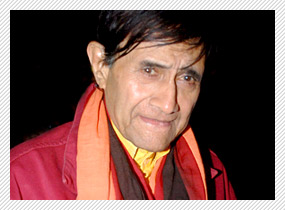 He was 20 years young when he landed in Mumbai, and 88 years young when he
passed away on December 3, 2011 in London. On September 26, 2013, when he would have completed a
Dev Anand: Young Forever
young 90, we continue to celebrate a man who seemed to have drunk the elixir of perennial
youth.
Personal recall
They don't make men like Dev Anand anymore - the clichéd way of expression is perhaps truer for
him than for most actors in Indian showbiz. One could dial his landline number and he would pick
up the call and drawl, "Who's calling?" - it was as easy as that to contact a man who was
nothing less than one of the living legends!
When we met for the first time, in far-off 1997, he strode around a rather small desk to shake
hands - it was a strong grip that showed a genuine happiness in adding a new acquaintance.
He then said, "Well, we are friends now. You can drop by anytime for a cup of tea and a chat.
But something very important and urgent has come up. I need to go to the laboratory in town for
my new film Main Solah Baras Ki. Listen, let's do one thing. You tell me the time and day
and we will meet for an interview then instead of today!"
After we had confirmed a new appointment, he came down two floors to see me off, being alongside
me in the beginning and half a flight ahead when I reached the ground floor! As I walked out of
Anand, I felt an extra spring in my step - though my interview had not happened!
This was the effect Dev Anand, then 74 years old, had on people! My last meeting with him was
equally memorable: in the midst of a crowd of media persons and friends, clicking his pictures
or wishing him luck at the premiere of the colorized version of Hum Dono, he stopped when
I went forward. "Let me know when your story is appearing!" he reminded me about the recent
interview I had done with him, and walked past.
That show ended well past two in the night, but Dev-saab (as he was affectionately known)
was there to see off the last of his guests (including major stars) before he exited the venue!
The conventional word "energetic" seemed too tepid a word to describe this human dynamo!
The super-achiever
Devdutt Peshaurimal Anand was a super-achiever from day one. His father was a lawyer, a scholar
and linguist, and his elder brother Chetan Anand was an all-rounder. Dev Anand completed his
B.A. Honours in English and wished to do his Masters, but could not because at that point, his
father had financial constraints. Ambitious to the core, he told his dad (who wanted him to take
up a job in a bank) not to worry about him and that he would find his own way. "I was ambitious,
I wanted to be somebody!" he explained years later.
From his arrival in Mumbai in July 1943 to his first shot for his debut film Hum Ek Hain,
which was canned in Pune's Prabhat Studios exactly two years later, Dev did a lot of theater,
worked as the censor for letters by World War II soldiers to their kith and kin and mingled with
names like K.A. Abbas and Balraj Sahni. Chetan had meanwhile arrived in Mumbai, made the arty
Neecha Nagar that won international acclaim but flopped, and was trying to get another
break.
Hum Ek Hain flopped, and so did Dev's next two films, Birha Ki Raat and Aage
Badho. And then came the turnaround with Ashok Kumar's Ziddi, which was a huge hit.
It began another association that was to last for almost four decades - Kishore Kumar was his
playback voice in the film - and till Sacche Ka Bol Bala in 1989, two years after
Kishore's death!
Dev was awarded the Padma Bhushan in 2001 and Indian cinema's greatest honour, the Dadasaheb
Phalke award in 2003. In 2007, he wrote his autobiography for Penguin, a straight-from-the-heart
tome named 'Romancing With Life'. He was also one of the earliest Indian names to act in English
films - the English Guide was made before the Hindi hit, and he later acted in The
Evil Within with Zeenat Aman.
Dev had an unerring ear for music in his movies, though after S.D. Burman's death in 1975, his
inspiration seemed to die out and he could score only intermittently (Jaaneman, Des
Pardes). However, at the age of 82, he did what seemed magical - he wrote (and vocally
rapped) the theme song of his film, Mr Prime Minister, simultaneously in Hindi and
English versions, with the same meanings intact in both!
And then obviously, he was the man who presented new talents galore to cinema.
The one-man Columbus
Dev Anand was Columbus to so many new or untapped talents, beginning, surprisingly, with his
elder brother Chetan Anand, who had to find his footing again after the flopping of Neecha
Nagar. With the advance money he got for two films, Dev and Chetan started their own
banner, Navketan, and got Chetan to direct Afsar, which released in 1951. He later had
younger brother Vijay Anand script Chetan's Taxi Driver and then helm Nau Do
Gyarah (1957). Both brothers went on to make an immense name in their field, albeit in
contrasting kinds of cinema.
Dev then tried his hand at writing and also launched himself as a director with Prem
Pujari (1970). Next up was his son Suneil Anand, whom he introduced as actor in Maiu Tere
Liye and Anand Aur Anand.
Outside his own family, Dev was to mentor a bevy of talents. Lyricist Sahir Ludhianvi, who had
started out with Azaadi Ki Raah Par in 1947 got his true break in Baazi (1951), a
film way ahead of its times that also changed Geeta Roy (later Dutt)'s image from a
bhajan singer in films to a top name in modern playback. The film introduced Dev's
friend, Guru Dutt, as a director, a promise made by Dev and Guru to each other at a street-side
Pune cafe that the man who made it first would help give a break to the other.
The trend continued throughout Dev's career, right up to the youngsters he introduced as lead
actors and also composers in his latest films. There were many others behind the scenes as well,
in fields like cinematography, art direction, editing, sound and more.
Amit Khanna, a production man in Navketan, was among Dev's standout protégés - he not only wrote
lyrics for some Navketan films but also turned producer with Dev's backing in Manpasand.
Amarjeet, a Navketan assistant, went on to produce films like Teen Devian, Duniya,
Gambler and Prem Shastra, forming almost a sister banner. Raj Khosla's talent was
first noticed by Dev Anand, who helped him get a break as director in Milap and as
producer in Bambai Ka Babu, both starring Dev.
Zeenat Aman's breakthrough as Dev's sister in Hare Rama Hare Krishna (and later as his
screen beloved in five more films), Tina Munim (now Ambani)'s break in Des Pardes, Jackie
Shroff's introduction as the villain's sidekick in Swami Dada and Shatrughan Sinha first
signing Prem Pujari in the cameo of a Pakistani solider were among his standout
discoveries on-screen along with Richa Sharma (later Sanjay Dutt's wife) and Tabu, both in
Hum Naujawan.
The Dev Anand philosophy
Dev had an unshakeable funda - look ahead at all times. In the '80s and beyond, he did not act
in or make a single hit, but always maintained that for him, it was all about the sheer joy of
writing, directing and acting. "If the people like what I am charged about making, great,
otherwise, I just move on!" Newspaper headlines and incidents reported on television inspired
him, and he would say, "When I wake up each morning, I know that I am going to learn a few new
things before going to bed that night!"
The indefatigable actor was planning to write more books too. "My principle was the same - my
book should make the reader want to turn to the next page!" he said.
But reminiscences as a rule were anathema to the man who was a part of the Great Triumvirate of
Hindi cinema - Raj Kapoor and Dilip Kumar being the other two. As he once put it, "As a creative
artiste, I have been acting, making films, writing, globe-trotting and more. Acting in movies
has never been just a 9 to 6 job for me. I have risked my earnings and put them back into the
film industry. I have made 36 films, 80 per cent of which have made money, and invested in this
studio. But yesterdays are best left to historians, though they have played a beautiful role in
my life. If I remained there, I would stagnate. I love being with youngsters rather than my
generation. The mind must progress!"
And who knew that better than young, young Dev Anand?
BOLLYWOOD NEWS - LIVE UPDATES
Catch us for latest Bollywood News, New Bollywood Movies update, Box office collection, New Movies Release , Bollywood News Hindi, Entertainment News, Bollywood Live News Today & upcoming movies 2022 and stay updated with latest hindi movies only on Bollywood Hungama.