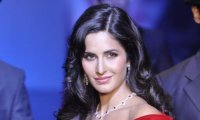 An ardent Katrina Kaif fan, Vinay Radhakrishnan writes an open letter to his favourite actress.


Dear Katrina,


I love watching you on screen. I love the fact that you hold a definite grace even as you don that Barbie look perfectly well on you.


I fell in love with you in Namastey London (a film that made many agree that you had arrived as an actor). I was happy to see you get into a comic zone with Partner. Race was pulsating and 'Zara Zara' still plays in my iPod. New York made me strongly believe that Namastey London was not a flash in the pan. I didn't mind your two scene act in De Dana Dan because I was more than happy with Ajab Prem Ki Ghazab Kahani and knew that you would strike big with Raajneeti. And then when Tees Maar Khan came closer to release, I knew that 'Sheila' would be worth the price of the ticket, something which did happen eventually.


But, and it is a big BUT for that matter, I was surprised that your act started and ended with 'Sheila'. Of course there was that cute 'You Dirty Dog' but when the boys in the house, Akshay (Kumar) and Akshaye (Khanna) were having all the fun, didn't you feel left out?


A few questions for you that may not entice a response but I do expect them to be read at the least:


1. Really, how did the conversation go like when the film was narrated to you? Was 'Sheila' (and only 'Sheila') handed over to you on a platter and told that this would be the start and end of it? Was there a role per se other than the character definition of 'wannabe item girl' which basically was summarised in one dialogue itself?


2. Did you hear 'Sheila' and then sign the film? If the answer is 'yes', makes sense. After all any girl would give her tooth and nail (oh ok, now that doesn't quite make sense in the literal terms but still....) for a song like this. However if the answer is 'no', don't you feel that it was a huge gamble? What if it would have turned out to be 'Tinku Jiya'!


3. Was it the lure of being seen in an annual Akshay Kumar starrer that made you do the film? That's because the screen time was perhaps just a little more than De Dana Dan while importance to the film's plot was as much as your role in Sarkar (yes, I do remember you featured in this Ram Gopal Varma affair though I am not sure how many others do remember).


4. Was it the fact that Farah Khan knows how to present her ladies due to which you gave your nod to the film? But then Sushmita Sen (Main Hoon Naa) and of course Deepika Padukone (in a double role in Om Shanti Om) had a definite depth to their characters. In case of Tees Maar Khan, did you say yes blindly or did you ask for a script?


5. Was it money? Ok sorry, please ignore this question. 'Never ask an actor the money that he/she earns', I am told. 'After all it's entirely his/her prerogative. But then I am sure that in the time that you spent during the promotion of the film (good job done there Katrina), you could have well finished another movie and also accommodated a few year-end events/performances and earned that moolah.


6. Was it actually the 'bimbo' act that excited you most? Yes, you were cute there (but then as a fan, I have never disliked you in any case) though I wished this was extended further. Also, I do feel that after being in the business for 7 years, one expected you to graduate further ahead from the bimbo act.


7. Or was it all actually for 'just some fun'? Was it because you wanted a break of sorts after spending a long time in making Raajneeti? Did you actually want to get out of a 'saree' and wear something which suited your age far more? If that was the case, I am with you. Makes sense.


To sum it up all, an occasional character like this may perhaps be okay but I hope this was the last. I definitely want you to look good on screen (something that you did very well here) but then I also expect you to perform-perform as well.


And by performance, it is much more than just 'Sheila Ki Jawani'.


Meanwhile, if you could ponder on the questions above and respond as well, at the least, I would feel happy enough to be heard.


Your ardent fan

Vinay Radhakrishnan


Disclaimer: The writer of this article is a surfer of Bollywood Hungama and an ardent Katrina Kaif fan. The opinions expressed herein or statements made in the above article are solely those of the writer, and do not necessarily reflect the views of Bollywood Hungama. Bollywood Hungama accepts no legal liability or responsibility for any claims made or opinions expressed herein.
BOLLYWOOD NEWS
Catch us for latest Bollywood News, New Bollywood Movies update, Box office collection, New Movies Release , Bollywood News Hindi, Entertainment News, Bollywood News Today & upcoming movies 2020 and stay updated with latest hindi movies only on Bollywood Hungama.