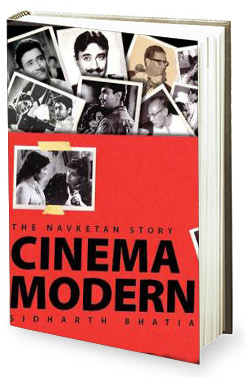 Now why didn't anyone think of this before? Though Dev Anand had released his autobiography a few years ago, an outsider's perspective on him (and that too centred on his production house - Navketan) was sorely missing. Now that was all the more necessary since one keeps hearing about the 'golden days of Navketan' but there is hardly any information - and that too on a concise yet interesting format - that is available for film buffs. Thankfully, author Sidharth Bhatia felt that for millions of fans of Dev Anand across the globe, there was something amiss and he took the initiative of penning it all down.
For them, he gifts a book - 'The Navketan Story - Cinema Modern' which couldn't have been better timed, now that the legendary actor is no more. In fact this coffee table book was commissioned some time back and it is a mere coincidence that its copies have been readied just now. Since the book is yet to find a full fledged release on the stands, one wonders if the publishing house is planning something big around its launch. I hope that they do because Sidharth has come up with a book which is just not informative but also vastly entertaining, something that makes the 150 odd pages breeze by.
Coffee table books are always interesting to catch hold of as they present ample scope for good visual layouts coupled with interesting anecdotes spread all over that make for an engaging read. Same holds good for 'The Navketan Story' as well which doesn't allow you to stray away at all once you start flipping around pages.
It is obvious that Sidharth understood the importance of the medium he was getting and hence the reason why he peppers his book with enough tid-bits that would make it a much recommended affair. Moreover there are number of unseen on-location pictures as well as number of posters and other publicity material that make one flip pages quite greedily.
As mentioned earlier, the book isn't just about the man called Dev Anand but also about the production house that he ran for decades at stretch. Of course since the two are pretty much part and parcel of each other, it is but obvious that Dev Anand's reference comes in almost every paragraph. Nevertheless, what the book successfully manages to do is separate his personal and professional life. This means while former is just touched upon, it's the latter that adds maximum weight to the proceedings.
Due to this clear segregation in approach, Sidharth does well in taking his viewers through the formative years of Navketan, the projects that led to it's stabilisation, the years where the production house peaked, the late 70s when signs of a downfall were getting apparent and the eventual rut that it found itself to be in. However the author pretty much maintained that despite the circle of life that Navketan went through, the man at the helm of affairs - Dev Anand - never believed (or rather wanted to believe) that it was an end of a road for him.
While bringing this very spirit to fore could have been an obvious choice for a subject in this book, the fact is that 'The Navketan Story' is much more. There is a humane element, though again strictly on professional grounds, that is apparent right through the book. It is pretty much explained how the three brothers - Dev, Chetan and Vijay - started work on Navketan, floundered to begin with, learnt from their mistakes and carved a niche for themselves. It could have been together or separately but it is obvious that here were three brothers who didn't want to take the same route as Raj Kapoor or Dilip Kumar.
What follows in this book are a series of well detailed real life situations that Dev Anand faced in his life that aren't any less than watching a motion picture by itself. While references to popular movies like Guide, Jewel Thief, Hare Rama Hare Krishna, Taxi Driver or Hum Dono are obvious, it is incidents related to films like Afsar, Funtoosh, Nau Do Gyarah, Prem Pujari, Des Pardes and more that makes further intrigued to know about how the filmmaker continued to explore different subjects as he inspired to do something that wasn't run of the mill.
Typically books revolving around such subjects tend to get into a hero worship act but thankfully that doesn't quite happen in 'The Navketan Story'. Of course one doesn't hear anything negative when it comes to Dev Anand himself but thankfully Sidharth resists himself from getting into a fan mode. Moreover there are places in the book where weaknesses within the production house are pointed out, something that makes it a fair read.
In fact it is interesting to know how Dev and Vijay, though bearing conflicting thoughts at places, still made movies with a common goal and even when they split; it was without any bad blood. It is also established well that without each other, they couldn't really enjoy a long stint with commercial success as their best was way behind them. The production house too suffered and that's the very reason why today's generation is hardly aware about the films done by Navketan in the earlier years. So while the likes of Chargesheet is what one sees of Dev Anand today, earlier films like Sache Ka Bol Bala, Sau Crore, Gangster and Mr. Prime Minister are the kinds for which even DVDs are not available.
It is this very chronicle of the rise and fall of Navketan banner that does pain your heart. You can pretty much see the disintegration happen right in front of your eyes as Sidharth unravels details, incidents, conversations interspersed with tales of certain wrong decisions, betrayals and heart breaks which could have shattered anyone but Dev Anand. For just that very reason, 'The Navketan Story' consolidates its case for being a 'must read' affair.
Price: Rs. 1999/=
Rating: * * * *