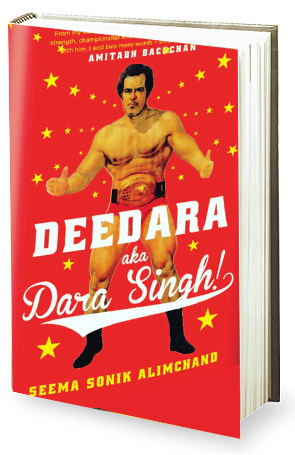 First thing first - Author Seema Sonik Alimchand does a much better job with Deedara aka Dara Singh! when compared to her first book on a Bollywood celebrity, The Warrior Within. Latter told the story of Rajinikanth and was at best an average read. However, now that she has picked Dara Singh as the subject of a biographical tale, she has gone all the way to ensure that it indeed gives an in-depth account of the legendary wrestler and actor. It is a work of research for sure, what with events, timelines, milestones and accolades presented in a good structured manner, while also ensuring the entertainment quotient.
When you choose Dara Singh as the man whose story is being told, you know for sure that you are risking an audience base. After all, the current generation (and to an extent even the one before) isn't too familiar with the work of the great man, which means you are basically targeting readers who were born at best in the 70s. This also translates into the fact that the entire story telling has to be interesting and engaging enough so that it doesn't turn out to be a boring biography that just moves on from one chapter to another with a cut-to-cut account of what truly happened.
Hence, Seema follows an approach of a novel in the offering. There are scenes, dialogues, happenings and anecdotes galore right through this 250 odd page book, and you are pretty much in the middle of the narrative as the action unfolds. This works well for the book as it breaks the monotony, keeps you guessing as a reader and also makes for an easy read, which is one of the core expectations from an affair like this.
That said you aren't particularly overwhelmed by the beginning of the book. As a matter of fact, around 30% of the pages is spent on the childhood and growing up years of Dara Singh, and that becomes a bit too much since you really want to step into the ring and see the man in action. However, pages after pages are spent in detailing the humble childhood of Dara Singh, his siblings, his parents and grandparents, the British era, the farming background, the childhood antics, the bullying that happened around him, his likes and dislikes - all of which just goes on and on for more than 50 pages.
Frankly, there is a point that comes in the book when you begin to lose interest and wonder when would it all come to the point. A few interesting episodes are narrated with sensitivity though, the one that involves Dara Singh being married off in the childhood itself, and how he struggled to cope with his transition from being a child to a teenager. Later, his voyage to Malaysia and Singapore in quest of earning money has some interesting pointers too, including the one where he even turned to petty crime in order to make ends meet.
However, the real fun begins when the book moves towards the incidents in Dara Singh's life when he moved on from being a daily wager to stepping in the middle of the ring. As someone who was actually coaxed into wrestling despite his initial reluctance, it is fascinating to see how one thing leads to another as he gets a 'pehelwan guru' in the foreign land and eventually finds his bearings. The vow of celibacy that he takes, the many international wrestlers that he takes on, the cheating that happens around him, the temptations that he fights out when it comes to women and adulation around him - the chapters do get interesting.
The middle portion of the book indeed makes for the best read as he gradually moves from being a wrestler to a film star. The events leading to that are told in a very exciting manner too by Seema and it has a movie tale feel to it, hence resulting in you hurriedly turning over pages to check out what would happen next. In the middle of this all, especially towards the third act of the book, the episode of Dara Singh's second marriage comes in as well, and also the line-up of children that he had in the happier part of his life. It is also good to see how he maintained a stable head over his shoulders despite all the stardom around him.
All of this and more ensures that you do get to know a lot about the man who has been one of the brightest stars in the arena of wrestling and films for decades in succession. All of this is made possible due to Seema's extensive research and conversations with the family members of Dara Singh which ensures that you get to know the man truly up, close and personal.
Price: Rs. 499/= 
Rating: ***
BOLLYWOOD NEWS
Catch us for latest Bollywood News, New Bollywood Movies update, Box office collection, New Movies Release , Bollywood News Hindi, Entertainment News, Bollywood News Today & upcoming movies 2020 and stay updated with latest hindi movies only on Bollywood Hungama.