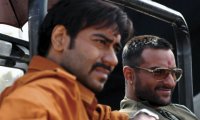 Bewakoof aur chu**ye mein dhaage bhar ka pharak hota haiga bhaiya...


That's how one deconstructs the connotative meaning of the degrees of foolishness in the Indian heartland. Don't get scandalized for that's only the tip of the iceberg that was touched upon by Vishal Bhardwaj in Omkara, his Indian adaptation of Shakespeare's tragedy Othello which was infested with swear words that are commonplace in the rural areas of Western Uttar Pradesh in India (Bard's Cyprus becomes Cypra gaon). Imaginative! Well, quite. Author Stephen Alter's (cousin of the perennially treacherous gora-man of Hindi cinema Tom Alter) finely nuanced Fantasies of a Bollywood Love Thief (Harper Collins) captures the entire process of the making of Omkara. It goes a step further as it gives an outsider's insight into the myths, mysteries and legends of Bollywood.


Before we move further it would be important to let you guys know about Stephen's background. He is an author of seven books of fiction and four books of nonfiction. In other words as someone who is writing on Indian films, his only claim to fame is being Tom Alter's cousin. Maybe it is for this reason alone that he got the opportunity to hang around with Vishal Bhardwaj and his writers Abhishek Chaubey and Robin Bhatt from the brainstorming stage in Mussorie till the final shots were canned in a Kandivali studio. It's this layman's observation of filmmaking that has come across succinctly in simple communicative language tugging at the varied range of emotions-n-idiosyncrasies of the biggest of stars and nondescript crew members.


Another notable aspect about this 280 odd pages book is that it has been divided into two parts. In the sense, that out of 36 odd chapters, almost half of them are devoted to describing the various stages of the making of Omkara while the other chapters deal with Alter's dalliances with the notable members of the film fraternity. Each chapter is brief (say around 8-10 pages) and racy. And what makes the reading more interesting is a chapter like Monsoon Brainstorm which is immediately followed by a chapter called Sex, Films and SMS.


On one hand, Vishal Bhardwaj is ruminating on his plans post the critical acclaim of Maqbool; how he plans to make Mr Mehta and Mrs Singh with Aamir Khan and Kareena Kapoor; why Shahid Kapoor is suitable for another script called Romanchak and why he thinks Indian version of Othello should be based in the gun-culture of Western UP. The smoky chain of thoughts is immediately interspersed with the sage-like-intellectualism of Mahesh Bhatt as he justifies Vishesh Film's Kalyug based on the rampant trade of blue films featuring ordinary Indians in the cyber world. Let's give you a few more vignettes of invigorating information shared in the book.


There's a palpable tension in the air when a big star like Ajay Devgan has a script narration. Kareena Kapoor says yes to Desdemona but, her fees a whopping Rs 2.3 crore. Saif knows Langda Tyagi shall earn him rave reviews but there's the eternal dilemma whether he should go in for a closely cropped hair cut or settle in for the latex friendly wig. Producer Kumar Mangat gave a serious thought to Aishwarya Rai as prospective Billo Chamanbahar entirely on her 'Kajra Re' Prowess. Lyricist Gulzar sahab peppered in with pertinent suggestions during the music sessions while a sumptuous lunch was under preparation.


The title dangled between Omkara, O Saathi Re and Isak till it finally tilted in Omkara's favour after an audience poll. Writer Abhishek Chaubey's involvement in the film was tremendous. There was risk involved in assigning Tasaddukh Hussain and Meghna Manchanda the key tasks of DOP (Director of Photography) and Editor respectively since it was their first film. Both shined way beyond expectations. The sessions at Mumbai's Sun n Sand hotel evoked the glamorous heritage of Bollywood. The grueling shooting schedule in Wai was an antithesis of the mascara powder romance the world associates Hindi films with.


Film stars may say anything but when 'intimate' scenes are shot, there's more than a 'casual' contact between bodies. It was clearly apparent while filming 'Beedi Jalayi Le' where the 'closeness' between Viveik and Bipasha described by an onlooker's eyes titillates attention. 'Masterji' Ganesh Acharya's attempts of bringing everyone in 'mood' are notable. The fight on the sets, producer harrowing over the film going over budget, varying crowd behaviour in Maharashtra and UP, Samir Chanda's fantastic acumen while making elaborate sets, the arduous post production stage and then the first screening attended by the who's who of film world, Alter encapsulates it all. Time to look at the other side, away from Vishal's spectrum!



The chance meeting with Evergreen Dev Anand as he graduates from a Love at the Times Square to Mr Prime Minister while the world, gushes over his unparalleled work in 1960s or 70s. Shekhar Kapur finds Mr India to be a "flawed script" as he is planning his next, Pani. Controversial director Madhur Bhandarkar has his own take on 'realistic cinema' and he has an interesting observation that the drivers know about their 'sahabs' much more than maybe what they should. Why Dilwale Dulhania Le Jayenge still continues to go house full at a Mumbai matinee? Javed Akhtar has problems with Sholay being made again although he okays son Farhan's remake of Don.


Art house filmmakers Shyam Benegal and Govind Nihalani have their own take on films. Benegal's comments on his film Bhumika and Nihalani's concerns on piracy are interesting asides. The last few chapters are devoted to wrapping up Omkara, the revelry at the holi party thrown by Ajay Devgan, what is meant by a Call Sheet and how it has brought in more professionalism and discipline in Hindi films.


Fantasies of a Bollywood Love Thief makes a riveting read. It's extremely interesting and once you start reading you just can't put it aside before finishing it off. It's also an honest attempt at detailing the making of the movie, how stars gave into their tantrums at times, how the 'suggestion' of a big star like Ajay on a particular shot of Viveik is overlooked by the director, a decorous gentleman like Vishal Bharadwaj can snap at times at his mentor Gulzar's observation etc. We are eagerly looking forward to Stephen Alter's next book. And it better be on Bollywood!


Price Rs. 295/-


Published by: Harper Collins.


BOLLYWOOD NEWS
Catch us for latest Bollywood News, New Bollywood Movies update, Box office collection, New Movies Release , Bollywood News Hindi, Entertainment News, Bollywood News Today & upcoming movies 2020 and stay updated with latest hindi movies only on Bollywood Hungama.