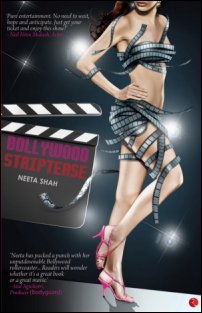 Aah, now this book could have been so much better and insightful. By adopting the technique of giving a first person account of Bollywood and its ways and an enticing title to boast of, first time author Neeta Shah had the stage set for her to go all out and unveil the true picture of the industry. However what one gets to read in this near 200 page book are incidents that don't quite leave you surprised, let along shock you. Though there is a strong middle portion that does grip your attention and makes you turn over the pages at a feverish pace, the culmination is not just convenient but almost a fairy tale, which is just an antithesis of what the whole story was all about.


As the title suggests, the book is about Bollywood and a young girl's struggle in getting that first big break. 10 pages into the book and you know that even though 'Bollywood Stripease' has been sold as a fictional account, it is writer's own stint with the industry that finds good prominence here. Now one only gets further excited on realising that because there have hardly been many instances of a reputed publication house commissioning such a tale and since the names involved do have a certain standing in the industry and media, you expect Neeta to go the whole hog.


Unfortunately though the start is a tad ordinary with Neeta introducing her central character Nikki who had Bollywood dreams in her eyes since her school days itself. One cliché follows another as the girl turns into a stunning beauty, with a desire to see herself on the big screen involved all over again. There are various characters introduced like her parents, sibling, friends, crush etc. and even though you are well aware that eventually Nikki would be entering the big bad world of Bollywood and encountering its many species, the buildup takes much longer than one would have anticipated.


Thankfully though things start moving towards the middle portion of the book as the 'striptease' aspect is brought to fore, what with various prepositions, casting couch moments and indecent proposals coming to the fore. Even as one sees Nikki fighting it all out in an utmost believable manner, you do hope and expect that there would be some dramatic moments in the offering. However Neeta keeps it more or less light hearted and gives a tongue and cheek account of various anecdotes that may well have been borne out of her life story.


This means that while filmmakers of all shapes and sizes start appearing in one chapter after another with various auditions, fake industry folks, betrayal, blossoming love, true friendship and behind-the-back stabs being the order of the day, Nikki finds herself on a roller coaster ride where she stumbles, fumbles, moves ahead, if pushed back and eventually finds an alternate profession that manages to keep her sanity intact to some extent at the least.


This is also the point in the book when one starts feeling that from her life story perspective, things aren't really moving forward. Of course this is exactly the predicament that the central protagonist is also feeling i.e. the sense of not quite moving ahead. However since this is a novel in the offering where a viewer expects a definite beginning, middle portion and a conclusive end, the autobiographical narrative starts losing its grip.


This is evidenced most in the last 25-30 pages when as a reader you realise that 'Bollywood Striptease' had actually finished telling what it was set out for and the author was now more engrossed in giving a personal account of what indeed happened to her. Fact and fiction is interspersed here as Neeta and Nikki become one with a common culmination of a book launch. This means that for those hunting for some true blue account of what happens underneath in the business of Bollywood, there is hardly any insight thrown in.


Now that's a pity because if only the author would have allowed her imagination to run wild instead of sticking to an autobiographical account, 'Bollywood Striptease' may just have turned into a much more compelling read that would have made for a must read for the hardcore Bollywood buffs.


Price: Rs. 140/=


Rating: **1/2
BOLLYWOOD NEWS - LIVE UPDATES
Catch us for latest Bollywood News, New Bollywood Movies update, Box office collection, New Movies Release , Bollywood News Hindi, Entertainment News, Bollywood Live News Today & upcoming movies 2021 and stay updated with latest hindi movies only on Bollywood Hungama.